Crank up the radio in your Trans Am. Put on your terrycloth shorts/romper/shirt.
Grab your rainbow flip-flops and join me for a run through the sprinkler in the front yard, won't you?
Below are just a few reasons why my '70s summers were just the best.
1. Marathon banana seat bike rides. I remember getting on my bike during the summer in the early morning and not getting off of it until the sun went down. My bike was pale yellow with a glitter banana seat, perfect for flying down the big hill on Ward Place with my feet off the pedals or zipping up to the deli for a Slush Puppie. It had rainbow tassels on the handlebars; a white, plastic woven basket on the front and instead of baseball cards in the spokes, it had trading cards from the movie Grease.
2. Carvel Ice Cream/The Good Humor Man. Whenever I hear "The Entertainer" or "Pop Goes the Weasel," my palms get sweaty and my heart races as I think of the Good Humor Man going up and down my street (toasted almond bar every time). Whenever I see/eat a soft serve ice cream cone anywhere, I think how inferior it is to the perfection of my East Coast Carvel soft serve cone (vanilla cake cone with rainbow sprinkles, every time).
3. 4th of July neighborhood parade.
I miss our little neighborhood parade the morning of the 4th, when kids decorated their bikes, a fire truck went by, strangers waved at you and if you were lucky, you saw a horse. Also, candy was thrown at you.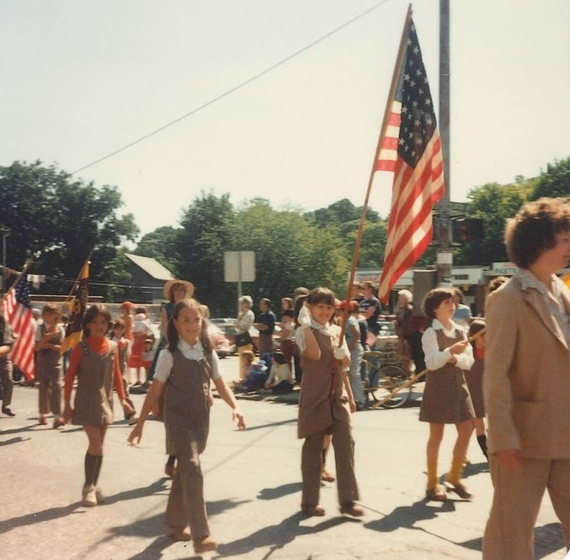 4. Judy the babysitter. Summertime also meant my parents going out more often and staying out later. Lucky for me, that meant Judy would be coming over more often and with no smartphone distractions, that meant endless TV time for me. After my little brother Mike went to bed, I would get to watch "The Love Boat " and "Fantasy Island," eat Cheetos and listen to both sides of her Dark Side of the Moon record.
5. Day camp. In "Recreational Day Camp," we made clay ash trays for our parents, ate Goober Grape sandwiches, played dodge ball, traded baseball cards, danced to the soundtrack to Saturday Night Fever and made these elephant trunks out of wrapping paper tubes. On the last day, we had a parade (again, with the parades!) through downtown Ossining, NY, where we marched and made elephant noises. Awesome!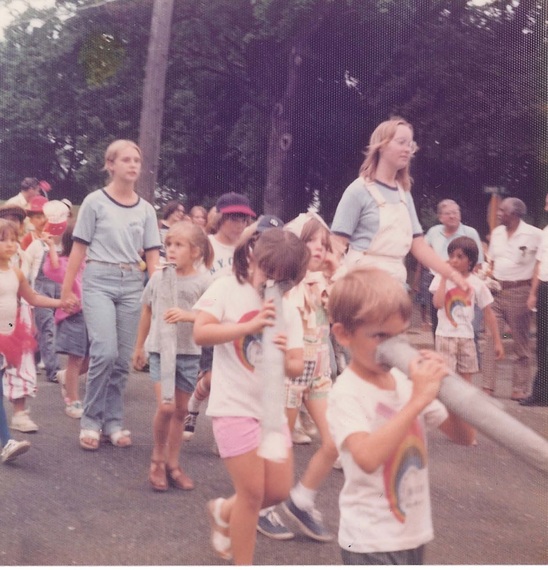 6. Drinking straight from the hose. I've lived to tell the tale of the coldest, tinniest-tasting water ever.
7. Outdoor movies.I remember seeing Superman starring Christopher Reeve from my perch sitting cross-legged outside at Vets Park in my hometown on a warm summer night. Beautiful. Lightning bugs. Superman. One of my favorite movie memories ever.
I'm sure many of you feel the same way about where you grew up, whatever place and time period that happened to be -- and that's as it should be. Go through an old photo album or just sit on a lawn chair that leaves marks on the back of your legs, close your eyes and insert your favorite camp/ice cream/parade/movie memory here.
Related
Popular in the Community