Today I came across the page in my work journal when I learned that I was diagnosed with breast cancer and I began a year that truly changed my life.
I remember a robin landing on the railing of my front porch outside the window just before the phone rang -- it was as if he landed to let me know that I wasn't alone and that I had the strength to get the news that nobody asks for. Looking at my notes I see words I wrote down -- words that I didn't even understand at the time. I remember hanging up the phone, I sat in my desk chair choking up inside and staring at the robin out the window. It was my own self-awareness, just a year prior, that led to this whole situation and ultimately saved my life. One thing I learned in my journey is that all people need to listen to their bodies and ensure they see their doctor when they feel something isn't right -- we are in control of our own health.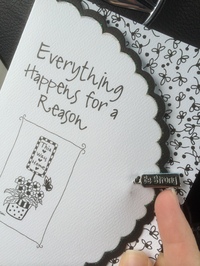 In the spring of 2013, I had complained of a pain in my left armpit -- it wasn't unusual for me as a rower to have muscle pain from exercise and weight training, but something just wasn't right. I remember becoming a little neurotic about it, and finally my husband told me to just go get it checked so I would stop worrying. I made an appointment with my primary care physician and given the nature of the discomfort was asked to make an appointment for my first mammogram at the age of 36. This was only a year after I stopped breastfeeding my son. I wondered why after breast feeding for over a year I would need to have a mammogram, as I always heard that breastfeeding reduced your risk of breast cancer, but I listened to my doctor and made the appointment. The outcome of these tests were reassuring and after a mammogram and ultrasound the conclusion was that I had a muscle strain from rowing. I was asked to follow-up with my OB/GYN in six months for a check-up and to return if I discovered any changes. I remember telling myself I skated through a little scare and that I was in the clear with nothing more to worry about, or so I thought. All those days of breastfeeding really did help me and with no breast cancer in my family the chance of me actually having an issue was very low.
A year later, just before our first family trip to Disney World, I received a letter in the mail telling me I was due for my yearly follow-up mammogram. I remember looking at my husband surprised at the letter and wondering why I was getting it. I then realized that I must have gotten myself into the annual system from my visit the year before. I told myself that I was in charge of my own health and that I'd schedule an appointment after I came back from Florida. The discomfort under my armpit had gone away and I really didn't think I had any reason to worry. For anyone who travels to the Mouse you know what a fun-filled, magical experience it is living life through the eyes of a child. You smile from ear-to-ear during your whole trip and come home wishing you could go right back again.
Shortly after my return, it was time for my mammogram and I was happy to sneak it in before I got back on the water for rowing. Due to availability, I went after hours for the test and was sent home with instructions that I'd get a letter in the mail within a few weeks with the results. I remember sitting in my hospital robe waiting for my name to be called and feeling awkward as I was one of the youngest women there. I was surprised to get a call a few days later from a nurse at the breast center who told me that they needed additional images and that I'd need to return the next day for follow-up. I panicked. I remember talking to my mom who reassured me that "they always need more pictures," but given my nervous stomach decided to bring my husband along for support. I took immediate action and was at the center within 24 hours for the additional mammography images.
I remember observing the other women sitting around me in the waiting room and how busy it was at the center -- older women and a few professionals sneaking their mammogram in on their lunch hour. I also noticed the sign on the wall for five-year survivors and listening to an elderly woman talk about a biopsy she had the year before that had turned out to be nothing. Biopsy of the breast? Huh. I remember letting that go in one ear and out the other as a young nurse told me to get dressed. As soon as I heard those words I breathed a sigh of relief as I automatically assumed I was fine. My name was called by a radiologist in a white coat -- crap. I was brought into a room just off the lobby by the doctor and was also greeted by a social worker. As this happened, I yelled for my husband just outside the door in the waiting area. I felt like I was going to instantly throw up and from the look on the doctor's face and how he started the conversation I knew that it wasn't good news.
The first image that came to my mind was my mother-in-law, who was no longer with us. I had only known her for a few years when we started dating and I had seen her courageous battle with breast cancer come to an end with her passing away right before me. As my husband sat at my side and we began to learn that I had a small cluster of micro calcifications in my left breast and all I could think about was her. I was completely overwhelmed with the information, but remember the key takeaway from the doctor was that 80 percent of the time these were nothing and that it was normal for women to have calcium in their breast particularly in the years prior to menopause. As a math major, I felt like the 80 percent was the best news of the day. Though due to my young age, he wanted to act quickly with a biopsy 48 hours later. I tried to remain strong, but during that drive home in the car by myself I had myself anywhere from in the ground to being unable to care for my young son.
I always pride myself in the network of peers and professionals around me for work, but had to really stop and think where I was going to go in this situation. I didn't exactly have many friends around me that had gone through this situation, let alone had a mammogram, as we are all under 40. I thought of a close family friend and also college acquaintance that I thought had gone through this situation. I admit that the first conversation with them was a bit awkward, but it was those two conversations in the next few days that became my guiding light in the months to follow. I felt embarrassed to even be talking about the situation, but it became essential and something I realize now started me down the right path trying to cope with the whole situation. Those two phone calls led me to learn of others who had gone through a breast cancer scare and I started to prepare mentally for what was to come. I remember that this pretty much consumed me and while I tried to focus on work and lead a normal life, those two days were hell. The whole idea of going through the biopsy procedure sounded really unpleasant.
Looking back at this part of my journey, the first piece of advice I would give to someone else at this stage of the process is that "knowledge is power".
While you seem overwhelmed by information you don't understand and there is a lot of unknown, it is important to build a network of people around you that have been through this and who can provide the support that you need at this critical time. They can explain the steps in more detail about the process and also what you can expect afterward. Even though you will hear this all from doctors, it's helpful to hear it in simpler terms. Other women can shine the light and provide the strength that you need to take charge of the situation. Simple things like how the procedure is handled and what to expect afterwards were really important and things that I didn't get clear answers to by asking my doctor. I found that by having more information I was able to mentally prepare for what was to come. You might be reading this and about to have a biopsy and be saying "ya right", but I found it really important in me taking control of the situation -- remembering that I am in control and in the driver's seat. Regardless of the outcome, this was part of the process and a necessary step to determine just how serious the situation was and if I really had something to worry about. Instead of going into something blindfolded, you are able to physically and mentally prepare yourself, be strong, and hope for the best outcome.
Knowledge is power. To be continued...