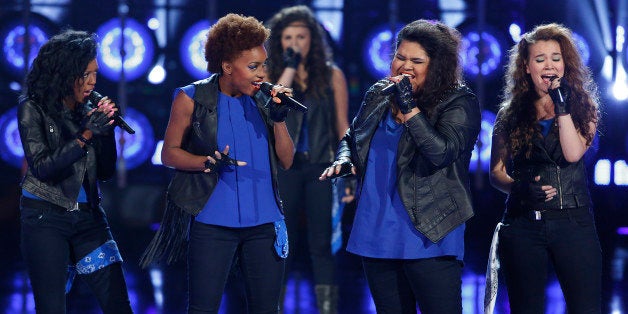 In a world where evidence was compelling to policy makers, Oakland School For The Arts' (a public school) "Vocal Rush," our youngest group on this year's Sing Off, would be Exhibit A, illustrating that arts in education produces well-rounded, focused, intelligent, well-spoken and happy students. The kinds of students who are productive, but more importantly innovative, members of society. The data has shown us that test scores improved profoundly when academic classes are peppered with music classes. Students, like the young people of "Vocal Rush," breathe life into those stats. These kids are bad asses. I hope my generation is paying attention for the next two weeks to Sing Off, and not just to "Vocal Rush," but to all this season's groups and what this form of music means in this era.
Besides being captivating -- vocal groups with no instrumental accompaniment pulling off a massive sound -- a cappella is actually timely. It's been growing for the past few decades slowly but surely, and has now reached critical relevant mass. Certainly current popular entertainment says something about our collective psyche and what our needs are. Our little show is back on the air precisely because there is something that resonates about all vocal music. It's the sound of life and kinda what the doctor ordered. Why? Because people need to, and have always needed to sing together. It's part of being human, and it shows us that we can actually work together in greater numbers, in harmony. Novel idea.
Most entertainment of the last decade has been the spectacle of dissonance. What I think we're seeing now is a need for some balance. Don't get me wrong. I'm always a sucker for cops chasing hookers through an alley, a surly judge ordering some f*cktard to pay damages to his neighbor for urinating on his porch, obese couples in fisticuffs on morning talk shows, pants on the ground, Congress trying to pass a budget, stage moms dolling their daughters up for beauty contests so that they look like hookers to be chased by cops down alleys...you get my point. And yes, that IS entertainment, but years of exposure to that is why people are now embracing what seemed too nerdy to handle in 2009 when Sing Off first aired. We want some fresh air. Harmony feels good, sounds good and is healthy. That's why fans wouldn't let NBC drop Sing Off, and why a goofy ass show like ours got the best ratings in our time slot this past Monday night.
Also, a cappella music is cheap, and in a world where fiscal responsibility actually drove policy, it would be noted that it cost absolutely nothing to sing. Schools are cutting their music programs in an attempt to save money. But wait. A crazy thing is happening. This next generation of students is filling the musical education void by just doing it themselves. Each year sees more and more high school and a cappella groups working outside the school systems, coming together and teaching themselves some kind of voice leading, and arranging skills enough to perform, and in many cases, perform outstandingly. A cappella is the burgeoning university "Greek" system of the 21st century as dudes realize they'll get laid faster by singing than by busting their asses attempting a keg stand. The university is where much of this movement was fostered, but now we are finding that, for no money down, we can open mouths and sing.
Kids these days... what's up with them? They don't all think they'll be millionaires with a big record deal? And what's up with the hundreds of Sing Off contestants who have graced our purple stage over our three seasons? They don't throw sh*t fits? They practice. They don't stay out extremely late. Okay, word is there's more than a bit of hanky panky behind the scenes, but the TV handlers who are accustomed to following idiot reality contestants around cleaning up after them never have to babysit our Sing Off contestants. Our contestants are here to make music.
None of the groups on Sing Off has ever had a diva. Most members of these a cappella groups are not professional musicians, and yet they're performing to a standard that's higher than many popular recording artists of my era. An a cappella group has to work together, in concert -- they seem to sometimes not even understand competition itself.
If you had invested in "a cappella stock" (no, it doesn't exist) a hundred years ago, your shares would have never depreciated. It's not a fad, and the stocks are gonna split -- that's what the guy on Mad (A Cappella) Money said anyway.
So, thank you, hundreds of a cappella groups out there, who have started something that simply HAS to be represented on TV. Thank you to the fans who wouldn't let us go away, and thank you to anyone who tunes in and embraces their inner nerd (or for some of us, our outer nerd). You only get this show for two weeks, and that'll have to hold you until next holiday season (and you can always, cough cough, buy Pentatonix's new record and get your tiny mind blown).
If you made it all the way through this post, Nick Lachey will give you a cookie.
If I think of anything else, I'll post more. Anything you wanna ask, tweet it to @benfolds. Oh yea, and don't forget to watch Sing Off, so check future listings here: www.nbc.com/sing-off.
Ben Folds is a musician best known as the leader of Ben Folds Five. Visit his website at www.benfolds.com
Popular in the Community