"Connection is inevitable, distraction is a choice." -- Alex Soojung-Kim Pang
In today's times of being connected to modernistic devices, constantly being updated on a real time basis and overloading your organ of soft nervous tissue contained in the skull of vertebrates with information galore which might not even be important to you otherwise, it certainly seems like the future is only going to get worse.
Being a social media maven myself, more for work related stuff that involves marketing and advertising activities, I often wonder how growing up in the 90's was more of a boon than a bane. Our lives involved outdoor activities, reading, communicating in person and so on and so forth. However, those were times, which no future generation in the world would ever experience now considering how digital the world is becoming and being detached from the same makes one crippling enough to catch up on lost time on social media.
Digital detox sounds like more of a fad to most people and they seize to comprehend the underlying meaning of the same. They do not realize that the "Art of Unplugging", once in a while is definitely not a curse or detrimental to them in any possible way. There comes a point in life where one feels fidgety and lacks the ability to focus or concentrate on anything beyond being connected electronically. It really has become a struggle for them. It might seem extremely arduous for a layman who is a social media or an electronic addict to disassociate himself and put this practice to use but honestly out of personal experience, it really is not as daunting as it may seem.
It is very crucial to understand that detoxing yourself from gadgets does not suggest abandoning yourself from technology in its entirety or on a permanent basis. That would be a complete loss and transport one back to primitive ages. What is important is to strike a balance between the same in today's new age of constant touch, tap or swipe.
There was a time, whilst starting my ecommerce venture http://rugsandbeyond.com/, I would constantly be glued to the screen and be addicted to reading just about everything online. I almost forgot that there existed a real world out of my Mac book air. It became addictive to the extent that I would wake up and log on to Google analytics in the middle of the night or even track online orders at the same time. It was a battle for me to disconnect myself and it seemed like a formidable task. I gradually started reading real books as opposed to on kindle, immersing myself amidst nature and connecting with people in person than via phone or text.
According to a recent research, "Each time we receive a new message or alert, our brains get a hit of dopamine- the novelty is addictive". As vague as it sounds, one doesn't realize the long-term effects of such an addiction.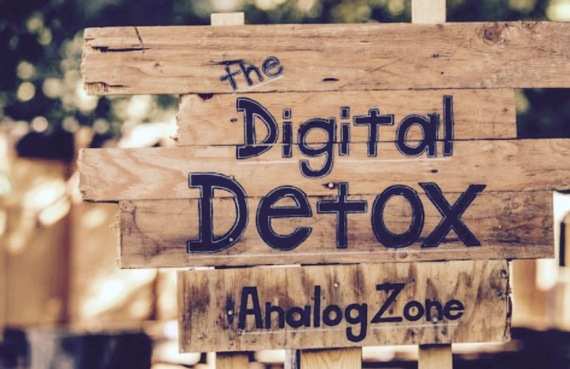 Source: Digitaldetox.org

Due to a childhood passion, being involved in local theater and getting acquainted to the craft of being on stage, I enrolled myself for an acting course at http://www.stellaadler.la/ last summer. Our very first class restricted the use of cell phones anytime during the class. It did seem a bit odd at first that all of us were asked to put our cell phones away in a box and completely turn it off. This restriction seemed to be worse than "Embargo" in the 1990's. Moreover, our daily exercise involved the observance of one unique thing in a room that we took notice off and nobody else did. This was the "Art of being Present in the Moment".

One day, I asked Laura, a method acting guru, just when she advised all of us to not use a GPS while getting from point A to B that, "But how would one commute without a GPS especially if one is new to the city?" She sternly replied, "Print out directions from Google map or write down the same on a piece of paper before hand." Well, I am yet to try the same and shall share my experience in due course.
As erstwhile as it might seem, I personally feel one should digitally detox every once in a while and connect with the real world just like good old-fangled times. The interesting part is that one might not realize that they are addicted to technology considering it is so deeply ingrained in our lives. However, there are a number of ways to practice unplugging which can actually make you feel the difference because after all being incommunicado once in a while doesn't really hurt. You really are not answerable to anyone for your absenteeism for a short period of time, barring certain exceptions that might arise thereof.
1) Vacation Without a Phone
Technology has become way to pervasive these days. What one needs is a rebalance in life. With the influx of travel tips, recommendations, bookings and just about everything online, it might seem like a mission impossible task to vacation sans gadgets. However, the best way would be to plan a getaway ahead of time. Your holiday might comprise of Instagram worthy picturesque trips or barbeques and exclusive Facebook check-ins. But the key is to be strict with yourself and practice resistance, live in the moment and enjoy your vacation without external disturbances. Although it is suggestive to leave your hotel contact details with your closed ones, incase of any urgent circumstances.
2) Read Hard Copies of Newspapers
How many of you have stopped subscribing to a physical newspaper just because "Everything is available Online?" It's 2015 and still there's nothing like catching up on news and current affairs over a big cup of Joe. Reading online shall not only strain your eyes but also bereave you from being present in the moment.
When was the last time you actually inhaled that fresh air while observing the melancholy of the tiny birds chirping in unison? Do you still remember the sounds of Team A winning in an outdoor activity as opposed to on the mighty young play station?
My father is an avid walker and each time I have insisted on him taking his cell phone along in the morning, he absolutely refuses to do so. He fears of being inundated with texts/alerts or even calls as a matter of fact during his special time of connecting with mother nature. But one must wonder, what if something urgent comes up? He simply replied,"We didn't have phones or any other means of communication back in the day and life still went on, so disconnecting for a few hours daily is certainly not an unattainable task." This actually made me wonder that abdicating our serious selves, connecting with nature and more stuff real, allows us to adopt simpler identities and appreciate life even much more.
Being in continual touch with gadgets not only disarms a person with connecting to real life but also deprives him of a certain type of experience he might not have otherwise. In today's tech paced world, one feels immobilized to a large extent without having their devices on them. This is the cognitive cost of distraction. A digital diet would assist you to break your tech addiction and help regain balance in life.
The rate at which technology is infused into our lives shall only accelerate in the coming years. It is time to reshuffle our reliance on these gadgets and attain equilibrium. On an average, most of us wake up staring at our screens and scrolling down through our fancy equipment's. This not only ruins our eyesight but also has a negative psychological impact on our lives. In short, our tech-tethered lives our having an irreversible effect on us, which we most likely are not aware off. This certainly needs to change.
Our ability to stay balanced in this day and age of exponential technology proliferation shall assist us in connecting to more things real and being present in the moment. The idea is not to become arcane or completely disconnect with the tech space but to strike equivalence in life.
Related