I am a farm girl from central Nebraska. My parents raised us with a strong work ethic and Christian values. We owned and worked on our farm – feeding the livestock, working in the fields, and, of course, attending our country church on Sunday. My sister and I attended a country school a mile down the road where I was one of 3 students in my class. I finished high school in a small town of 800 about 10 miles away.
Despite this small circle of influence, I grew up with big dreams. I had the fortune of having parents who, while they did not have a college education, believed that if we worked hard and were determined, we could do anything we wanted. And I believed them. With the help of scholarships, hard work and some luck, I was able to go to college and have had a multi-faceted career as a lawyer, general counsel of a technology firm, and a leader at the Bill & Melinda Gates Foundation.
Today, I lead a non-profit scholarship program for DREAMers. DREAMers are undocumented immigrant youth who came to this country at a very young age. They have grown up this country, gone to our elementary and high schools, participated in our sports and academic clubs, and worked in our communities to make them better places to live. They are – for all purposes – as American as you and I.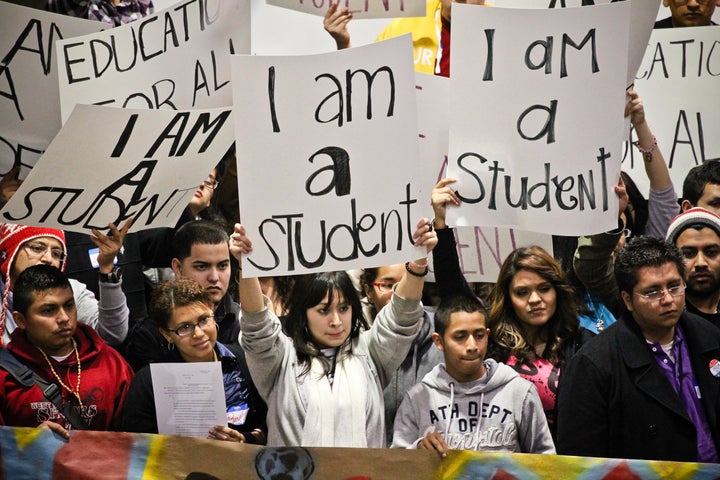 Why DREAMers, you might ask, instead of other disadvantaged students living in our urban and rural communities? Because, put simply, I believe that ALL young people living in our country have the basic right of an education – including the opportunity to go to college so they can have meaningful careers and support their families, communities and our nation.
And DREAMers don't have this opportunity – no matter how hard they work, no matter how talented they are, no matter how much determination and initiative they have. We have provided them with no path to citizenship and we won't allow them to have a single dollar of federal financial aid and they generally cannot access any student loans or scholarship funds. In some states – we charge them out-of-state tuition and fees which can be 300% (!!!) of the in-state cost. In short, we have closed our college doors to them leaving them in a no-man's land – the only country they have ever known doesn't want them.
Let's look at what has happened in Nebraska. The small town of 10,000 that my mother grew up in is now almost 2/3 Hispanic and includes people from Mexico, Guatemala, Cuba, Colombia, El Salvador, and natives of numerous African nations. These immigrant families now run the businesses, attend the schools, are featured in the local newspaper as the home coming kings and queens, quarterbacks, debate champions, etc. Without these families, Lexington would be a ghost town – the local packing plant and many local businesses would likely have closed.
And let's be clear – we actively recruited these families to come to our small towns and farming communities to help us run our packing plants and work on our farms. And they did so – giving up everything in their own countries so their children could "make something of their lives."
How can we – a nation of immigrants - forsake them now? Why should these children – who are living a life identical to mine - not have the same opportunity as I had to go to college and pursue meaningful careers?
They should. And this why we formed the TheDream.US – the nation's largest college access and success program for DREAMers. We now have over 1,500 Scholars attending 75 committed Partner Colleges in 15 states across the nation. And our DREAMers are rocking it! They have higher persistence and GPA's than the national average, they are actively engaged in their college campus activities, and faculty and their fellow students agree that they have enriched the campus life.
We stand committed to building the American Dream one college graduate at a time – and to us this applies to all our children ― regardless of their immigration status.
REAL LIFE. REAL NEWS. REAL VOICES.
Help us tell more of the stories that matter from voices that too often remain unheard.