By Dr. Robyn Silverman for KnowMore.tv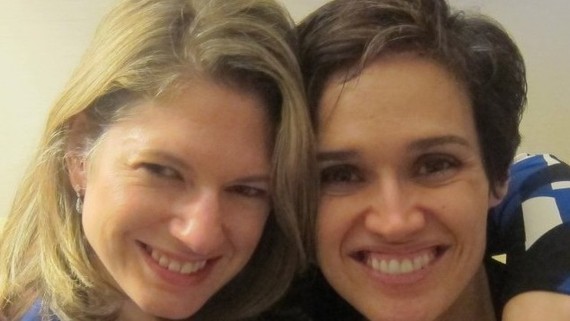 It takes a lot for moms to take a little time off. I mean, motherhood is a 24/7 job, right? And we love it. Well, most of the time. But even moms need a day or two to unwind.
Say "vacation" to a devoted mom, though, and most of us will think first of our families. Disney. Camping. A kid-friendly resort or park that will please everyone. And by "everyone," we mostly mean "the kids." Moms often put themselves last.
Second, she might think of time away with her spouse or significant other. Hey, let's not knock it. That's awesome. But still, this is about reconnection and there are often, shall we say, expectations, when it comes to a couple's vacation. I'm not saying that's bad, I'm just saying that it's not all about her.
And by some chance she is taking a trip completely away from the family, for many moms this is a business trip or a visit to Great Aunt Sally who needs help moving into assisted living. Relaxing isn't on the agenda. Mom is a helper, a worker, a Jackie-of-all-trades.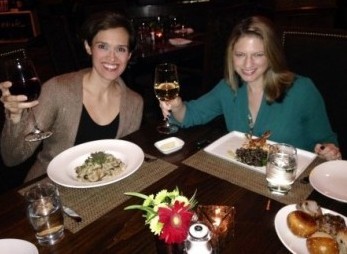 What if I proposed a get-away just for moms? I know. The guilt. The "what-ifs." The, "I-can't-miss-this-or-that" excuses. I'm not judging.
As a working mother of two young children ages 3 and 5, I understand it on every level.
I made myself do it, however. I went away with one of my best friends, another working mom, to Crystal Springs, a lodge with an attached spa about one hour away from my home.
It was just one night. But it was rejuvenating. Calming. Re-energizing. It was a 24-hour refreshment.
So grab your besties, ladies. And let's talk about the taboo subject of a Mommy Get-away. It may just be exactly what you need to be an even better mom, wife, business-person...you.
You don't need to go far or for long:
This is not about needing to take a plane and go away for a week. Even one day can refresh a tired mom. Go over to the next town, drive for a half an hour, just go! When you go for a short time, childcare is easier to secure.
By going in the middle of the week, many children are in school or camp for at least part of the day and Grandma, a spouse or even a good friend can fill in overnight. And by staying fairly nearby, if anything needs your immediate attention (only an emergency!), you can come home without issue.
You don't have to spend a ton of cash: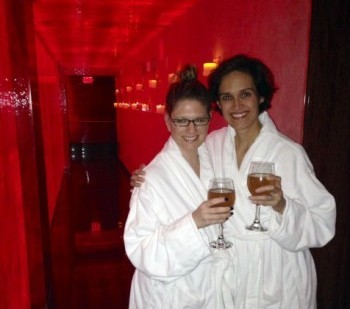 But I do hope you will treat yourself. When my friend and I went to Crystal Springs, we both indulged in getting a massage. It was wonderful. But you know what the best part was? Sleeping in. The quiet.
The ability to finish sentences or say nothing at all. It was delicious to simply "be."
Do something you don't usually get to do: Do you love to read? Take quiet walks? Go to a comedy club? Both my friend and I work full time. But one of our passions is writing fiction. We are both fully engaged in writing books in our free time.
I know, what's free time when you're a mom? So while we were away, we both wrote. The environment was supportive, tranquil and entirely conducive to a constant flow of ideas. We got so much done.
Surround yourself with what makes you happy: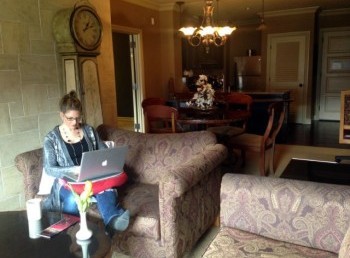 Of course your family makes you happy. But what else? Is it a certain friend?
Go somewhere that makes you feel light, fulfilled and unencumbered.
Squish your toes in the grass, take a walk at dawn or sleep, uninterrupted for a full night. Flood your system with positivity. This is your time.
Try to separate yourself from the daily grind:
It's hard to take off your "mommy hat" because at our core, we are moms! But sometimes we need to get away from being the referee, the housekeeper, the chef and the dishwasher long enough to remember who we are. So when you are away, be away. Barring any emergencies, stay immersed in your Mommy Getaway so you can emerge fully refreshed.
The day my friend and I left Crystal Springs, there was something different about us. Yes; our shoulders were no longer by our ears and we were fully rested. But there was something more. We were ready to go back and, again, be the best mothers we could be. We missed our children but felt like we were better able to handle the daily grind having had our little respite. I guess it's true; a little time away can help you handle the everyday. No guilt in doing that. I, for one, highly recommend it.
Permission granted by author to use all images.