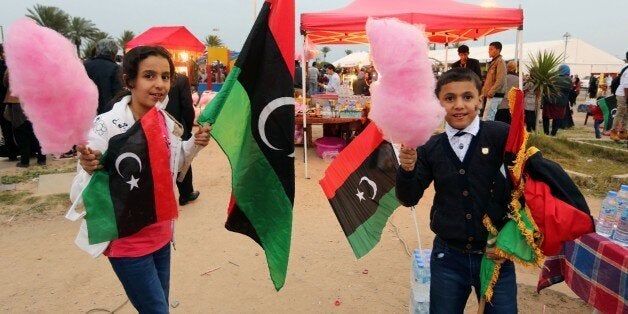 Five years ago today, Libyans peacefully rose up against the Libyan government. Over the months that followed, an armed conflict developed, international militaries intervened, and eventually, the country was liberated. Yet, with liberation came division. These past five years, much like the Libyan uprising itself, have had numerous ups and downs: from early on when prominent members of the transitional council stepped down due to gender and region-based discrimination, to the expulsion of the Tawerghan people, to the unfortunate liberation statement made by the interim leadership, the signs were clear.
Yet, myself and other activists were blinded by euphoria: we were sure that the problem was the regime. Simply put, if we put out the fire, the smoke would clear. Within months, however, it became apparent that was unlikely, and with the end of the regime, came a myriad of challenges. From violent government-sanctioned militias, external power plays, rampant corruption, and mounting assassinations to the abuse of migrants, disputing governments and extremist expansion, our hope continued to wane considerably.
When I first came to Zawia, Libya in 2005 as a 15-year-old, I was moved by one thing in particular: the people. For a country that had been burdened by a repressive regime for decades, there was an unusual amount of hope, light and kindness in society. There is no question that I felt much more at ease during that difficult cultural transition because of those in my own community - average citizens, parents, doctors, teachers and students - who went out of their way to be welcoming, who embraced my Canadian upbringing, and who were curious about new opinions.
This kindness hasn't disappeared. It has been illustrated time and again as people have given up their homes, money and even lives for one another over these past five years. Yet, it is something we often diminish when discussing the future of Libya. Instead, we continue to make the mistake we made in 2011: we continue to assume that if we put out the fire, in this case, sign a peace treaty, then the smoke will clear. If we genuinely believe that a hastily agreed upon peace treaty, decided without the input of Libyan people, will change the course of this nation, we have learned very little from the events of the past five years. We fail to recognize that the Libyan social fabric has disintegrated, and in a country where social rules are the only ones that have been traditionally honoured, that is incredibly dangerous. We fail to see that a peace treaty is just an empty piece of paper if it is agreed upon by men who have little to no local authority, no credibility and limited influence on local militias. If this peace treaty does not address the underlying structural problems, if it doesn't provide justice and hold regional governments accountable, if it doesn't challenge those committing war crimes, then it will simply act as a bandaid, conflict and anger festering beneath the surface.
In a country where, on your best day, hospitals are closed, living costs inflated, and 20% of children are unable to go to school what we need is not a mere peace treaty. What we need is legitimacy, credibility, and people we trust. Women like Haneia Gamtti, who feeds and clothes people in harm's way in Benghazi, young men like Tawfiq Bensaud who strove for transparency until it cost him his life and young women like Amera Noure, who comforts Sebha daily on radio, assuring her community that despite endless power cuts and increasing illegal smuggling their voices are heard and they have not been forgotten. Libyan people - women and youth - need to be part of this conversation. They need to be making these decisions because it will be everyday citizens, it will be women and youth, who slowly sew the fabric of Libyan society back together again. A peace treaty will not put out the fire and clear the smoke; it is not a "light at the end of the tunnel" as some political analysts and "Libya experts" claim. While it may create a small window of opportunity, much like the Libyan uprising did in 2011, it will mean nothing more than the paper it is written on unless we listen to those on the ground, to the voices of those most affected and those who can actually enact these commitments. Libya urgently needs peace. But it will not be brokered solely by those whose greed and ignorance brought us to this point in the first place.
Calling all HuffPost superfans!
Sign up for membership to become a founding member and help shape HuffPost's next chapter