Nearly everyone with a dating profile has a selfie uploaded as a profile pic. But in the future, the 'it' thing may be a 'belfie' instead - a photo of your butt.
"The belfie is the new selfie," David Shing, AOL's Digital Prophet, said on stage at C2 Montreal, a business conference and festival of ideas in Canada that fuses creativity and commerce.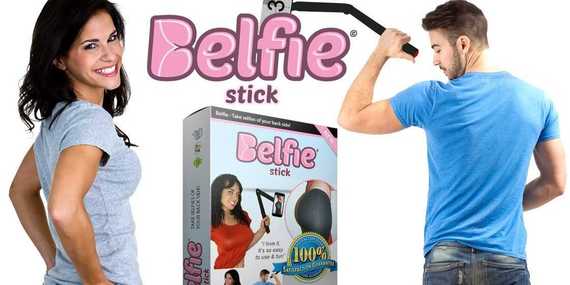 As I sat in the audience, all I could think was, "OMG in the future, people's profile photos are going to be of their butts." While this may seem like taking the boobs versus ass debate to a digital extreme, perhaps there is some merit in the idea of uploading an abstract picture of yourself, rather than a photo of your face.
The one thing I hear resoundingly as a digital dating coach from singles searching for love is their desire for transparency online. They're fed up with those who lie about their age or bloat their income, and are even turned off by those who select "I'll tell you later" as a response to a profile question. "If he's a member of this site to really meet someone, why can't he tell me now?" a client of mine asked.
Maybe, in order to have more transparency and meaningful conversation, online dating in the future needs more anonymity.
Online dating forces a communication style that Shing calls "broadcasting" - basically, telling people what we want them to hear (or even what we think they want to hear). It's a contrived version of ourselves. The very first dating sites were set up for the person to write a description of himself or herself, and this model hasn't evolved. Newer apps like Tinder continue with tradition, having a space for you to self-describe. And while blatant lying in profiles is less prevalent today than it was in the past, it doesn't mean that true transparency exists.
As someone who roams the globe uncovering tech trends in society, Shing notices that high school students today have begun using avatars on Facebook as a way to communicate transparently online, a throwback, it seems, to the dial-up days when all we had was an AIM screen name.
"It's not because they're doing nasty stuff, but instead, because their physical world and their digital world are the same." He observes that by creating an avatar, they can connect with others on a deeper level without worrying about how their physical appearance impacts their peers' views of them as a person -- if they're cool or not, what circles these kids usually socialize within, and to distance their identity from their ideas.
What teens are doing, Shing says, is narra-casting. "Narra-casting to me is a deep, intimate discussion. I think people have their best conversations and most in-depth relationships [digitally] when it's less about engagement, but more about being interested."
In the future, we need to find a way to narra-cast when online dating, allow people the opportunity to go deep with each other and inspire intimate connections and conversation that go beyond, "What's up?" When teens are of age to join a dating site or app, a new environment where they feel comfortable will be demanded. But adults deserve more transparency today, too. Online dating platforms owe it to singles to figure out how to support communication and relationship development better.
I'm not saying that dating shouldn't be fun - that's important too! But all too often it feels like dating sites and apps consider singles' intentions last. Instead, the focus is on what will gain critical mass the fastest, what experience feels the most addictive. For their users who seek a relationship, the priority is genuine connection, leading to a disconnect between what singles need and the tools that are created for them. This needs to change.
Despite new apps releasing every month, we haven't moved beyond what Shing calls "skimming culture," consuming information fast and not really taking it all in. It's obvious to me, as someone who sees clients (and friends!) swipe right without a second glance. The focus should be going slow rather than making split-second decisions, connecting in a meaningful way instead of arbitrarily swiping on a screen.
To truly think with our hearts instead of our heads, we need to date with meaning.
I believe that meeting others digitally works, and that it will continue to be an important way for people to connect. Love can even happen in just 140 characters, as it did for my husband and I (we met on Twitter). But if technology is to become a tool that manifests more relationships, sites and apps need to evolve and emulate how singles interact in their hearts more, versus putting focus on how they interact with their screens. Whether that means you'll be uploading a belfie ... only time will tell.
Laurie Davis is the founder of eFlirt, a personal branding service that helps singles navigate the digital dating world and create lasting relationships, and the author of Love @ First Click: The Ultimate Guide to Online Dating. Watch her TEDx talk.
Calling all HuffPost superfans!
Sign up for membership to become a founding member and help shape HuffPost's next chapter