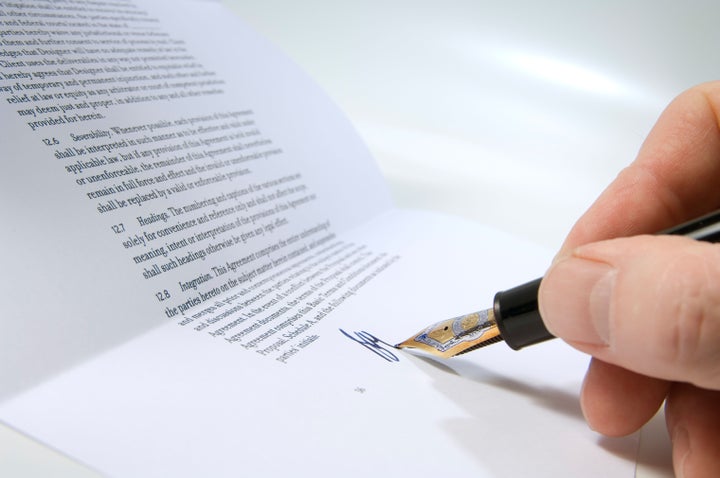 How many hours have you spent talking to friends and relatives about their rocky marriages? "I can't talk to my husband (or wife) at all," is the usual lament. It seems couples can talk to anyone but their spouse when a marriage is in trouble. If they do manage to communicate at all, it often results in a shouting match. A couple can try to discuss issues with a marriage counselor, but it's not always an effective method to resolve deep-rooted problems, such as fears about financial security, or a spouse's spendthrift ways.
As a matrimonial lawyer, I suggest that one way to identify and resolve these concerns is to draw up a postnuptial agreement. Postnuptial agreements, sometimes known as "postnups", are written and executed after you're married. The agreement codifies the obligations and responsibilities of each partner. In fact, marriage is an economic partnership in which both parties can benefit from a written contract.
Preparing a postnup may be a surprisingly cathartic experience for couples. It is an opportunity to analyze their assets, debt, and spending habits, and to look at the impact of financial stress on their emotional lives. Grievances can be aired and insecurities expressed. Couples can discuss issues such as how much spending money should be given to children from a first marriage, or how many boys' or girls' night outs are acceptable. Mostly importantly, the couple is able to set terms acceptable to both parties.
Here's a good example of how a postnup saved one marriage. It's a news story about a couple, fighting constantly over money, who saved their marriage by entering into a postnup. The husband's business debt had burned through inheritance money, and the couple had two mortgages on their house. The wife feared she might be turned out of her home, while the husband felt his wife didn't have confidence in his business. Although the couple had discussed these issues with a marriage counselor, they couldn't put their concerns to rest. Lawyers were able to propose concrete solutions to the situation. They drafted a postnuptial agreement in which the house was transferred to the wife's name, and the couple agreed to split the mortgage and other household expenses. The wife no longer feared losing her home, and the husband no longer felt his wife was undermining his business.
More and more married couples are preparing postnups. If you've remarried and have children from a previous marriage, and didn't sign a prenuptial agreement, then you should seriously consider entering into a postnup.
Here is a checklist and analysis of issues commonly addressed in the postnup:
1.What property is held jointly and/or individually? Are there legal, emotional or other reasons why changes should be made?
2.Who is responsible for paying off debt? Is debt in joint name? How can debt be repaid and what are the priorities in repayment of debt?
3.How are earnings allocated? Is there an inequity in how the parties spend or save earnings? Should there be an agreed upon percentage of earnings that each person is able to spend/save? Are both contributing to the family's income to the best of his or her ability?
4. What is the role of the spouse, if any, in a business now or in the future?
5.How should a business be disposed of in the event of divorce, disability or death?
6. What are your marital priorities for the future; are your goals to pay for a child's private school college education or to purchase a boat or to save for retirement? How are you going to implement these ideas?
7.How are monies divided in a blended family? How much support should be given to children from previous marriages? What are the ages and needs of the children? What monies should be used to pay for these needs? Are there children with "special needs?"
8.What happens if one spouse falls ill or becomes disabled? Have you considered purchasing long term health care insurance, disability insurance, have you executed a health care proxy or power of attorney?
9.What protection do you have in the event of one another's death? Do you have life insurance for the other; updated wills; considered estate planning?
Postnups consider these and other financial and legal issues. Yet, trust is an essential element in the development of a postnup agreement. The wife may think that the husband is hiding assets while he believes that she has ulterior motives thereby creating an adversarial atmosphere of distrust. But a postnup shouldn't be a fight to the finish and it doesn't have to be.
At this juncture, what is necessary is that the postnup involves a common understanding of how to handle contentious financial issues. When a postnup is completed, the couple has an opportunity to move beyond their disagreements and to make their marriage viable. If their marriage does dissolve, the postnup agreement becomes the framework for a separation agreement. This spares the clients from the emotional stress of negotiating with their partner when things have turned sour, and additionally saves legal fees.
I know from experience that it is better for married couples to discuss tough issues while they are still committed to the marriage--before any battle lines are drawn. Sometimes it's better to hold that discussion in the office of your attorneys, rather than with a marriage counselor.
Lynn J. Maier is a partner in the White Plains, NY law firm of Kurzman Eisenberg Corbin & Lever, LLP. She can be contacted at lmaier@kelaw.com.
Related