I am what can be considered a POWER LinkedIn user. I have been a proud member of LinkedIn since April 26, 2005. I started my first LinkedIn Group, an alumni group for my former employer, Bell Mobility, on November 28, 2008. A month later, I started assisting the Owner of what has grown into the largest community for event planners on LinkedIn. When I became the Group Manager, we had 4,000 members. We now have 350,000+ members plus 18 related groups (formerly subgroups) with membership ranging from just under 1,000 - 23,000 members. I have been a heavy Twitter since April 26, 2009. On my business account, @executiveoasis, I have 8,480 followers and I have sent 34.4K tweets. That's a lot of tweets! I have also participated actively in Twitter chats including #eventprofs #linkedinchat and #blogchat and moderated many Twitter chats.
LinkedIn and Twitter were fun. I connected with a lot of great people online and, eventually, met a number of them in-person at Tweet-ups, trade shows and conferences.
Initially, spam was a HUGE problem in groups and spam gangs roamed freely. LinkedIn introduced a fabulous suite of group management tools and the spam problem has been virtually eliminated. I recruited and trained a team to manage the large event planning community. We have an awesome Owner and enthusiastic group managers and moderators. I looked forward to popping in every day.
On LinkedIn, things started to change gradually. At first it was a glitch with numbering in group posts and it took many years for LinkedIn to fix it. Next, "Block and Delete" stopped working in the group management tool suite. It's never been fixed. To remove spammers has become a lot more work. Then, the developers started changing the interface. It was challenging to keep the training material up to date. Also, try to keep a group of 100,000+ or 200,000+ members up to date about where to find things and what goes where. The constant changes lead to confusion and frustration.
In October 2015, there was a major change in the Group interface. Many functions were removed. I won't go into the list here as others have written about it. The main impact was that members were no longer able to "follow" discussions or receive notification of new discussions and comments. Engagement and interaction in groups have declined since then.
Currently, LinkedIn is in the process of rolling out a brand new interface. It's the nail in the coffin. Notifications from groups are virtually non-existent. The link to Groups has been removed from the main navigation. At the time of writing, users have to click on "Work" to open a panel that reveals the "Groups" icon but many members don't know this. Groups are effectively buried. Members only get notified if someone tags them or comments in a discussion they started.
To compensate for this, group owners started sending out more announcements. In theory, these are delivered to all group members. In small groups, I eventually tagged every member as I could not understand why there was no engagement. Members indicated that they were not receiving the announcements. I opened a trouble ticket and advised LinkedIn about the problem. The response was one that has become SO familiar. "It's a known issue and we don't know when it will be resolved."
LinkedIn status updates are a mixed bag. On what is supposed to be a professional network, if a woman posts a photo of herself showing cleavage or a photo in a bikini, it goes viral. Post solid content and it is pretty well ignored.
LinkedIn Publisher (formerly Pulse)
One bikini designer has taken advantage of the fact that some men seem to mistake LinkedIn for the Playboy Channel or the swimsuit issue of Sports Illustrated. At first, she was banned when there were numerous complaints about the revealing bikini photo she posted on what was then LinkedIn Pulse. She appealed the ban and, after she was reinstated, ran a series of posts with equally revealing photos. The posts went viral as a result of all of the perpetual pre-teenagers clicking like or posting "Hot photo!" As a result, this designer is considered to be "a marketing genius". She now has one of the largest networks on LinkedIn and a column in Inc. Imagine that. Google recently used her as a keynote speaker and she has been interviewed by major publications including the BBC.
Something is wrong with this picture. What's the lesson to be learned here? "Show some skin and expose your way to fame and fortune?" I just don't see how this constitutes "genius".
By contrast, LinkedIn Publisher has been a HUGE disappointment for the many members who take the time to research and carefully craft blog posts with solid business content. LinkedIn Publisher posts are no longer distributed to one's entire network or to all of the "followers" who expressed an interest in viewing your content.
Over at Twitter and Facebook
Re-tweets and click through to blog posts and websites from Twitter is WAY down and some Twitter chats are now defunct. Need I say more.
Facebook is pretty well pay to play. Organic reach of Facebook page posts is very limited. It can take months to get even 100 views unless you pay for distribution.
beBee: A breath of Fresh Air
I am a very loyal creature of habit. After spending years building up sizeable networks on LinkedIn and Twitter and a smaller network on Facebook, the last thing I wanted to do was start from scratch on a new platform. I resisted the calls to move to Instagram and Snapchat.
Over time, I noticed a lot of "buzz" about beBee.com. At first I ignored it. A few months ago I opened an account but I didn't do much with it. After reading more favourable reviews, I decided to give it a try. I immediately noticed that beBee bees (members) get regular notifications when content is posted.
On Sunday, March 5, 2017, I posted some honey (a blog post) and, within 24 hours there had been 1.6K views, as well as lots of comments, shares, and "relevants" (likes). The algorithms that artificially cap organic distribution on Facebook and LinkedIn are absent on beBee.
Yesterday, I posted identical content on:
I just checked. In less than 24 hours, the beBee "honey" has had over 300 views, despite the fact that I have only 52 followers. There have been only 26 views on LinkedIn where I have 4,856 post followers and a 4,000+ member network.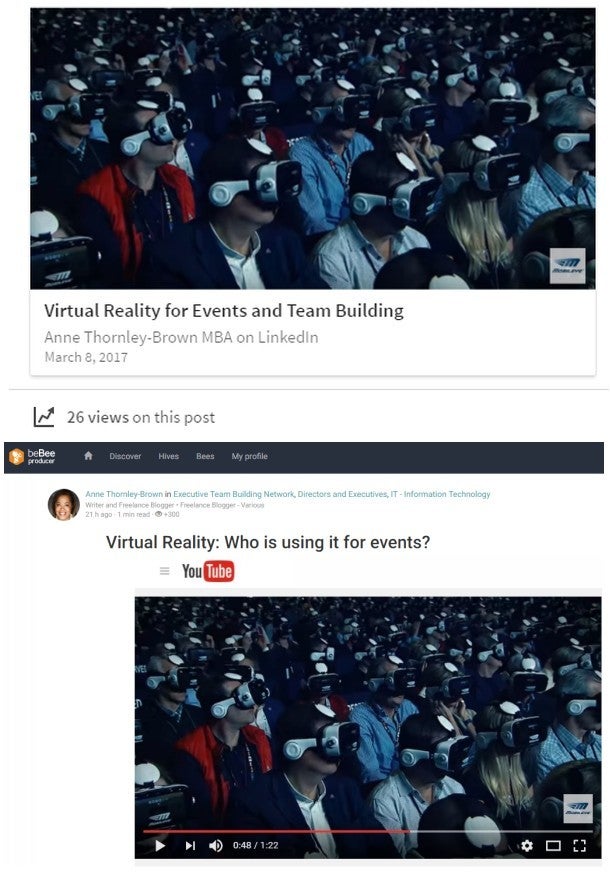 I've created beBee hives (groups) for 2 of the LinkedIn Groups I own and I will be creating more. Members DO get notifications of ALL content:
I am blown away by beBee and I will be spending more time there and less time on other platforms.
Have you used LinkedIn and beBee?
How does YOUR experience compare with mine on the two platforms?
Calling all HuffPost superfans!
Sign up for membership to become a founding member and help shape HuffPost's next chapter
This post was published on the now-closed HuffPost Contributor platform. Contributors control their own work and posted freely to our site. If you need to flag this entry as abusive,
send us an email
.