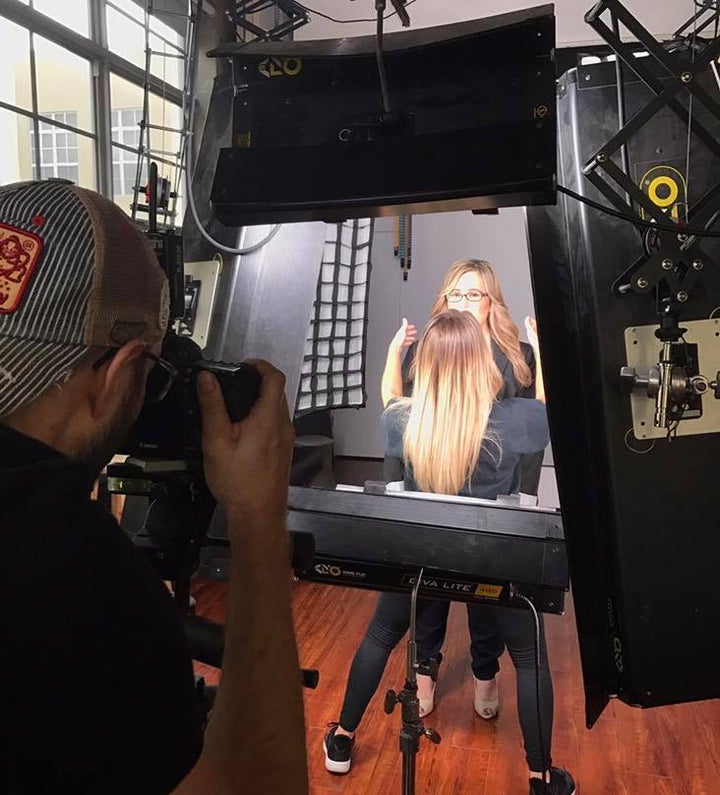 In a world where online selling, buying, and advertising have become a functional component of our existence and sustainability, your personal brand has become synonymous with your visual brand. When we really think about it, everything today is done online – shopping, job searching, networking, and all forms of research to advance our knowledge.
79% of consumers shop on the web and more than 51% have purchased from their mobile phones. 93% of recruiters and HR managers check out candidates' social media profiles before extending a job offer. LinkedIn, the #1 site for leveraging your professional presence, boasts that members with a professional photo are 10 times more likely to receive a message from recruiters and users with professional headshots gets 14 times more views than users without one.
The moment someone Googles your name or your company's name, they want to know how you convey yourself to the outside world. Many believe that a selfie, or an impromptu photo snap by a colleague or co-worker at the office desk will do the trick when it comes to throwing up a photo on LinkedIn or their first-run website. However, your picture says a lot more about you than you realize. Beyond just needing it for your LinkedIn profile, it is part of your entire digital footprint. A professional and quality headshot is therefore a must for job seekers, professionals, and business owners alike.
Peter Hurley, a top photographer based in NYC, and founder of The Headshot Crew, advises that the visual society we live in has made it impossible to overlook people once we obtain a visual imprint of them. "You'll notice that a change in one's profile picture on any social media platform garners a larger response than nearly anything else that they've posted. Our face is what we use to communicate to others and that is why the headshot has become the key element in presenting yourself to the world." Hurley's style is one that focuses on "camera invisibility" which sets out to capture the expression of the person as if the camera wasn't there.
I've hired quite a few photographers in the past, but very recently I took the plunge to hire one trained by Hurley whose top-notch skill is focusing on captivating image branding. My reason for this was simple: I'm a respected leader in my industry, I'm in a lot of publications (nearly 50!), and I do A LOT of public speaking. My picture goes on websites for industry leadership, publication features, podcast interviews, and presentation materials. I'm also crafting professional brands on LinkedIn for attorneys, executives, and business leaders. Since I am seen all over the web, I needed something that truly reflected the essence of my professional presence and accentuated my existing powerful brand even more.
Truth be told, I had been eyeing a specific photographer, Chris Headshots, and his Instagram feed for a while (nearly a year!). I finally took the plunge last month and my session with him was a true VIP experience that oozed from all corners. I had a hair and makeup session with his on-site artist, Amber, who made me feel glamourous yet natural, and most importantly, she stayed with me during the shoot to adjust my suit jacket, my hair, and my positioning. Once the photos were taken, we looked at them on a giant screen, and I was completely blown away by the talent and how they truly captured my brand.
After the session, I sat with Chris for a good hour and we talked about the importance of professional branding through high-end headshots. Of course, I asked him what his secret was at making all of his clients look and feel like a celebrity. He said, "The lighting that I use makes everyone look their best. But, what makes it cater towards professionals is that it showcases a whole person's face, while staying low on shadows, and that subconsciously makes people realize you're not hiding anything and that you are an open book!"
Aileen Lavin of Aileen Lavin Real Estate, a local South Florida resident, also sought out the services of Chris Headshots. We exchanged messages about how the headshot propelled her brand even more. What made the difference for her was the visibility and traction the headshot gave her once it was placed on bus benches and numerous advertisements. As she explained, "The headshots put a face to a name. People would hear about me in business, but now with my professional headshot they can identify me. Keeping it consistent in all of my media helps my clients and future clients identify me quickly."
Both Hurley and Chris subscribe to the belief that having a few headshots in your arsenal is best since a photo used for LinkedIn should be clean and simple whereas a website can encompass more individual taste, flair, and variations in backgrounds and lighting.
As Hurley says, "Bottom line is that whatever you put out there for the world to see, you better be proud of it." The moral of this: don't skimp out on a professional headshot. Make the investment and get the best headshot you can.
Popular in the Community