Wearing a red bikini completely changed my life. In the space of a week on vacation in Abu Dhabi recently, I realized that I had changed my feelings about myself. I gave up the story that I hated my body.

In that one week on vacation, I didn't call myself fat once.
I've only worn a bikini a handful of times in my life. I never felt like I was good enough to wear one and well, I always felt fat.
On the first day of vacation, I put my red bikini on and in that moment, I truly loved and accepted my body. I had been inspired by Ashley Graham's swimsuit cover for Sports Illustrated magazine and I have to thank her for giving me the final push to wear my red bikini. Plus, I know like Ashley, I am beautiful beyond my size.
Not calling myself fat once, was a game changer. I realized that this was a true turning point in my life.
For a woman, who had been either constantly criticized for the way she looked or had criticized herself, I decided one day that enough was enough.
I made the decision last year to see three different healers and they all told me I had no self love. I was devastated. I felt ashamed, embarrassed and frustrated that I had put on a brave face for years.
At fourteen, I was diagnosed with PCOS (Polycystic Ovary Syndrome) and told I may or may not be able to have children. I was put on the pill and gained three stone (42 lbs.) in two months. It did nothing for my self esteem. In fact, one of my best friends called me an elephant.
I lost any self love I had left.
After that, I had been told to lose weight and having gone through physical and emotional trauma, I found it hard looking in the mirror.
I got asked if I was pregnant constantly. My stomach would swell if I ate foods that disagreed with me. Hurling abuse at my stomach somehow made me feel better.
I hated the way I looked and I thought that I would only look good if I lost weight. I yo-yo dieted. I defined myself by my weight. I compared myself to my younger sister who was thinner than me and this continued even when I started out in business. I compared myself to Instagram bloggers who in my eyes looked perfect.
Caught up in the idea of perfectionism, I lost myself.
In fact, perfectionism doesn't exist.
Once I made the decision to change how I felt about myself, I started to notice articles about self love, self worth and self esteem.
Looking in the mirror one day, I understood that instead of giving power to the side of my mind that was highly critical and caught up in perfectionism, I could give more power to calling myself beautiful, loving, attractive, and good enough. I started to say out loud; "You are beautiful, you are gorgeous and you have an amazing body image. "
I refused to give into my ego and stay a victim. If I am unhappy with my weight, I have a choice to do something about it. I can decide to give myself healthy food, exercise and a whole lot of love and self care.
Recently, Dove Research: The Real Truth About Beauty, Revisited found that only four percent of women around the world consider themselves beautiful. The shocking part of that is that it's only up from two percent in 2004.
I've discovered that in our personal and professional lives, we hide behind our weight.
We think we can only be successful, if we look perfect. Or our version of perfect. There are still so many women and men out there that hate their bodies or dislike them in some way.
There is so much power given to what others look like instead of giving power to ourselves.
The truth is that your body is the only one you have got.
Loving yourself is a daily consistent process. You have to find whatever works for you, whether that's letting go of negative experiences, or beliefs, being conscious of your language around your body or finding other people to help you regain your self love and self esteem.
If you're an entrepreneur and you're afraid of showing up online or you're someone who doesn't want to go to a social event because you fear what other people think of you, please know that you are not defined by your weight.
Perfectionism does not exist but yet we keep striving for something that isn't real.
In my quest for self love, I knew that other women must be feeling the same way I did.
My mission is to help raise the number of women who consider themselves beautiful from four percent to 100 percent.

Self love and self care are not selfish. You must make yourself, your number one priority in life.
My self love revolution is to help more women and men love, accept and embrace themselves. I want to help you find your own self worth, self esteem, set boundaries with others and be confident in your own skin.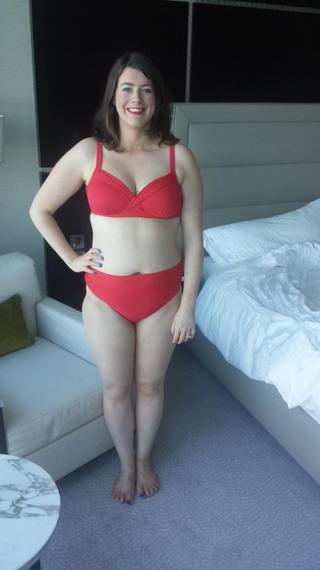 REAL LIFE. REAL NEWS. REAL VOICES.
Help us tell more of the stories that matter from voices that too often remain unheard.