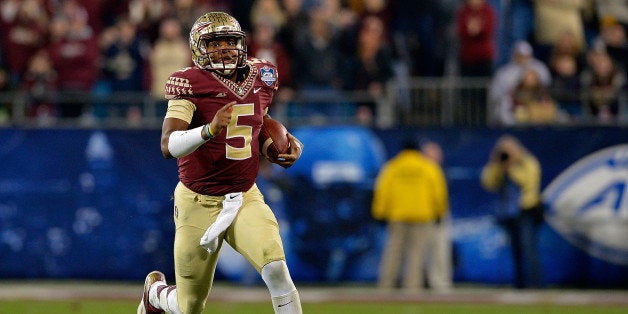 25 touchdowns, 18 interceptions. Five multi-interception games. 145.5 rating. Rape allegations, theft, and a team suspension for getting up on a table and yelling an obscene phrase in the middle of the Florida State campus. Projected number one overall pick in the 2015 NFL Draft.
Florida State quarterback Jameis Winston is rumored to be the favorite to go to the Tampa Bay Buccaneers with their first overall pick in the upcoming draft. Draft gurus Mel Kiper Jr. and Todd McShay from ESPN both placed Winston atop their first of many mock drafts leading to the big day. He's been called one of the best quarterback prospects to come out of college over the past decade.
My question is... why? I just don't get it...
First, let's discuss Winston's clear regression from his Heisman-winning freshman season. While it's important to note that it's unfair for us to expect a player to repeat a Heisman year, it's also important to realize what a huge step backwards Winston took on the field this past season.
Attempting 83 more passes than he did last season, Winston threw for 150 fewer yards, had less of a completion percentage, 2.2 fewer yards on average per attempt, 15 fewer passing touchdowns, and eight more interceptions in 2014 than he did in 2013. Most drastically, his quarterback rating dropped from 184.8 to a 145.5.
He looked rushed. He looked flustered. His mechanics were off. He tried to force balls into tight spots.
As the season went on, the national media did their best to make excuses for the embattled quarterback. Were the rape allegations distracting him on the field? Was his receiving core not on the same page? Was the lack of a consistent rushing attack the problem? In other words, the media made it their mission to blame situations and basically anyone except Winston. Why? Painting the charismatic Winston as a hero rather than a villain probably worked better for ratings, as the Seminoles were on their way to another undefeated season.
There was no mention that it was his actions that brought upon the rape allegations. There was no mention that he was turning the ball over at a ridiculous rate due to careless pass attempts. There was no mention that it was perhaps his lack of preparation that contributed to these on-field issues. There was no mention that the team got incredibly lucky and pulled out victories in spite of Winston, instead noting his resiliency and leadership instead. (It must have been the same amount of leadership that he displayed while getting up on the table and shouting an expletive about female genitalia while on the verge of a student conduct hearing. For that incident, he got himself suspended for his team's first major home game of the season against Clemson.)
When thinking of the league's top quarterbacks, what comes to mind? Let's use Tom Brady, Peyton Manning, Drew Brees, and Andrew Luck for example. These men are level-headed. They lead by example on and off the field. They know what it means to be a professional. They conduct themselves with integrity and demand respect, because they respect themselves, their teammates, the league, and the game of football. You trust these guys at the helm of their organizations and have absolutely no questions or concerns about their ability to perform and lead. If any players are worth $20-plus per season, it's them.
Do you honestly think Jameis Winston fits into that mold of a player or person? I don't quite understand how the majority of NFL analysts have not understood and projected what a terrible train wreck Winston has the potential to be in the NFL. Of what he's done off and on the field so far, why would anyone believe that he will change?
Not only do the quarterbacks above know how to conduct themselves professionally, but they are known to put massive amounts of hours in the film room, studying and preparing from week to week. This is not to project that Winston won't do the same -- but it's quite alarming that a quarterback who threw 18 interceptions while playing in the ACC, including four in a single game against a struggling Florida team at home late in the season, might be selected first in this year's draft.
If I was an NFL GM, I'd steer very clear of drafting Winston in the fear that he will be a bust... on and off the field. I'd even argue that if he's selected with that pick, he will become the biggest bust in the history of the NFL, based on all of the hype he will receive.
Those of you that disagree with this (Winston fans), ask yourself this question: What has this man done to ever give him the benefit of the doubt? Your answer may be "win games", but I can assure you that winning games in the ACC is a whole world away from winning at the professional level.
It should be very interesting to see what happens in the coming months leading up to the draft on April 30th.
REAL LIFE. REAL NEWS. REAL VOICES.
Help us tell more of the stories that matter from voices that too often remain unheard.