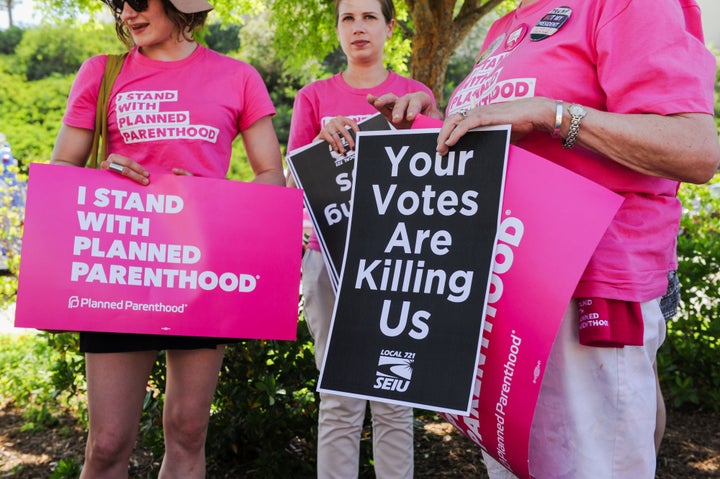 In 2007, Amanda Ream ― from Coatesville, Pennsylvania ― was uninsured, recently diagnosed with a chronic, painful bladder issue, and in graduate school at Widener University in Chester when she turned to Planned Parenthood for her health care. She could not get health insurance because of her "pre-existing condition" and could not afford to pay for her basic health care, like family planning and cancer screenings. She turned to Planned Parenthood for high-quality, affordable, compassionate health care. When I met with Amanda, at the Planned Parenthood Upper Darby Health Center, she told me Planned Parenthood had been an important part of her reproductive health care for the entirety of her adult life. She told me that Planned Parenthood kept her healthy and allowed her to control her reproductive future. Patients like Amanda don't go to Planned Parenthood to make a political statement—they go for affordable and quality health care that they need.
I am a pro-life Democrat. I believe we must do everything we can to reduce the number of unintended pregnancies and abortions in this country, including increasing access to contraception and helping pregnant women before and after birth by supporting Medicaid, WIC and other critical programs. Just like other providers, including hospitals, Planned Parenthood is reimbursed for services and federal funds that are not used to pay for abortion. Thanks in no small part to Planned Parenthood's efforts to expand access to contraception, we have reached a historic 30-year low for unintended pregnancies and 40-year low in the teen pregnancy rate This has led to a record low number of abortions. This progress is directly attributable to the increase in access to, and use of, contraception. That's a pro-life record to be proud of. Since contraception became legal in the United States a half-century ago, it has been nothing short of revolutionary for women and society. The inclusion of contraception as a preventive service in the Affordable Care Act increased access — at no out-of-pocket costs to the patient — to the full range of FDA-approved contraception. This has led to more than 55 million women with access to contraception without copayments, which has saved them an estimated $1.4 billion in the first year alone. And there is still room to expand on this success. Recent studies have made clear that increasing access to the full range of contraceptive methods, as is provided at Planned Parenthood health centers, could reduce unintended pregnancy by 64 percent and reduce abortions by 67 percent nationally.
The fact is, Planned Parenthood prevents unintended pregnancies and reduces abortions. Blocking access to care at Planned Parenthood could have the exact opposite effect. By increasing access to all forms of contraception and high-quality contraceptive counseling, Planned Parenthood enables women to choose the methods that work best for their bodies and lifestyles.
This is particularly important in my home state of Pennsylvania. We need more health care not less. In Pennsylvania, Planned Parenthood plays an indispensable role in serving family planning patients that rely on the safety net. Right now, over 90,000 Pennsylvanians depend on the 32 Planned Parenthood health centers state-wide for care, including cancer screenings, contraception, STD testing and treatment, and well woman exams. Fifteen Planned Parenthood health centers in Pennsylvania are located in medically underserved areas or healthcare provider shortage areas.
Yet all this progress is at risk. The president and many Republicans in Congress have made it a top priority to "defund" Planned Parenthood and roll back women's access to family planning care and contraception. The real-life effects of these policies are devastating. In the absence of family planning services provided at safety net health centers, like Planned Parenthood, the rates of unintended pregnancies, unplanned birth and abortion for all women in Pennsylvania could be 56 percent higher and the teen pregnancy rate could be 60 percent higher. And the idea that other providers could just absorb Planned Parenthood's patients has been contradicted by those providers and by the experts ― in fact the American Public Health Association called the idea ludicrous. By increasing access to care at Planned Parenthood and focusing on family planning, we can build on the progress we've made and continue to lower the rate of unintended pregnancies and abortion and provide basic health care for women who cannot obtain much care any other way.
Popular in the Community