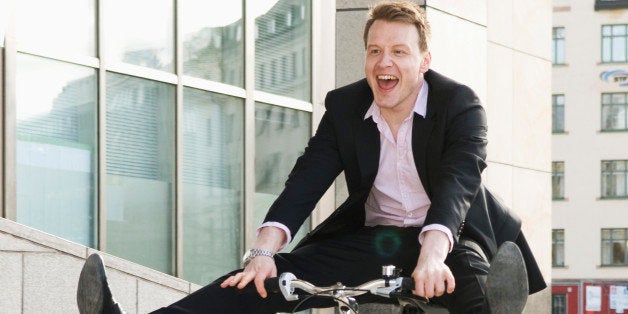 How many times growing up did you hear your mother yell at you to "stop acting like a child" or "get over it and grow up". You were probably told that only babies do certain things and young adults need not behave that way. It was almost like as soon as we hit a certain age it was no longer cute to have child-like qualities and we were quickly programmed to equate adulthood with being more mature and properly put together.
By definition, mature means having or showing the mental and emotional qualities of an adult. As if the mental state of adulthood is always something to be desired? Pretty sure I know plenty of adults with questionable mental states. Adulthood often equals stress, frustration, exhaustion, responsibility, worry, and on and on.
Yet, we are programmed (from especially early ages these days) to strive for maturity and acting like an adult. We are told to let go of our child-like qualities in pursuit of a responsible life. But who got to decide that this was the best policy for growing up? Who made the decision that you must leave behind your childhood to become an adult?
In my opinion, kids have it right in a lot of ways. They are curious about the world around them. They are caring without expecting much in return. They laugh and smile at the simplest things. They enjoy spending time with the people they love and trust the most. They express their emotions when they feel them. They have such a zest for life and an unwavering joy. They see the world through hope colored lenses where anything is possible.
I am not saying we should all run around whining, throwing temper tantrums, and eating paste - but we could stand to take a few lessons from our younger years.
Society, our parents included, work so hard to deprogram our child-like ways, but maybe it should be more about bringing them with us into adulthood and growing into them rather than throwing them away altogether.
I assert that our world could benefit from more adults laughing and smiling at the simple things. We could benefit from more adults spending quality time with the people closest to them. We could benefit from more adults expressing their emotions and then getting over them (kids are great at this). We could certainly benefit from more adults viewing the world as a place of possibility, rather than a sinkhole of responsibility.
I know being an adult can be tough work and requires a certain level of maturity, but it's sad to see so many people refusing the see the little moments of joy in life. We weren't meant to go through these years so angry or sad or frustrated.
We are meant to laugh and smile and make memories. We are meant to explore and be curious and expand our knowledge. We are meant to express ourselves and let ourselves make mistakes sometimes. We are meant to be human and explore what that even means.
This is my invitation to you to embrace your inner child and be a big kid sometimes.
Let's stop putting so much pressure on ourselves to always get it right. Let's make mistakes, take chances, and laugh at the stupid things we do. Let's go after dreams no matter how big and see what happens. Let's build massive forts out of sheets in our living rooms and camp out to watch our favorite movies. Let's start living life, both as an adult and a child, and see all the new possibility that could exist.
What do you think life would look like if we all let our inner child out a bit more?
What world could we create for this generation and the generations to come if we focused less on always getting it right and more on living life?
What will you do today to bring our your inner child?