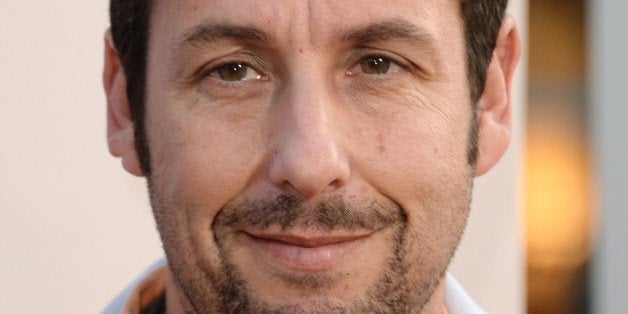 Adam Sandler is a hands on parent. Just look for him at noon and you won't find him in some swanky La La Land restaurant.
He does lunch with his kids.
There is an elementary school outside where you can find him chowing down on a regular basis. His mid-day dining choice isn't exactly gourmet: "The best thing about my kids' school is you can show up any day you want and have lunch with your kids. But you better show up with an In-N-Out burger," Sandler says.
Does that get him cool Daddy points? Not exactly. "Same night, the kids won't want to go to bed. My best parental technique is to look shocked and say, 'Go to bed. Don't you remember the In-N-Out Burger!" says the 47-year-old father of 8-year-old Sadie Madison and 5-year-old Sunny Madeline.
In a dark blue shirt and jeans, an ageless Sandler walks into his Loews hotel suite on a hot spring afternoon. "Mahalo," he says, giving the traditional Hawaiian greeting.
I asked the Blended star for his fatherly advice.
Q: Your movie Blended says that, as parents, 99 percent of your life belongs to the kids and you have one percent for yourself. Do you feel that's true?
A: "My kids give me the most joy, but there are life adjustments. I don't go out to meet anyone after 9:30 at night. I eat dinner at 6 or 7. If someone makes me stay out until 10:30 at night, I'm angry the entire next day because I'm exhausted."
Q: Are you living a wild movie star life despite having kids?
A: "This is wild. Last night, my wife and I were falling asleep at 8 and we said, 'No, we're not giving into this sleep. Maybe we should go see a movie after the kids fall asleep.' Well, the kids weren't falling. I'm in one room saying, 'Twenty more minutes until they fall asleep. The next thing I know, I walk out of that room and my wife and my other daughter are curled up sleeping. I'm up half the night with the other one. Welcome to parenthood."
Q: One might think that you're the "anything goes" Dad, but that's probably not true.
A: I'm a worrier. I've learned in life now that when your kid is upset you're rocked until they're not upset anymore. Even when they're not upset, you're rocked. You're always nervous because you want your kid to be happy. Now, I understand why my folks were always saying, 'Be nice and be safe. Make sure everyone in the family is OK. That's the most important thing.' Making sure everyone in the family is OK is the most important thing. If the family hurts then you hurt."
Q: One last question with Father's Day approaching us. Are you the coolest Dad at school? It must be hard on the other Dads who are not... Adam Sandler.
A: "Honestly, at school, I'm like Santa. The kids love me and flock around me. It doesn't make me cool. I'm just a guy with a lot of kids around him."
Q: And a bag of In-N-Out burgers.

A: "With extra ketchup."
Support HuffPost
A No-B.S. Guide To Life
Related
Popular in the Community