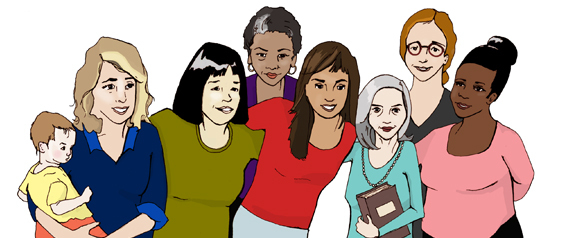 Image Credit: Stacy Hornung, Illustrator
But what about women who decide to attend college years after high school graduation? For adult women looking to earn or complete an undergraduate degree or even get a second bachelor's degree, the good news is you can expect the same quality, affordable education, with an additional benefit: schedule flexibility.
When I started blogging about women's colleges, I wanted to understand why traditional-aged young girls selected a women's college. This quest led me to pen my first HuffPost blog post, "Why I Chose a Women's College."
Since then, I became curious as to whether the same reasons applied to women over the age of 25. Here's what I discovered. Non-traditional aged women attend women's colleges for the same reasons that graduating high school girls do.
I've included in this blog post student and alumna stories from several women's colleges: Smith College (Northampton, MA), Wesleyan College (Macon, GA), Bay Path University (Longmeadow, MA), Converse College (Spartanburg, SC), College of Saint Mary (Omaha, NE) Hollins University (Roanoke, VA), and Meredith College (Raleigh, NC) highlighting adult women education programs.
We'll begin with a video about the adult education program for women at Smith College, the Ada Comstock Scholars Program. Meet Rene Maserati, Dawn Ginnetti, Melissa Torres, and Kimone Coley as they share their "going-back-to-college" stories. Smith College started this program in 1975 to enable adult women to earn an undergraduate degree.
The next story comes from Jessica Seale, the daughter of a non-traditional student, ReVonda Seale, who graduated from Wesleyan College in 1996 with her bachelor's degree in business administration.

My mom was a single mother in her late 20s. Wesleyan offered her the support and structure she needed to return to college full time and become the first person in our family to earn a bachelor's degree, despite the challenges she faced. I was in second grade when we traveled to Macon. My mom met with an admissions representative who helped her navigate the admissions process, including financial aid.
Four years after Jessica's mom graduated, when Jessica was fifteen years old, her mom passed away. For several years, Jessica bounced around. After high school, she enrolled in a large state school. Unfortunately for this academically exceptional young woman, life was not especially kind; and Jessica almost gave up on college--that is until she decided to apply to her mom's alma mater.

I applied for a transfer to Wesleyan, thinking that maybe they could help me navigate through undergraduate school. Living and attending classes where my mother made her own journey when I was a kid was an irreplaceable experience. I graduated from Wesleyan in 2010, walking across the same stage mother had fourteen years earlier. I now live in Washington, DC, and work for a U.S. Senator. I can honestly say that I wouldn't be where I am today without the support, guidance, and rigorous academic curriculum I received at Wesleyan.

Susan Middleton also is an alumna of Wesleyan College. Her "going-back-to-college" story centers on her childhood passion -- the piano.
Susan earned bachelor's degrees in English and language arts teacher education in 1970. In 1981, she earned a law degree and practiced law until the early 2000s. When Susan began contemplating retirement, she decided to teach piano. In 2007, she opened a business called Sue-Sue's Primo Piano in Macon, GA. Wanting academic music credentials, she investigated the music program at Wesleyan. Because she had an undergraduate degree, Susan only needed to take the required courses for a music major. Wesleyan's Encore Day Program allowed Susan to graduate from Wesleyan College in 2012 with a BA degree in music.
If online classes or Saturday classes are more to your liking, consider Bay Path University. In addition to its residential women's college, the university has a One-Day-A-Week College for adult women. Classes are held on Saturday in three locations (Longmeadow, Burlington, and Sturbridge), and the accelerated program lets you finish your degree in under four years. Bay Path also developed the first all-online, all-women's undergraduate degree programs through The American Women's College.
Jessica Fraga earned her bachelor's degree through the One-Day-A-Week College in 2005. She continued her education at her alma mater, earning an MBA in 2009. Today Jessica is part of the adjunct faculty and a One-Day Program Adviser. Listen as she tells her story.

The next two stories are from students at Converse College. Mackenzie Rogers is a first-year student majoring in early childhood education. This Spartanburg resident married after high school in 2000 and started a family. Mackenzie and her husband are the proud parents of three boys, ages 4, 6, and 9. Being a stay-at-home mom confirmed her interest in becoming an early childhood teacher. Knowing that she needed a college degree, Mackenzie investigated several options. She was impressed with Converse's early childhood education program, and she liked the flexibility and affordability of the college's adult program for women, Converse II. She began her college journey in 2014.
Mackenzie admitted that she didn't know whether she could keep up academically (she had been out of school for many years); but after making the dean's list, she no longer questions her ability. She appreciates the professors and advisers at Converse, as well as the support of her family. She knows with a college degree, she will be prepared to fulfill her career dream.
I spoke with another Converse student, Brenna Byler. After graduating from high school in 1994, Brenna enrolled in a state university as a graphic design major. Attending a large college was not what she expected, and she soon dropped out to review other educational options. During this time she married and started a family, temporarily abandoning her college dream. When she divorced in 2011, Brenna rekindled that dream and started classes in 2012 as a sophomore majoring in philosophy and psychology.
Going back to college was daunting: Would she fit in and be able to keep up with the other students? With a G.P.A. of 4.0, and graduation set for December 2015, Brenna plans to attend graduate school to study social psychology; her goal is to earn a Ph.D. The empowering environment at Converse inspired her to continue her education by providing an affordable academic opportunity (including study travel), research opportunities, and space to grow and find her own voice.
In this next video, you'll meet several single moms who traveled across the country to earn a degree at the College of Saint Mary. The really good news is that these students and their children now enjoy housing just for them. This college recently invested $10 million dollars to build a dedicated residence hall for the Mothers Living and Learning Program.
Mary Ellen Apgar oversees Hollins University's adult education program for women. It's also where she earned her undergraduate degree. Following high school graduation in 2003, Mary Ellen enrolled in a local college only to drop out. She tried again at a community college with the same result. Her next move was to "enroll" at a residential recovery program for drug and alcohol addiction. Once free of her addictions, she decided to go back to college, a dream she never gave up on.
In the fall of 2009, I enrolled at Hollins University as a Horizon student. My fear of failure was almost palpable, but the welcome I received from Hollins and the Horizon Program soon quelled those fears. College can be scary, but being a non-traditional age student adds a unique layer to that fear. The Horizon Program helped me to become comfortable at Hollins and realize that I really could have the full college experience, even though I did not come straight from high school. Hollins and the Horizon Program encouraged me to find my voice, inner strength, intelligence (turns out I am smart!), and wings. I graduated from Hollins with my BA in history in 2012. Now I serve as the director of the Horizon Program. It is with honor that I welcome the next scared, nervous, or excited adult woman to Hollins and let her know that it's never too late. Each day I get to watch these women find their own voice, inner strength, intelligence, and wings--then I watch them soar.
Let me introduce Bev Mecum who raised her children as a single mom and decided to enroll at her daughter's alma mater, Meredith College. After a career in the criminal justice system and substance abuse counseling, Bev wanted to go back to college to pursue her passion in art. Liking Meredith's adult program for women, Wings, she enrolled. Her degree in art education will springboard her into a new career when she graduates in 2015.
Women's colleges provide an exceptional undergraduate education for women returning to college--one that supports and empowers women, is affordable, and meets the schedule demands of busy women like you. And you'll become part of a sisterhood that lasts a lifetime, whether you live on-campus or off.
I hope these inspirational stories have piqued your interest in women's colleges. For those who want to learn more, visit my blog, Advantages of a Women's College. I include a comprehensive list of all the women's colleges in the United States.
Calling all HuffPost superfans!
Sign up for membership to become a founding member and help shape HuffPost's next chapter