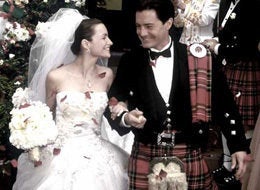 Back in February I spent some time with a guy friend named George who had just been dumped. He had spent almost a year and literally tens of thousands of dollars on numerous IVF treatments in an effort to have a baby with his 43-year-old fiancee. (He's almost 50.) One morning, while reading the paper and having his coffee, she walked into his living room and announced she was leaving. She was kind enough to leave the engagement ring behind.
George was devastated. They were supposed to have children together. He bank rolled her entire lifestyle. He even flew to London to buy the engagement ring from an auction after she saw it in a catalogue. Their families were friends. Everything seemed perfect.
Not to me. "What woman wakes up when they're 43 and suddenly decides they want to have kids and a family?" I asked. The fiancée had spent almost 20 years single in Manhattan. Had the concept never occurred to her before?
George flinched. Was he expecting empathy from me? "Most women I know who really want the husband and the family decide this early on, in their 20s, not when they're pushing middle age," I said. It was blunt, and a little harsh toward womankind, but we both knew that on some level, I was right.
As if the cosmos wanted to illustrate my point, the very next week I had brunch with a girl friend named Kristin who was worried about her dating prospects. She is successful in her career, a lot of fun and quite attractive. In the years I had known her I had never once heard her lament her dating life, much less verbalize any long-term goals about it. "I want to meet someone nice," she blurted out over omelets "Someone serious so that I can have a family someday." Kristin turned 28 in March.
The magic age of 28 was rearing its head. I knew where she was coming from. Age 28, which was only three years ago for me, was a massive turning point in my life. The year started with several friends getting engaged and crescendoed into an autumn that was awash with bridal showers and weddings where I was invited without a guest. (Thanks, guys!) I thought back on that year and realized that was when I got serious about my mating and dating habits, a conscious decision that involved weeding out weak dating prospects, adjusting my outlook on life and getting out and about more often.
There is something about being a 28-year-old woman, especially in an urban area, that makes them flip the switch from party girl to marriage material that often has nothing to do with a ticking biological clock. Some might call it a cab light turning on. The most obvious reason is that it's cultural, subtly ingrained into our psyches over years of pop culture.
Take something as simple as movies. In the opening scene of Kissing Jessica Stein, for instance, Jessica is in temple on Yom Kippur, trying very hard to atone while wedged between her mother and grandmother. They're on her back about who she dating. "You're 28 years old," the mother says. "You need to find someone." In My Best Friend's Wedding, Jules and Michael make a pact that if they aren't married by the time they're 28, they'll marry each other, and comedy ensues. Kate Hudson and Anne Hathaway's characters are also roughly 28 in Bride Wars. The list goes on, but the point is that the magic number 28 as The Age of Matrimony may worm its way into women's minds without them even realizing it.
There's also the nature of the age itself. Our society has put a bizarre stigma on single women over 30. Even Patty Stanger, the Millionaire Matchmaker, has told young women on her show "Okay, you're 27, you've got three good years left." At 28, you're still in the acceptable zone of single, but in society's eyes time is of the essence. General maturity factors in as well. You're done with college and have most likely had a job or two in the workforce. A Quarter Life Crisis, if applicable, has most likely come and gone. At 28, you're still young enough to change your life, if need be, and no one would think you were foolishly starting from scratch.
Then there's good old fashioned peer pressure. It's kind of like when you were in second grade and everyone had a Cabbage Patch Kid and you suddenly felt the need for one, even if you thought Preemies and Koosas were kind of weird. Before all my friends got engaged, I never gave housewares and china patterns a second thought. Now I think the Palladium collection at Tiffany's is not only classic, but reasonably priced.
For some women, the parade of weddings and showers makes them suddenly feel lonely, which can be enough of a catalyst for an informal Race To The Altar. Anyone who's ever been single and stuck at a wedding knows that pang of anxiety when everyone's invited to join the couple in their first dance and she has no one to dance with, not even a creepy uncle. So you sit at the table, fascinated by the cocktail in front of you and wait in vain for "The Way You Look Tonight" to end. Then you hit the bar for another drink, albeit maybe a little stronger.
As summer approaches young women across the country are going to put on their best cocktail dresses and make the rounds of showers and ceremonies. Along the way bizarre emotions of self-worth and confusion about your Life's Direction may crop up, but as someone who's been there I can assure you it's as normal as wanting to dodge the spectacle of catching the bouquet. When it crops up, look around the banquet hall at the other young women slipping out to the ladies room. They feel the same way. And you are not alone.
Related