In a stunning rejection of the Republican-lite tactics often favored by Democratic party leaders in red and swing states, Alabama Agriculture Commissioner Ron Sparks upset Congressman Artur Davis in Tuesday's primary for their party's gubernatorial nomination.
Sparks ran to the left of Davis, a friend of President Obama since their overlapping studies at Harvard Law School. The 62-38 Sparks victory Tuesday confounded pollsters, the centrist strategy promoted by the White House, and conventional wisdom that the better-funded Davis would defeat Sparks or force his withdrawal before the primary.
"But Sparks didn't drop out, and on Tuesday he was rewarded with one of the more remarkable upsets in Alabama primary history," wrote the Birmingham News.
Davis, representing Montgomery and adjoining areas, launched his bid in strong position. In 2007, he became first congressman outside Illinois to back Obama for president. But job worries are strong in Alabama, BP oil is approaching the shoreline, and Davis opposed health care and pro-grambling measures favored by many Democrats.
The Sparks victory parallels other recent Democratic challenges to party leaders by less-than-docile voters. Senate candidate Joe Sestak beat an incumbent in Pennsylvania, Bill Halter earned a run-off against a Senate incumbent in Arkansas, and Hawaiian House candidate Colleen Hanabusa this week forced a former congressman to withdraw from an expected primary.
I've followed the Davis election campaign closely for a year after documenting in Huffington Post and elsewhere how former Alabama Gov. Don Siegelman was framed on federal corruption charges as part of a nationwide effort by the Bush Justice Department to use criminal charges for political purposes, primarily against Democrats.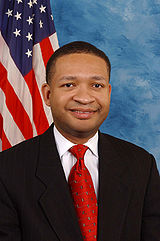 Ron Sparks, left, and Artur Davis
After initial interest in the Siegelman case Davis resigned from the House Judiciary Committee, avoiding pressure to explore allegations of injustice by Alabama whistleblowers who risked everything to seek better oversight of the justice system.
One was DOJ paralegal Tamarah Grimes, a Republican fired by the Justice Department after criticizing the Siegelman prosecution for waste and unfairness. Unable to obtain a Judiciary Committee invitation to testify, she's now out of work, faced with massive legal bills, and in the process of losing her home to foreclosure.
Another was Dana Jill Simpson, a small-town Alabama attorney and longtime Republican political volunteer who gave sworn statements to the committee and Siegelman's judge in 2007 alleging Republican plans to frame the Democrat Siegelman to prevent his reelection.
Siegelman, 64, was governor from 1999 to 2003. He's free on bond following his 2006 conviction on corruption charges centering on his 1999 reappointment to a state board of a donor to a non-profit that advocated a state lottery to improve Alabama's education funding.

After concluding that Davis didn't want to investigate the bogus federal charges for fear of antagonizing powerful Republicans Simpson vowed a year ago to work against his election.
"If Davis had pushed for witnesses before the Judiciary Committee and they'd taken the Fifth Amendment," she said this morning in a phone interview, "it would have ended the Siegelman prosecution years ago. Instead, we see Siegelman facing 20 more years in prison and his innocent co-defendant serving seven years on these trumped up charges."
She's also among a number of Alabama attorneys and commentators wondering why the federal appointment process Davis leads as his state's senior federal elected Democrat hasn't moved more forcefully to replace the Bush-appointed U.S. attorney Leura Canary, whose middle district office prosecuted Siegelman and whose husband leads the Business Council of Alabama.
Tuesday was payback. Davis sought election as Alabama's first African-American governor, and won endorsements from most major newspapers. Yet his state's four major black political groups endorsed the white candidate Sparks. Alabama Democratic Conference Chairman Joe Reed, for instance, wrote:

It's no secret that Davis is the preferred opponent of the Republican Party. This may be because he will be the most easily defeated Democrat, or because he is the most Republican of the Democratic candidates.
Siegelman visited black churches Sunday to describe why he was making the first primary endorsement of his long career to back Sparks. The former governor said Sunday:
Ron Sparks wants to create jobs, pay for free college scholarships for our children with our own Educational Lottery and pay for nursing home care for our seniors by taxing casinos. Ron is courageous and the hardest working man I've seen, well, since I was a candidate.


That would be enough but I am also disappointed in Artur Davis....Not only because he voted against health care and took a bunch of money from insurance companies, but Artur has taken several thousands of dollars in contributions from the very people who had me prosecuted and put in prison.

I just don't understand who Artur really is deep inside. But I do know who Ron Sparks is and what he stands for, and I like everything I know about Ron Sparks.
Similarly, progressive blogger Roger Shuler published a commentary Monday entitled: "Artur Davis: What a Waste of Political Potential. "Shuler wrote:

A hopeful person might have expected that the first black candidate with a legitimate chance to become governor of Alabama would be someone who understands the injustice and inequality that still permeates our society, especially here in the Deep South. But that hopeful person would be wrong. What we have instead is an empty suit named Artur Davis.
As a lame duck congressman with important friends, Davis may obtain a federal appointment. Shuler suggested one possibility last month, "Is Obama Holding Leura Canary's Job for Artur Davis?"
Appointing Davis to such a powerful post would be a huge mistake for Obama. Voters in troubled times are showing they want fighters to handle sensitive issues -- not careerists with fancy resumes and powerful friends.
"Down here," the whistleblower Simpson continued, "we're ready to pack the Davis bags and send him elsewhere. And we certainly don't want him as U.S. attorney."
Calling all HuffPost superfans!
Sign up for membership to become a founding member and help shape HuffPost's next chapter