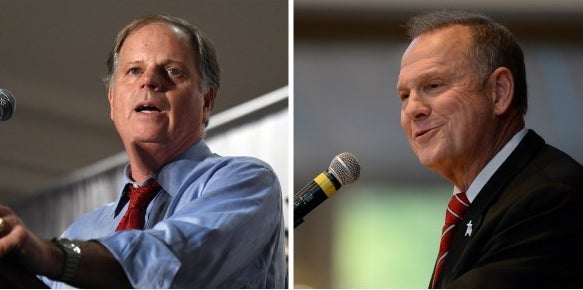 Besides Pakistan, the two other countries I have always been politically interested in are India and the U.S. For decades, I have followed every major election in both these countries. My interest is not just restricted to general elections, but extends to state elections and sometimes to important individual races as well.
No individual contest in recent times has aroused my, and for that matter, the interest of literally the entire world, as the recent senate race between Republican Roy Moore and Democrat Doug Jones did. This was the seat vacated by Jeff Sessions when he opted to become the attorney general and was considered an extremely safe win for Republicans, as Alabama is an extremely conservative state. In the November 2016 elections, Donald Trump carried by a comfortable margin of 28 percent, and the last time a Democrat had won this seat was in 1992.
It is highly unlikely for a by-election on this seat to gain the spotlight that it gained due to the surprise victory of the extremely controversial Moore in the primaries. Backed by the equally controversial, former chief strategist of the Trump campaign, Steve Bannon, the race suddenly assumed an unusual character once Moore became the official candidate of the Republican Party (GOP).
There were two main reasons as to why this became so critical. First was that Moore was not exactly liked by the Republican establishment, as he was backed by Bannon, who had declared open war against them. His nomination actually revealed deep fissures within the GOP, which would only be enhanced if he were to get elected.
More importantly, the race became crucial for what Moore espoused ideologically, and also for his personal character, which became extremely questionable due to allegations of him making sexual advances towards teenage girls during his 30s.
Moore can easily be called someone who is far right, as he has a reputation of making extremely offensive and controversial statements. He has opposed gay marriage, falsely stated that some areas in the U.S. are under Shariah law, incited hatred against immigrants, and indulged in racism as well as religious fanaticism.
This contest became the litmus test for the U.S. as a tolerant and free country, something which it has always prided itself to be. Moore represents an anti-thesis to this idea, as it is evident that his vision for America is based on exclusion and racial, as well as religious, bigotry. He made his agenda obvious and stated it without any obfuscation.
A Moore victory would have been symbolically disastrous to the idea of a tolerant U.S. and furthermore would have led to adverse changes in future political strategy particularly by the Republican party. A Moore victory would have meant that this kind of rhetoric had mass appeal and therefore, in order to get elected, the Republicans would not have hesitated to use it. In short, Moore's victory would have further endorsed Trump style political campaigning.
The results are in, and one of the most significant upsets has taken place as Jones has won in a state which, as mentioned earlier, is deeply red.
Given the context of Moore's racism and bigotry and alleged sexually predatory behaviour, the importance of this victory cannot be overstated. The Jones victory has reaffirmed faith in resilience of the American democracy, and at a personal level, made me extremely jubilant. Just when I was losing hope, I have been given every reason to hope again.
The victory has also shown that minorities matter and more importantly, women matter. In times of the #MeToo movement, women cannot be taken for granted, even in a "safe" red state.
The exit polls reveal what really happened and also the lessons that can be drawn. First, the race mattered to everyone; however, it mattered more to white men and the African American community. Moore was able to win by a significantly wide 72 percent to 26 percent margin among white men – though it was less than Mitt Romney's 84 percent to 15 percent margin in the state in 2012.
White men voted along racial lines. On the other hand, black men, who formed 11 percent of the electorate, voted 93 percent in favour of Jones, whereas black women – 17 percent of the electorate – voted by a whopping 98 percent for the Democratic candidate. The turnout amongst black voters was also higher, which gave Jones a huge bulk of votes. This shows that in retaliation to Trump's victory in 2016, minorities, particularly the black community, are getting energised and increasingly voting as a block.
However, the real decisive blow came from women voters, who voted in favour of Jones 56 percent to 42 percent. As mentioned earlier, black women overwhelmingly voted for Jones, but even a significant chunk of white women voted for him. Over all, Moore won amongst white women but by a far less margin than Romney did. In 2012, Romney had won amongst white women by a huge margin of 67 percent; however, Moore's lead reduced to merely 32 percent in this election. More importantly, Romney had led by a 55 percent margin among college educated women in 2012, whereas Moore's lead reduced to merely an 11 percent margin in this election.
Ultimately, it is women who have handed over this stunning victory to the Democratic candidate. In general, unfortunately in the U.S., race is a stronger political identity than gender. However, this result shows that it could no longer be safely assumed that every time, women will vote in line with race rather than the gender. In my eyes, this is a huge progressive development which would go a long way in rectifying the entrenched gender imbalances. Besides Democrats, now Republicans will also be forced to listen to women's concerns.
At the general political level, this election, and for that matter other special elections this year, have shown the Democratic Party to be in ascent. If the trend continues, we will see a major reshuffle in the 2018 midterm elections, which could end up giving Democrats the majority and cut President Trump in his legislative capacity.
Calling all HuffPost superfans!
Sign up for membership to become a founding member and help shape HuffPost's next chapter