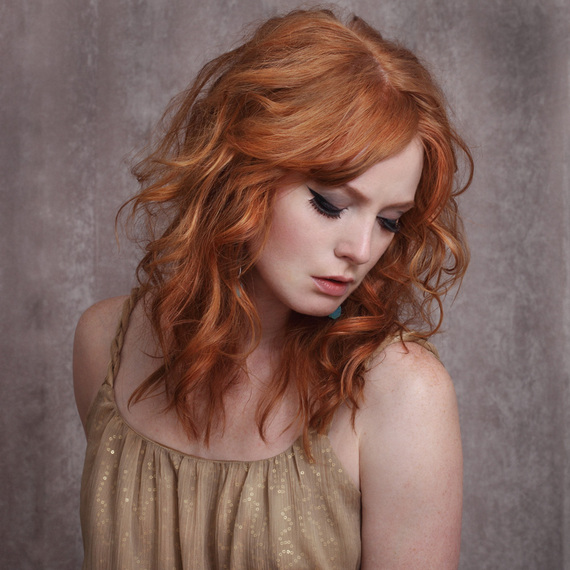 Steadying the gun in her hands, Wendy Crowe takes one slow step toward her brother. Determination in her eyes, she lowers the firearm to just below his belt. In a breath, she pulls the trigger.
It's hard to believe that the strong-willed, ass-kicking paralegal Wendy Crowe on FX's Justified was once Cybill's sarcastic, celibate teenage daughter Zoey in the '90s sitcom Cybill.
In fact, each character Alicia Witt has portrayed throughout her nearly 30-year career has been vastly different from the last—from the resilient heroine in Urban Legend, to the unabashedly honest black sheep in Cold Turkey, to the protective, rifle-wielding mother in Justified. All of these characters, however, have a definite element of Witt in them.
"I like digging into these characters that are a lot more complex, and there's a lot that isn't apparent on the surface," Witt explains to me over the phone one unusually warm Friday afternoon in New York City, after the Polar Vortex finally released us from its clutches. "In a weird way, you can access all that fear and pain."
The versatile actress makes an effort to not play the same character over and over again. "Nothing makes me happier than when somebody figures out I was in something, and then they'd seen me in something else, and had no idea it was the same person," she said. "Then I feel like I've done my job."
As a marine layer settles in over L.A., Witt calls to her rescue dogs, Ernest, a beagle and miniature pinscher mix, and Maggie, a mix of either Australian Shepard or Husky, ushering them in from the backyard as she describes the process of getting into a role. "I've always loved finding characters that are not always the most likable ones when you first meet them," she said, "and finding a way to make them people that viewers will identify with, even against their better judgment."
Witt, who was discovered by director David Lynch when she was nine years old, starring in his 1984 sci-fi action film Dune, is so dedicated to playing her characters truthfully that she's had to consciously learn to leave her emotions on set. "You'll go home after a long day of work and you feel this heaviness inside of you, but everything else in your life is going really well," she said. "Sometimes it's as simple as just recognizing that there's something in your heart that doesn't belong there. I think that gets easier with time."
Before joining the cast of Justified in its fifth season this year, as the outsider Wendy Crowe, Witt had never seen the show, a choice she said helped shape her character. "I think it was a lucky thing that I hadn't actually seen the show before," Witt said, "because my character is from a whole different world than the rest of them. I came to all those characters, especially Raylan, [played by Timothy Olyphant], with no preconceived notions." Now, however, she's hooked. "I already feel like I'm addicted to the show," she said. "Whether I'm in season six or not, I'm going to be watching."
Now is a great time for Witt, who, in addition to Justified this year, plans to release an album in late 2014. Witt began playing the piano when she was seven years old, decades before she'd seriously pursue her own musical career. "I've really always wanted to do my own songs, but I didn't start in earnest until about six years ago," she said of releasing her first EP in 2009.
"Since I've been recording music a little bit longer now, there's just something much more honest and comfortable about the songs on the new album," Witt said. "They really span the gamut and come from all different areas of my life," including a song inspired by Justified that may appear in the show's sixth season.
Making this album even more personal for Witt, it's being produced by her boyfriend, musician Ben Folds. "What I try to do with my music is be honest," Witt said. "The fact that Ben produced [these songs] puts them in a whole different category in terms of both the production value and the honesty."
Witt's voice softens as she talks about Folds, a person and artist she clearly respects. The two have collaborated before, when working on the theme song for Cold Turkey in 2013. "He listens to music from a standpoint of what moves him and he doesn't come at it like most producers," Witt said. "If a good idea comes up in the studio, he doesn't care where it comes from, and if it doesn't feel truthful to the artist, he's completely willing to come at it from a different angle. For somebody as talented as he is, he's so incredibly ego-free when it comes to producing."
Just as with her acting career, Witt puts honesty and authenticity above all else when it comes to her music. "It's just coming out more truthfully," she said. "It's not like I have to think as much about how I want something to sound. I just know if it's right and if it isn't right." The same, she says, goes for performing on screen. "I know after a take if it felt truthful."
Witt plans to continue to seek out the roles that intrigue her the most, undaunted by a challenge, and to live each day to the fullest, personally and professionally. "All we can do is live every single day and do our best to be present with the ones that we love and with everybody that we come in contact with," she said. "The timing of everything seems too divine sometimes to ignore."
Popular in the Community