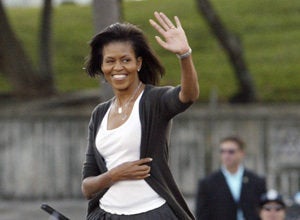 No matter whom you supported in the election, all women will benefit from Michelle Obama's presence in the White House. Here's how -- excuse me while I gush a little.
She's a good mother. Whether you're single, married, a parent, or never plan to be, the image of a strong, responsible mother -- one who also manages to maintain a demanding career of her own and support her husband's -- is a wonderful example for all women. Not only does she prioritize her daughters over everything else -- getting to soccer games, ballet recitals, and birthday parties, election or not -- she also constantly advocates the importance of responsible parenting for all children. To paraphrase Gandhi, a society can best be judged by the way it treats its children.
She's smarter than you. If you went to Princeton and Harvard, fine, maybe you're almost as smart as Michelle Obama. But most of us, even the super-educated elite, can learn a thing or two from this woman who came from humble beginnings on the South Side of Chicago to excel at the country's top institutions, with the goal of helping others. She, like her husband, left a high-paying legal career to work for social issues helping children, women and minorities. Community organizing, it seems, isn't just a perfectly adequate qualification -- it's the new PhD.
She's a realistic fashion icon. Jackie Kennedy employed a personal designer. Nancy Reagan wore only custom-tailored suits. Michelle Obama shops the J. Crew catalogue. Her wardrobe of sheath dresses, twin sets, kitten heels, and minimal jewelry ranges from the everyday affordable (Gap, H&M) to the mid-range luxury (Narciso Rodriguez, Maria Pinto), making it totally accessible to the modern American woman. And it's not just what she wears, but how she wears it. Obama is hardly Jackie O-thin, but she confidently flaunts her real-woman curves in silhouettes that are both sexy and sophisticated, proving that femininity can also be feminist. And she's never been spotted in a pair of stuffy, uncomfortable pantyhose. Here's hoping she'll be the one to kill that archaic trend once and for all.
Yes, she is a feminist. During the election, Obama was often criticized as "anti-feminist" for being overly affectionate and playful with her husband, for quitting her high-powered job when the Obama campaign kicked into high gear, and for insisting she'll take a back seat in the White House, focusing on raising her daughters rather than rabble-rousing Congress. And as far as I'm concerned, these are the kinds of arguments that kill feminism, which should be about celebrating women's progress. It's not a race to see who can be the toughest gal in the old-boy's club without regard to the very-real juggling act all women -- especially mothers -- must perform. Michelle's dedication to her husband is admirable (can we please stop perpetuating the stereotype that feminists hate men?); her responsibility as a mother essential (see #1); and as for her taking a "back seat," we're not convinced. Do you really think this Princeton/Harvard alum with her own track record as a community leader (as well as top-level executive) will not wield some kind of power in the White House? She's an extremely strong influence on her husband. She held a Harvard Law degree before he did. She mentored him when he joined Chicago law firm Sidley Austin, and she encouraged him to be a community organizer. Barack Obama listens when Michelle Obama speaks, and that's a pretty sweet deal for women.
She is a black woman.
Why does race matter? Because women are still a minority of sorts themselves, so a black woman represents two historically oppressed groups. When the Obama administration takes up issues like education, health care, and a fair-and-balanced workforce, Michelle Obama will be the force advocating for every group of women in the country, and she won't be the only one. She has a history of employing an entirely female staff of aides and advisers. Some might consider such hiring practices exclusionary. We think it shows she has confidence in the intelligence and strength of women to get things done. And let's not underestimate the power of image. Her simple presence in the White House -- a descendant of slaves will be hosting White House dinners! -- is an extremely powerful image for our country, and for the world. Now I know why the Secret Service gave her the code name "Renaissance."
Heather Wood Rudúlph is co-founder and editor of SirensMag.com. To see original article, click here.