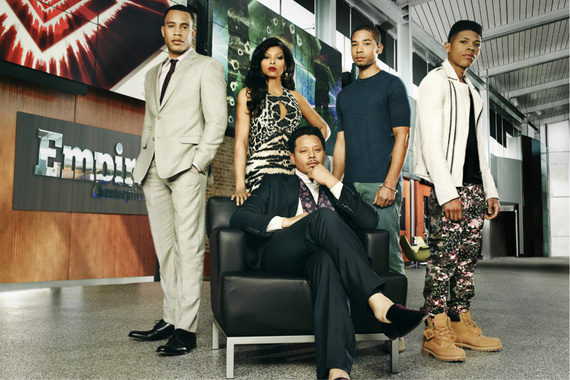 "Empire" is what everyone told me love was.
It will sneak up on you unexpectedly and surprise you when you are least looking for it.
Comparing "Empire" to love is a little dramatic, but I am hooked. Let's call it infatuation then.
I have to be honest and say I caught on to this show late. Everyone (I mean literally everyone and their mama, my mom called me about it) was suddenly asking:
"Have you watched "Empire"?
I was perfectly content watching what I consider a blessing and a curse of excellent television series cropping up in the last couple of years. It's a blessing because of the obvious, its quality entertainment. A curse because it will sometimes leave me anxious because I have "so many DVR programs to catch up on!"
I saw 50 Cent's not so subtle shots at "Empire," implying the show was copying the hit "Power" and thought -- I watch "Power" anyway so I don't need to watch this.
What I think is so powerful about "Empire," which became the number one new show of the season, is that it is a perfect combination of many relevant social factors combined into one show that just happens to work.
To sum up the pilot: Patriach Lucious Lyan is hiding an illness that doesn't give him much time and he realizes he needs to pick one of his three sons to run the business, which is complicated by the release of their mother Cookie (Taraji Henson), from prison.
The shows manages to discuss just about EVERY social issue going on currently without losing a foundation:
Lucious Lyon has a major illness he is trying to fight (ALS) and three sons each fighting for his musical empire. I established this right? Good, but the breakdown of the illness and the family hits on every news package we see at night and every article we read online during the day.
In addition, siblings pitted against each other is a tale as old as time but this time, it's told in a modern way that is surprisingly unpredictable.
Just when I thought oldest son Andre (Trai Byers) who has the Ivy League education would obviously be the successor (but has no musical talent), the show introduced his bipolar disorder that for now, he keeps hidden from everyone but his wife.
Of course a person with a mental illness can run a business, but not everyone has Lucious as their father.
The oldest son is also in a interracial marriage, a social component at the moment being that 1 in 4 marriiages are interracial -- but what's nice about the show is that yes, mother cookie brings it up once, but its not a topic that's really even important to the show.
The unimportance of that factor makes it important.
The middle child Jamal (Jussie Smollett) is gay and at constant battle with his father who can't accept him. Jamal has the musical talent, but is basically treated as the stepchild. Actually not basically, his father literally dumped him in a trash can in a flashback when Jamal put on his mother's high heels as a kid. Jamal seems to be level-headed and also has the talent -- but dear old dad has said he will never let his gay son take over.
The youngest son Hakeem (Bryshere Gray), has the musical talent but he is a loose cannon. In a quality Hakeem moment, he gets drunk, pees on the floor of a four star establishment and then yells at the people eating for looking at him. In the same moment, he also proceeds to call President Obama a sell-out as his friends record the moments that now forever live in infamy -- on their cell phones. It ends up going viral on social media (of course).
What I think makes the show great is that it seems real. We all know it's a scripted show and that I will probably never have anywhere as much money as Lucious, but the characters are so complex that they do seem like people you would know.
It's Shakespearean without being old, the three sons battling and also a battle for control from the plotting wife.
The cast makes these characters come alive, especially the fantastic Taraji Henson (Cookie), who I believe otherwise would be a hated character if played by anyone else.
Lastly of course, is the music! It's a music show that (gasp) actually has good music in it.
So, before someone else asks you, have you seen "Empire"?
Popular in the Community