Amazon, the largest bookseller in the world, wields immense control over publishers.
The New York Times' David Streitfeld summed up Amazon's brawn in a recent blog post. "No company in American history has exerted the control over the American book market -- physical, digital and secondhand -- that Amazon does," Streitfeld wrote.
Yet despite Amazon's power in the book world -- and despite the fact that it first rose to prominence as a bookstore -- the company's highest-selling product category today is ... electronics.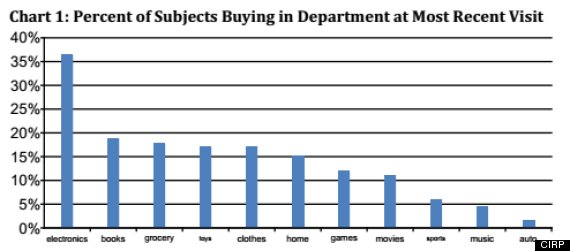 Book sales make up less than 20 percent of all transactions at Amazon, according to one market researcher, meaning that Hachette needs Amazon a lot more than Amazon needs Hachette.
"Twice as many [Amazon] customers buy electronics as buy books these days," said Mike Levin, a partner and co-founder of Consumer Intelligence Research Partners (CIRP), a Chicago-based research firm.
What's more, Levin said, it may not be long before books, which are the retailer's second-biggest category, get eclipsed by groceries, a category that includes diapers, cereal and toilet paper.
CIRP's findings about the shopping habits of Amazon customers come from a survey of more than 1,000 people in the U.S. who purchased an item at Amazon between August 2013 and March 2014.
"People are as likely to buy groceries as buy books at Amazon," Levin said. "That should scare the s*** out of Kroger and Safeway."
Last year, Amazon took in $74.5 billion in revenue. According to the investment research firm Morningstar, the company accounted for a full 7 percent of global online retail sales.
Popular in the Community