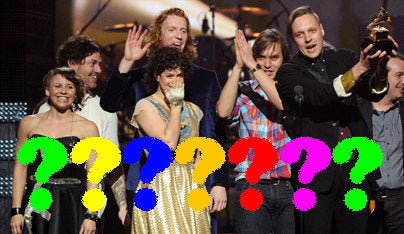 It's been a little over a week now since Arcade Fire -- an earnest, joyous, unassuming Canadian indie band who release their albums on an earnest, joyous, unassuming American indie label (Chapel Hill, N.C.-based Merge) -- won an Album of the Year Grammy for The Suburbs.
In retrospect, the competition wasn't terribly fierce, unless you feel Lady Gaga's The Fame Monster was weighty enough (and even on the strength of "Bad Romance" and "Telephone," it probably isn't), that Eminem deserved some sort of lifetime achievement award (probably not yet), or that Katy Perry or Lady Antebellum deserved to be in the conversation (no).
In a year where self-identified indie bands permeated all layers of mainstream culture, and in a year where no single album emerged as a talisman for what 2010 was about, Arcade Fire was absolutely the best choice of the five, and music observers in the know shouldn't be surprised that the band took home the little gold statue derided by The Simpsons all the way back in 1993.
Yet, there is outrage across the land -- outrage exemplified of late by music executive Steve Stoute, who wrote an open letter appearing in HuffPost and as a full-page New York Times ad on Sunday. Stoute asserts (seemingly without irony) that "we have come to expect that the Grammys upholds all of the values that reflect the very best in music that is born from our culture" -- which arguably ceased to be when Milli Vanilli was named best new artist in 1990 -- and goes on to argue that Eminem was a deserving candidate based largely on sales and his cultural influence, without any sort of acknowledgment of who Eminem was competing against.
More hilariously, the outrage of people struggling with Arcade Fire's name has been captured in my favorite Tumblr site of the moment, Who Is Arcade Fire?, which compiled Twitter posts and videos that are pretty much collectively asking, "Whaaaaaa?" This site gives us the Today Show's Kathie Lee Gifford and Hoda Kotb noting that a fire in an arcade is probably a bad thing, some YouTube personality named Mr. Nikbagtv telling Kanye West that "Arcadia does not need your help," and choice tweets from angry Justin Bieber fans who were still reeling from Esperanza Spalding wrenching the Best New Artist Grammy from Bieber's deserving, delicate, touchable fingers.
Even though indie fans aren't so caught up in the "our music is better than mainstream music" trope that dominated when Top 40 was a viable format or before the internet fundamentally changed the mechanisms by which music is distributed, Arcade Fire winning the Album of the Year award still has a light, perfumed sense of validation about it. It certainly helps that the band is a critical darling, has its own lifetime achievement award claim dating back to 2004's Funeral -- on a number of indie rock geeks' short lists for last decade's Album of the Decade -- and that this album examines the suburban culture that so many indie fans fled on their way to declaring indiedom.
For those alienated by the Arcade Fire's win, it strangely feels like last year's public outcry about Obamacare. Despite many Americans supporting the individual planks that made up the Obama health plan, the whole package was met with a wariness that this was somehow too big and too Canadian -- not entirely unlike an eight-piece, Montreal-based band who incorporate mandolins and violins into their mix.
Certainly, there's a distrust around the Grammy Awards evinced by Stoute's open letter, and it's a worry rooted in whether a winning act is deserving of the award. There's the infamous case of the inaugural Best Hard Rock/Metal Performance category in 1989, when Metallica was expected to win, but lost to Jethro Tull -- a shocking nomination, given that the band doesn't consider themselves to be a metal band and that singer Ian Anderson doubles as the band's flutist. When the Grammy folks get it wrong, as they certainly did here, it's a wrong of an epic proportion, less about a cavalier surprise and more about the alternate reality in which Grammy voters seemingly live.
Stoute is correct in noting hip-hop certainly deserves its due, and I think this happens at the Grammys again as soon as next year. The outpouring of critical love for Kanye West's My Beautiful Dark Twisted Fantasy -- missing the Sept. 30, 2010 cut-off date for this year's awards -- should be accordingly validated at next February's Grammy show, about four months after we've all reached our saturation point with "Power." But Eminem losing to Arcade Fire is not a Jethro Tull or a Milli Vanilli moment, despite the gathering of thought bubble question marks above the heads of numerous Grammy watchers nine days ago. Arcade Fire -- despite their mandolins, their hurdy-gurdys, their accordions, the whiff of free health care about them -- are deserving winners, in a year where deserving winners weren't all that easy to find.

REAL LIFE. REAL NEWS. REAL VOICES.
Help us tell more of the stories that matter from voices that too often remain unheard.