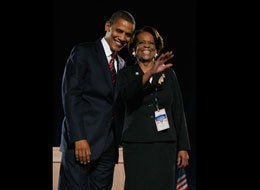 The nation anxiously awaits the dawn of a new Camelot in Washington, as mothers and fathers look to Barack and Michelle Obama as a new model of vigorous Presidential parenting. But another group of Americans - the nation's more than 70 million grandparents - are looking beyond the First Couple to the woman in the background who helps them make it look so easy: Marian Robinson, Michelle's mother and the First Grandmother-elect.
During the grueling primary and general-election campaigns, Robinson, 71, regularly stayed in the Obama home in Chicago and cared for Malia, 10, and Sasha, 7. On 60 Minutes earlier this month, Barack Obama called Robinson "one of the unsung heroes" of his campaign, and said, "We couldn't have done it without her." He meant that literally: Michelle Obama has said that if Robinson had not been available to step in and watch over the girls, Obama might never have launched his campaign.
Now speculation has run rampant that Robinson will become the first Presidential in-law to live in the White House since Elvira "Minnie" Doud, Mamie Eisenhower's mother, "wintered" in the residence from 1953-60, and presumably helped care for the Eisenhower children. Should Robinson move in with the First Family in January, she would become one of at least 5.7 million American grandparents who live in the same home with their grandchildren (U.S. Census 2000).
The Woman Behind the Woman Behind the Man
Michelle Obama has been described as a role model for the modern working mom. She has successfully balanced marriage, motherhood and a high-powered career, first as a lawyer and then as an executive with the University of Chicago Medical Center. But since Malia was born in 1998, Mrs. Obama has increasingly relied on her mother's support. "There's nothing like grandma," she has said.
If Robinson moves into the executive mansion, with its teams of Secret Service agents, cooks, and housekeepers, not to mention the occasional visiting foreign dignitary, her life will by no means be typical. But in many ways her situation would mirror that of millions of other active grandparents, like those who come to our website every day to share the joys and challenges, the small pleasures and big surprises of their ever-evolving role. Many of their experiences are actually a great deal like Robinson's. Perhaps you can recognize a little of your grandparents, or yourself, in our future First Grandmother. I certainly do, because like many grandparents, she is:
* A grandmother of four grandchildren - Michelle's two daughters and her son Craig's two children. The average American grandparent has about 6 grandchildren...but is it possible that Robinson will gain more grandchildren while in the White House?
* A caregiver who chooses to be there when her grandchildren need her and their parents need support. The Obamas have been clear that Robinson's caregiving and her potential move to Washington are strictly her choice.
* A steady and stable force for her grandchildren as they go through major transitions, like moving across the country, changing schools, and adjusting to their parents' new jobs.
* An active, vital woman over 50 who took up new, healthy activities later in life, like running.
* A long-distance grandmother trying to stay connected to her two other grandchildren, Avery and Leslie, who live in Oregon.
* A source of family history and the living link to the past for the Obama girls, who have only one living grandparent.
* A woman of strong character who, as a role model, teacher and mentor to her grandchildren, can pass a legacy of values to them.
* A private person but a fierce advocate for her children and grandchildren. "If somebody's going to be with these kids other than their parents," she said in a rare interview with the Boston Globe last spring, "it better be me."
* A grandparent torn, as so many are, between her desire to spoil her grandchildren and her responsibility to follow their parent's rules.
Robinson enforces the Obamas' 8:30 bedtime and provides the girls with organic food when she stays with them in their home, but breaks out the candy and stays up late with the kids when they sleep over at her house.
Grandparents like Robinson provide tremendous support for their families, and yet as a group they have been largely ignored by the mainstream media, except when they are portrayed in sitcoms or movies as silly characters to be mocked or as insignificant family members to be ignored. In reality, of course, neither portrayal is accurate. In fact, in the current economic crisis, as parents struggle to deal with the loss of jobs, or take on extra work to make ends meet, more and more grandparents are making vital contributions to their families by caring for grandchildren.
In the U.S., grandparents care for millions of young children while their mothers work, and over 4.5 million children live in their grandparents' homes, according to 2000 U.S. Census data. We can only surmise that grandparents have been playing an even greater role in recent months as families strive to keep their children from suffering as a result of their economic woes.
Simply by being a loving and caring, strict and spoiling grandparent, Marian Robinson can validate in the most public way the critical caregiving roles millions of grandparents play every day. Grandparents are a crucial safety net for American families. Having a First Grandmother to inspire them and raise their profile can only benefit the nation. That would truly be a change we can believe in.