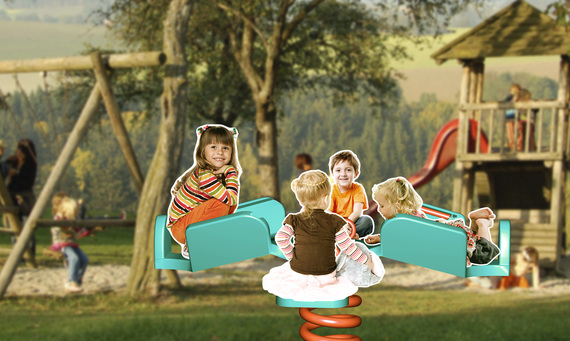 When Fruzsina Elo's first child was born he weighed 1 lb., 6 ozs., and it wasn't until he was six weeks old that she was able to hold him in her arms -- on Mother's Day. On that day she made a promise to him: that she would do everything she could to make him happy.
What is happiness for Jancsi, who is now 6 years old and confined to a wheelchair? It is following his two siblings around on the playground and participating in their play. "Jancsi is just another kid who wants to participate. It would be much easier to leave him in his wheelchair where he is calm and quiet. But this would be unfair to him. So I always keep that in mind," explains Fruzsina.
After a few trips to the playground, the family had to realize that it's impossible for Jancsi to play on the same playground equipment as his siblings. Fruzsina is also worried that soon enough she won't be able to lift him on and off the existing playground equipment.
So an idea was born: What if there was playground equipment that would accommodate both disabled and non-disabled children? What if Jancsi could experience the joy of initiating movement and playing with his siblings?
"It is a colorful world, with all kinds of colorful people in it; it is best to learn that in early childhood," says co-founder Flora Torok, who also has three children, one of them living with cerebral palsy. "All of our ideas and passion come from the fact that we are parents and that we have negotiated playgrounds like they are obstacle courses," says Flora. "We want to change that for families, and especially for kids."
Fruzsina and Flora joined with other families raising disabled and non-disabled children to come up with Magikme, a company that designs inclusive playground equipment. The company, based in London and in Budapest, Hungary, has completed its first equipment design, called the Labyrinth, that is a four-seat seesaw and allows disabled children to lie down, joining their non-disabled friends and siblings.
What both mothers find especially important is the social aspect of the playground -- that it is one of the most important places where children learn to interact with each other, resolve conflict, and realize that we are all different. But children do not often meet disabled kids. "We want the children to make acquaintance with their local disabled peers by meeting and playing with them," says Flora. "This is the only way to become an open-minded, empathetic, and cooperative adult and to build a nice caring community and society."
Magikme hopes to build the first prototype of the Labyrinth this year, followed by the Dune, a complex playground equipment with a small climbing wall, an elevated sand pitch and a play desk with small toys. Those capable can climb up on the device while others can sit or lie on the ergonomic seats with safety bars and enjoy playing with the sand or on the play desk.
Jancsi might be too old or too big for the playground by the time all-inclusive playgrounds will be the norm around the world, but Fruzsina hopes that other children following him will benefit for years and years to come. "There will always be a need and we keep thinking about those kids and those parents who just want to give this simple joy to their kids," she says. "The simple joy of feeling the wind in your hair on a swing, or laughing with your friends in the sand."
If you want to find out more about Magikme, visit their website at www.magikme.net
Related