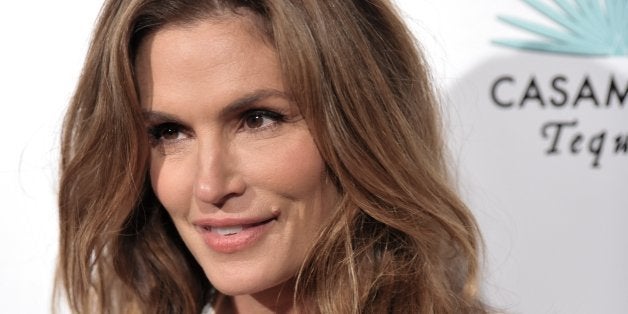 I know what you might be thinking: What right does a guy have to be writing about Cindy Crawford's picture, anyway? I haven't given birth. I certainly haven't carried a child around in my stomach for months. None of us men have been through what a woman endures, but I do have a wife and two daughters. Those daughters are growing up in the world and I try to stress to them all the time that beauty goes further than the camera lens ever could.
Which is why I'm so conflicted about the photo of an unretouched Cindy Crawford.
It's not that the photo isn't an empowering example that women can look beautiful WITHOUT photo retouching... because you absolutely can and do. Women every day are seen in their most perfect form, just being yourselves -- mothers, wives, friends, companions, career women, stay- at-home mom -- ALL the hats you wear.
What's annoying to me are the bravos for Cindy Crawford and Marie Claire magazine for this photo, which must have been hidden in some drawer like it was shameful. It seems the photo ONLY saw the light of day because someone leaked it... meaning other folks from the magazine or the photographer or perhaps even Cindy herself thought it wasn't worthy of being seen. THAT is the part that's shameful. Marie Claire isn't denying the picture. It came out with a statement calling Cindy and the photo "a body that defies expectations -- it is real, it is honest, and it is gorgeous." So WHY was it never seen? Why do we hide true beauty? Why do we place so much emphasis on perfection and deny the true perfection right there in front of us. What type of message does that send to my kids... and my wife. Explain THAT to me and then explain why everyone is rallying around the beauty of this photo as opposed to protesting the photo might have ever been shelved to begin with.
I know many women who aren't super models. I know many women who look their age and look their life experience and that is just perfect. "Tiger Stripes," I've heard the marks called. FINALLY, Cindy is showing her tiger stripes, but ONLY because someone outed the photo... Now she REALLY has a chance to roar and be a true spokesmodel for women and young girls like mine.
Find me on Facebook at dadmissions