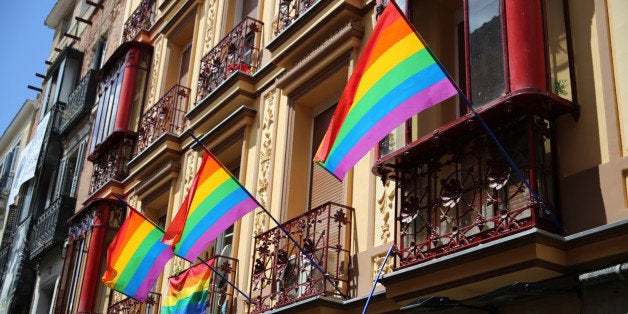 Space, place, neighborhood and household -- these are all terms we use in everyday life to describe where we like to hang out, play, sleep, eat and love. Because we identify ourselves through things such as names, sexual and gender identities, race/ethnicity and national origin, it is fair to say that when discussing intersectionality, the concept of space must be included. Geographical differences -- let alone physically variant -- are also culturally variant. In the last half century, the United States has changed dramatically in regards to geographic identity -- particularly in urban neighborhoods and housing developments.
According to BusinessDictionary.com, gentrification is "the process of wealthier residents moving to an area and the changes that occur due to the influx of wealth." I chose this definition due to its specific focus on wealth. Socioeconomic identities (e.g., the wealthy, the poor) are social categories that not only tie into neighborhood or geographical character, but also this overarching concept of intersectionality.
Since urbanization, there has been a general sense for inclusion in particular areas of a city. The concept of the "gayborhood" -- once a haven for acceptance and social support for queer communities -- has changed dramatically with the influx of gentrification (Nero, Grzanka, 2014). Today, we see the typical gayborhood as a conglomerate of gay bars and clubs, tapas restaurants, sex shops and bourgeois boutiques. Admittedly, I am modeling this description off of Philadelphia's gayborhood -- which is formally called the Gayborhood. When I first moved into the Gayborhood, I could not help but notice the demographical dynamics of the general area -- affluent, white, homosexual, cis-gendered men.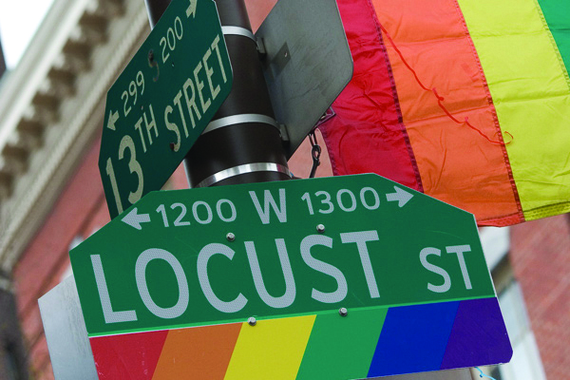 Charles Nero, a cultural critic and professor of the intersection of communication studies, discusses the reasons why the concept of the "gay ghetto" is primarily an environment of white, gay men. In their discussion about neighborhoods, like the Castro in San Francisco and the Faubourg Marigny in New Orleans, they adequately summarize the notion of the modern day gayborhood in its gentrified form. In regards to Faubourg Marigny, this concept of a whitewashed gayborhood (like how I described Philly's Gayborhood) may be linked to the historical custom of racially segregated educational institutions, among other geographies.
Nero explains that in the 1960's, white, middle class, gay men were hired and found acceptance at the newly created University of New Orleans (UNO), while similar professionals -- people of color -- worked at black universities, such as Dillard or Xavier Universities (Nero, Grzanka, 2014). Of course, as we progressed through the remainder of the 20th century, formal segregation was outlawed and we began to see more racial inclusion in educational institutions and the general public space. With practices like redlining and intersectional realities such as racial, sexual, gendered and socioeconomic identity, gentrification has slowed any progress of true inclusion -- including gayborhoods.
When we try to conceptualize intersectionality, it is tough to ignore the whitewashed identity of gayborhoods and many inner city neighborhoods that become "revitalized." Michael Brown, in their research on sexual identity in city neighborhoods, has researched the trend in dominant sexual identities in gayborhoods. In Toronto, for example, the sexual identity of the gayborhood is affluent, white, cis-gendered, gay men (Brown, 2014). While we can be positive that there are safe spaces for homosexual individuals, can we make similar claims of representation for transgender, gender nonconforming, people of color or even lesbians? Not necessarily.
Gentrification, not only a public health concern, is a benchmark in intersectionality studies. The politics behind housing, urban renewal, the use of public space and establishing neighborhood identity is left to the affluent, not the individuals, families or groups that have inhabited such neighborhoods for generations.
Frankly, when considering intersectionality in the realm of public space, it is sadly correct when we say "gayborhood" instead of "queerborhood" or any other more inclusive term for that matter. Though gayborhoods have once been a safe zone for many sexual minority populations, whitewashing and gentrification -- fit for gay men - have deterred the inclusiveness for other queer communities. The gayborhood is gay, not queer.
The influence to write this blog came from the work of Michael Brown and Charles Nero:
Brown, M. (2014). Gender and sexuality II: There goes the gayborhood? Progress in Human Geography, 38(3), 457-465. doi:http://dx.doi.org/10.1177/0309132513484215
Grzanka, P. R. (Ed.). (2014). Space, Place, Communities and Geographies. In C. I. Nero (Author), Intersectionality: A Foundations and Frontiers Reader (1st ed., pp. 99-130). Boulder, CO: Westview Press.
Popular in the Community