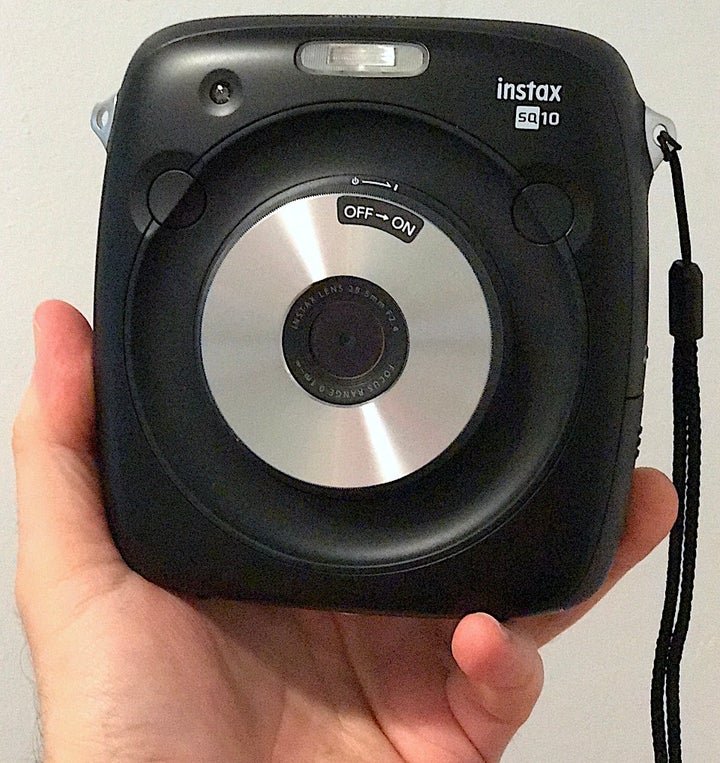 This is a review of a product I have and intended to use, but haven't and likely will never.
It is a product that, conversely, 50 years ago, was my teenaged objet du désir.
The product in question is the instant camera, a camera that produces a physical print of an image you just captured. A half century ago, I drooled for the-then ultra-cool Polaroid Swinger, instant camera, sucked in by its repetitive jingle, "Meet the Swinger, Polaroid Swinger…". The Swinger captured black-and-white photos that developed in 10 seconds. Once I acquired it, I snapped Polaroids of everything, including Neil Armstrong stepping onto the moon off the family TV on July 20, 1969. I wish I knew what became of both my Swinger and the photo.
Flash forward to a couple of months ago, to a press event held in a hip club in lower Manhattan at which Fuji hoped to get some reflected chichi for its new Instax Square SQ10 combo hybrid instant/digital camera.
When I got home, I unboxed the surprisingly heavy – 1 pound – SQ10; I don't remember the Swinger being as hefty. After carefully consulting the instruction manual, I managed to correctly insert the cartridge of film into the SQ10 – not as intuitive a process as it ought to be – and was ready to go.
First, some specs. The Instax SQ10 is square-ish (4.5 x 5 inches) and flat-ish (1.5 inches thick), with rounded corners and a three-inch color LCD screen on its rear. A lanyard can be attached on either side of it.
Did I mention the SQ10 also weighs a pound?
By comparison, my iPhone 7 Plus measures 6.23 x 3.07 x 0.29 inches and weighs just 6.63. This seemingly non-related Apples-to-Fuji comparison will become relevant in a moment.
Picture-wise, the SQ10 captures square 1920 x 1920 (3.7MP) resolution digital stills and prints 2.4 x 2.4 square physical prints. With a fully-charged battery, the SQ10 can produce approximately 160 prints. Without a memory card, the SQ10 will store 50 images, and there's a microSD card slot to hold more.
The SQ10's MSRP is $279.95. Each 10-pack film cartridge costs $16.99, so each print runs $1.70.
None of these specs or costs compare favorably with alternative digital photo-to-portable print solutions – not even close. Any recent decent smartphone would produce and store more higher quality and higher resolution photos than the SQ10.
And for less than the price as the SQ10, the new 1.9-pound Canon SELPHY CP1300 ($129.99, plus $89.99 for an optional battery and ink/paper kits that print photos for less than $1 each), delivers a wider variety of larger, high-quality and less expensive prints in just 39 seconds.
And even though this two-piece alternative may seem less convenient, it really isn't. You're already carrying a smartphone with a camera, so the cheaper SELPHY printer simply replaces the SQ10 as a second item.
This all assuming, of course, that there's value or function in physical photos to begin with.
An Inconvenient Anachronism
Back in the day, "instant" cameras such as the Swinger and other Polaroid models were popular because the alternative was dropping off your exposed celluloid film at a physical photo developing retailer, then wait at least an hour if not days to go back and pick up your physical prints. We tolerated Polaroid's lower quality instant pictures because we didn't have to arrange a round drop-off/pick-up trip with a wait in-between. We considered the lower quality for higher convenience a fair trade-off, and the technology kinda fun.
But now? In essence, smartphones take high-quality instant pictures instantly shareable on social media or by simply passing your phone around. As a result, smartphone camera capabilities have rightfully relegated the instant camera to the same anachronistic closet as rotary phones, the tube TV and the Kodak Brownie. Or so one would think.
And Fuji told me it will sell 7.5 million Instax instant cameras this year, a projection I find somewhat suspicious. CIPA (Camera & Imaging Products Association) projects that 20.7 million digital cameras will be shipped globally in 2017. So the number of instant cameras that Fuji will sell this year will equal more than a third of all standard digital cameras sold? Color me skeptical.
I had fully intended to test the SQ10 in actual picture-taking circumstances. I toted it to my weekly poker game to shoot snaps of my octagonal opponents. I packed and transported it to Los Angeles to document a family get together. I took it numerous other photo-friendly locales around Manhattan.
But in every case, the SQ10 stayed in my backpack or suitcase.
Technically, as noted, the SQ10 snaps 3.7MP images. My iPhone 7 Plus, however, packs a 12MP sensor. Which camera would you choose to capture potentially once-in-a-lifetime moments? Do I really need to shoot test shots to determine that the iPhone – or any current smartphone – shoots better photos in a variety of sizes and shapes, not just square, than the SQ10? Plus, most modern smartphones also record both video, which the SQ10 cannot.
Okay, instant camera promoters say, but the idea of an instant camera is the fun of instantly sharing photos. But AirDrop for iPhone users and varying social media platforms accomplish the same objective for digital photos snapped by a smartphone without spending an additional $1.70 per photo. And you can't digitally share photos shot on an SQ10.
Even if the SQ10 shot photos as good or better than a modern smartphone and its sharing capabilities were more expansive – the SQ10 isn't only an anachronism, it's inconvenient.
Since the advent of the cellcam, we have come to understand that the best camera you have is the one in your pocket. Except the SQ10 does not fit in your pocket. And it's too heavy to dangle from a wrist like the Swinger for any length of time, so it must be toted in then retrieved from a bag of some sort.
So why should I carry a second camera that's heavier, that doesn't shoot photos as well as the camera I'm already carrying, to produce physical photos that I also now have to carry and that cost $1.70 each?
There's something literally wrong with this picture.
Maybe there's an undefinable retro cool factor to the SQ10 that I'm too jaundiced or too practical or too old to see. Maybe. So I'll give my SQ10 to one of my young nephews to see if they "get" the SQ10.
For the rest of us, chichi, cool, fun or otherwise, the SQ10 is an awkward, expensive and inferior digital camera compared to the one already in your pocket.
One final note on this SQ10 "review." I don't like trashing products. Normally, if I don't like a product I simply don't review it unless an editor requires it. But the Fuji folks kept prodding me about when I would post a review, pestering that didn't exactly brighten my mood or opinion. If you to read an actual review of the SQ10, here's one.
Related
Popular in the Community