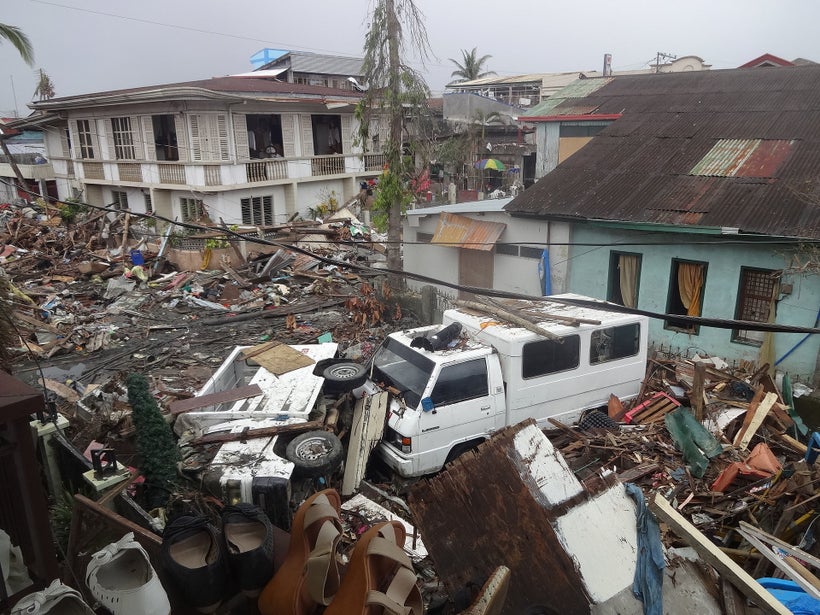 Insurers are underwriting the development of our industrial society. We can't drive a car or get a mortgage without their policies. Likewise, fossil fuel companies cannot build or operate their coalmines, pipelines, LNG terminals and power plants without the coverage of their massive risks by insurers. Insurance majors such as AIG, Berkshire Hathaway and Liberty Mutual play an important role in underwriting fossil fuel projects.
As a group, insurance companies are also the second biggest institutional investor in our economy after pension funds. According to Ceres, an environmental research group, 40 leading U.S. insurers had invested at least $459 billion in the fossil fuel sector by the end of 2014. The insurance industry is even more heavily invested in fossil fuels than your average index fund.
This year heat waves and tropical storms are blighting the United States earlier than ever. The human and economic costs of wildfires, tornadoes and floods continue to grow. Insurance companies are the ultimate managers of risk in our society. Why have they so far remained silent on the serious threats of climate change?
European insurance companies were the first businesses to warn publicly about the risks of climate change as early as 1973. Many have officially endorsed the Paris climate agreement, which aims to limit global warming to well below 3.6 degrees Fahrenheit.
In recent years European and Australian insurance companies have started to put their money where their mouth is. So far at least nine insurers – including industry giants such as Allianz, Aviva, AXA and Swiss Re – have divested their assets from the coal sector.
We cannot build any new coal power plants if we want to avoid runaway climate change. Recognizing this, France's AXA was the first insurer to rule out any further insurance coverage for coal companies in April. Many other insurers offer reduced rates for electric vehicles and other climate-friendly products.
U.S. insurers are well aware of climate change, and are using the latest scientific climate models to calculate the risks posed by global warming to the properties and businesses they insure. Yet unlike their European peers, they have so far chosen to remain silent and have not taken action on the climate risks facing their clients and society at large.
After President Trump announced his decision to exit the Paris Agreement in early June, more than 1,000 companies, local governments and academic institutions pledged that they would continue to support action to meet the global climate goals. The group included scores of investment funds, but only one major U.S. insurance company, The Hartford.
Likewise, U.S. insurers so far haven't stopped offering insurance coverage for climate-destroying coal projects or divested their assets from them.
Insurance losses from natural catastrophes have increased from almost $10 billion to nearly $50 billion per year since the 1980s. Insurers hope that they can gradually adjust to the growing costs of climate change by increasing premiums for their customers. But even in their self-interest, insurance companies have good reasons to take action against climate change.
First, the human and economic costs of climate change can suddenly spiral out of control once certain tipping points have been reached. Once the Greenland ice sheet for example starts melting, the Standards & Poor's rating agency has warned, climate change can "lead to a sudden increase in the risk and volatility of weather losses."
More fundamentally, average temperature increases of more than 3.6 degrees Fahrenheit will create such unpredictable climate havoc that insurers will find it difficult to calculate risks and offer insurance coverage. "Left unchecked", British insurer Aviva warns, climate change will "render significant portions of the economy uninsurable."
Already, U.S. insurers balk at insuring certain coastal properties because of sea level rise, and this is only the start. Even if they remain silent on global warming, increasing climate chaos will make growing parts of our economy uninsurable – at great cost to insurers and consumers.
U.S. insurance companies should follow the example of their international peers and stop insuring coal projects. They should divest from fossil fuel companies and invest in clean energy solutions. By accelerating the transition to a clean energy future they can act in their enlightened self-interest, but also contribute to their fundamental mission: to protect us against catastrophic risk.
REAL LIFE. REAL NEWS. REAL VOICES.
Help us tell more of the stories that matter from voices that too often remain unheard.
This post was published on the now-closed HuffPost Contributor platform. Contributors control their own work and posted freely to our site. If you need to flag this entry as abusive,
send us an email
.