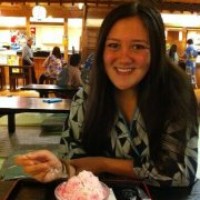 By Sabrina Li, Nine Year Club Volleyball Player, Stanford Student

I will try to summarize this as best as I can, but there are definitely many, many reasons why they are so good at what they do.
High School: Both Kerri and Misty May have been playing for a

very long time

. Both were very good from the start of their careers. Kerri led her high school (Archbishop Mitty) to state championships multiple years and was awarded many recognitions (her number is currently retired at her high school). Misty-May attended New Harbor High School and led her team to state championships as well; she was recognized by USA Today as national women's volleyball player of the year in 1994. Interestingly enough, Kerri and Misty played each other for the years they overlapped in high school.
College: Kerri attended and played for Stanford University, and in her run there, Stanford won two national championships, and the largest of her awards was co-national player of the year. Misty attended and played for Long Beach State and led her team to the first undefeated season in the NCAA. Misty also won player of the year back to back years. Again, Kerri and Misty played against each other in college competition.
Pro: Consider that both Kerri and Misty are over thirty years old now and have been playing since they were both under ten years old; the experience that they both have racked up is immeasurable by common understanding. Pairing both of these women together results in something

monstrous, but beautiful.

They were both always good at the sport, and putting two of the biggest names of women's volleyball together made them a golden combination.
I am not exactly sure what positions make the best team in beach volleyball, but from my experience, putting together a strong offensive player and a setter makes magic happen. Kerri played outside hitter/middle blocker, while Misty played setter throughout high school and college, adding to the balance that any team hopes to achieve.
Kerri at 6'3 is a force to be reckoned with at the net, and being one of the tallest female volleyball players in the Olympics gives her an edge on her competition. Misty at 5'10 is a good middle ground height, not exactly tall, but tall enough to place her hits well against a tall opponent(we saw the opposite in the Xue/Zhang game). Misty is exceptionally good at defense and picks up many hard hits while Kerri is very good at net play and recognizing what kind of return is coming over.
The most important reason I can give borders on obvious, but has to be stated. Kerri Walsh and Misty May Treanor have been partners since 2001, which gives them eleven years of experience playing together. A regular club team improves so much over a single year's season by getting to know their teammates, being able to cover for their weaknesses, and especially helping them let their talents shine. Eleven years of getting to know just one partner so well is a tremendous reason for why this partnership has become so dominant in the volleyball world. As we have seen in the Olympics so far, they are both entirely aware of what the other is doing. They know how to pick each other up and how to rally together; again, we viewed the opposite in the Xue/Zhang partnership with no communication during breaks obvious. As each other's best critic, Kerri and Misty have most likely found the best way that works for them to plan game strategy and pointers for each other.
Final comment: The last reason why I believe that Kerri and Misty have become so dominant is the combination of fame and intimidation. Imagine knowing that you are playing against a two time gold medal team and that they have probably about ten years of experience and achievement on you: scary thought. Intimidation is a factor that should be recognized, because so many athletes talk about how important visualization and mental readiness are for a winning performance. Picturing yourself winning is one thing; picturing yourself winning versus a team that is a serious force to be reckoned with is a whole different game. Adding to the intimidation factor, Kerri is currently playing with pink eye and is still a beast at the court.
REAL LIFE. REAL NEWS. REAL VOICES.
Help us tell more of the stories that matter from voices that too often remain unheard.