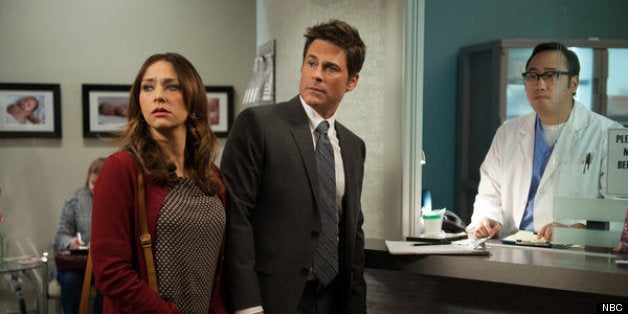 After the panel for Fox's "Brooklyn Nine-Nine" at the Television Critics Association Summer 2013 press tour, Mike Schur, an executive producer of "Brooklyn Nine-Nine" and "Parks and Recreation," took some questions from reporters about how the cast exits came to pass and how they might play out. Was the decision for Jones and Lowe to leave the show mutual? Was it due to money? How will Leslie Knope (Amy Poehler) cope with the loss of Ann? Find out below!
On who made the decision for Jones and Lowe to exit:
"We had the idea creatively to sort of move in that direction and it totally dovetailed and aligned with what the two actors envisioned for themselves in their careers. So it's a big, happy, mutual hug-fest celebration," Schur said, noting that it was not about cutting costs. Networks are always asking for shows to do things more cheaply, but that was not at all related to the departure of those actors. "It wasn't like, 'Uh oh, we've got to hack away at our cast,'" Schur said.
On when the decision came down:
At the end of last year, the "Parks" creative staff had a big meeting to sit down and determine what Season 6 would include and what its overall future would be, Schur said.
"The first thing we talked about was Ann and Chris. Specifically, it was like, 'Now that they're on this train, where she's decided that she wants to have this baby and he should be the father, [what's next?]'" Schur explained. "We kind of want them to have a baby, so that'll be the plan. Once they were together and had a baby, the more we talked about it, the more it felt like, maybe this was the way that they get moved off in the next phase of their lives."
The writers talked about different times to have Ann and Chris leave Pawnee, whether that was the end of year or another time, but midseason felt "natural," according to Schur.
"Rashida has a producing gig at Warner Bros. and she just sold a TV show yesterday -- I hope I'm not breaking that news -- and she's really focusing more on writing. And as I writer, I fully support that," he added.
When the writers talked about what they have planned for Ann and Chris with Jones, "she was totally on board. The real headline is that everyone is happy. There's no controversy," Schur pointed out.
On Jones and Lowe's last episode (Season 6, Episode 13):
"Murder-suicide," Schur joked. "The decision that they make that will see them transition off the show is made very early, so it's a long, fun kind of celebratory sendoff. It's not in the show's season premiere, but in the episode after that, the 'seed will be planted' ... It's going to be a long crescendo and Leslie will go through a series of complicated highs and lows about what's happening. For obvious reasons, it's the main arc that plays out over the first half of the year."
Is the story that Chris is going back home after years on the road? "I don't want to say exactly what it is, but that's the basic idea," Schur replied. "They are moving into a new phase of their lives and they have a lot of things to consider and they're going to consider them and that leads to" them leaving town. As for a possible return down the line, Schur said it's "absolutely" possible fans will see Chris and Ann again.
Would they ever consider moving to Eagleton? "I promise that won't happen," Schur said.
On how Leslie will cope:
"She's been handed a lot of challenges before in her life, and she's always come through to the other side," Schur said of Leslie. "That's not the only challenge she's going to be facing this year. We like to encourage change in our show -- people getting married and having kids and moving on. Every time we make those decisions to make those big moves, things are interesting and fun for the creative team."
On Rob Lowe's NBC show rumors:
"Yeah, I believe he has a holding deal," Schur said. "Again, this is nothing but happy. No one screamed and yelled and stormed off and said, 'I quit,' or we said, 'You're fired.'" A Chris Traeger spinoff is possible, Schur guessed, but it didn't sound like a big possibility.
Schur also reminded reporters that Rob Lowe first signed up for eight episodes, but he stayed for 75. "He had such a good time and we had such a good time with him that we rewrote Season 3 to let him around," and ultimately, he was on "Parks and Rec" "eight times as long as we thought we were going to keep him," Schur noted.
On whether or not there will be more cast members to replace Jones and Lowe:
"We have no plans to," Schur said. "We have a bunch of guest stars in the first chunk of episodes, which you probably know. But no, the decision wasn't like, 'We're swapping out those two characters for two other characters' at all. It was just a natural [story for the characters this season]. They were trying to have a baby, and we thought, 'We should do that this year,' and they've just been going in that direction."
On whether or not this is the end of "Parks":
Schur said the writers and cast try to "leave it all on the field" every season. "We don't think ahead. We don't try to parse things out too slowly," he added. "At this point, it's in the DNA of the show that we go full bore all the time."
On why "Parks and Rec's" Season 6 premiere will be set in London:
Chris Pratt is in London shooting Marvel's "Guardians of the Galaxy," in which he plays Starlord, and part of the reason why Schur and the cast of "Parks and Rec" traveled to London to shoot the first two episodes of Season 6 was to make sure he could appear in the season premiere. Pratt will be in those two episodes, Schur said, as well as one episode in the next seven "Parks" outings, but then Andy Dwyer, Pratt's character, will be "back for good" starting with Episode 10.
"Parks and Recreation" returns on Thursday, September 26 with a double-episode Season 6 premiere at 8 p.m. ET on NBC.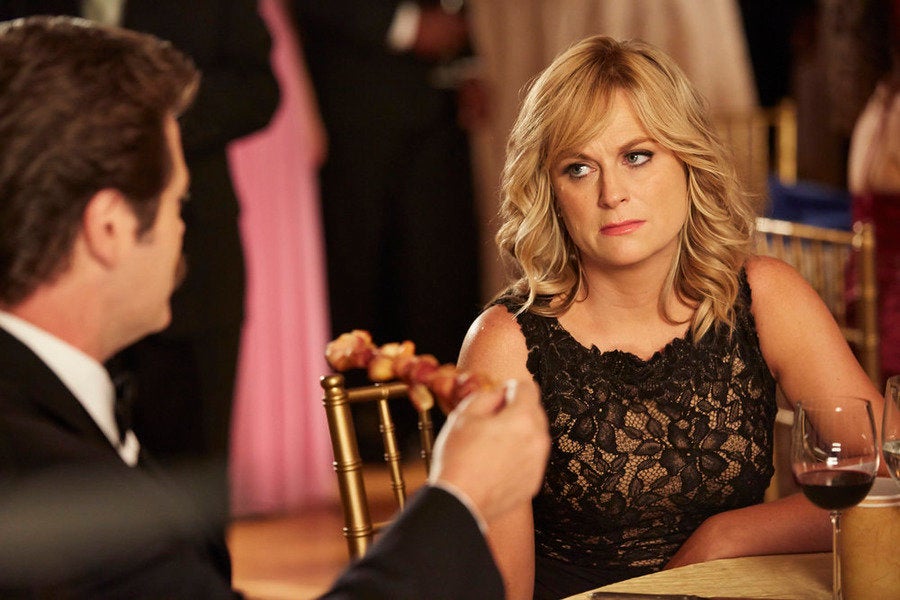 'Parks and Recreation'
Related
Popular in the Community