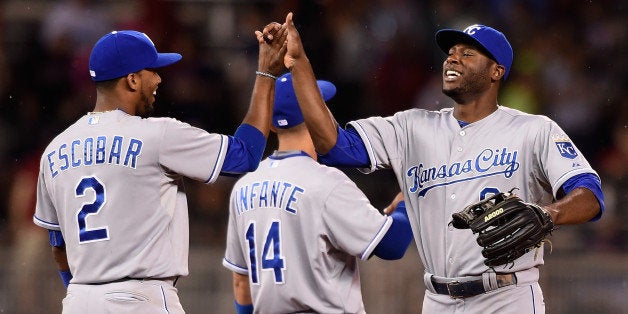 Until the St. Louis Cardinals brass were alleged to have been involved in an amateur hacking scandal, the talk of Major League Baseball was that eight Kansas City Royals are in position to start the 2015 All Star Game in Cincinnati.
But to truly understand why Royals fans are so vehemently supporting their team, you have to understand my sports-upbringing. I'm 33 years old and the Royals won the 1985 World Series the day after I turned four. Since then, they haven't so much as fielded a competitive team until last year (ages four to 32 if you're keeping track).
But like myself, the Royals fans were not fading into that good night. Rather than abandon this organization through ownership changes, last place finishes, and an embarrassing blooper reel, we looked forward to Joe Posnanki's annual column in the Kansas City Star each April about why this could be the Royals year. We looked for reasons to cheer, like the magical 16-3 start to the 2003 season, including Ken Harvey's magical Friday night, an 11th inning walk-off home run to a sold out crowd. (I nearly cried in my upper deck seat, thinking: this was the year!) And we dreaded the mid-summer sell-off of legitimate All-Stars like Carlos Beltran, Jermaine Dye, and others.
After a return to the World Series last year, Royals fans are making a stand in 2015 and Major League Baseball provided us with the perfect outlet. The All-Star Game voting results, show that not only is the team back, but the fans are back, too. And they're out in force. Voting, for the first time ever, is done entirely online this year and fans can vote up to 35 times per email address, so every fanbase has equal opportunity to support their favorite players. But Royals fans are doing so more than any others. (We're even supporting the guys from last year, too. See: Nori Aoki.)
The first update of results was announced on May 26 and shockingly five Royals were leading at their positions. The next week, there were seven Royals leading. And at this point we knew what we had to do.
When results were released on June 15, there were eight Royals leading their positions!
This Royals fan base has come alive to unprecedented levels. There's always been a pulse, but the people of Kansas City are now living and breathing as one. Our voices are now being heard and our chests are proudly puffed out.
Last October, the Royals were America's team and now they're the target of so many baseball fans' rage. But try to consider the average Royals fan. I asked some regular Royals fans, to help me explain how unfathomable this winning, and this next-level type of support is for the Kansas City Royals:
Why are Royals fans voting in such strong numbers?
Dan C., 35, public relations: People talk like Royals fans didn't exist for 29 years before last season. What the sports world didn't realize was that Royals nation is strong and loyal, and has always been this way since the 70s. We just haven't had anything to cheer loudly about for a while, and we're not delusional enough to think that cheering aimlessly for a team that's been losing brutally for years wouldn't come off as ridiculous. But we've been riding alongside the Royals our entire lives -- it's just that now, more than ever, it finally makes sense for our voices and votes to be heard!
Guy D., 34, real estate: Unfathomable left the station eight months ago. Haven't seen him since. I'm just enjoying the ride.
Ari K., 34, lawyer: I think about Home Run Derby in 2012 at Kauffman Stadium. Cano snubs Billy Butler after promising to select a hometown guy, if given the chance, and the Royals fans boo Cano the entire weekend. Hell, we still boo Cano, just for fun. When Cano went 0 for 10, and the entire stadium was erupting in cheers with every out, it showed that if the Royals give us something to cheer for (or against), then we're a passionate fanbase and we'll show up and cheer. (Jeremy's note: Baseball fans around the country didn't understand it then, but this was our first chance for our voice to be heard. Those same feelings are coming out in the All Star voting.)
Justify voting for Omar Infante.
Guy: This begs a professional psycho-analysis. Why do I #voteomar and blast Ned Yost for not getting Christian Colon into the lineup?
Dan: Omar 100 percent deserves to be an All-Star. Why? Because he's getting the most votes! It's that cut and dry. When this happens to the Yankees' under-performing players, no one complains. Voters watched Infante play all last October -- more than any other 2nd baseman in the American League. Recognition equals votes.
Josh W., 33, e-commerce: I think once the freak out-factor occurred (holy shit: we are winning at every other position!), might as well start voting Omar, too.
Describe how the last 30 years of frustration, combined with last year's 90-feet away loss in Game 7 of the World Series, is being felt in this vote?
Dan: When I voted, I absolutely took into account last fall's run and the previous 29 falls spent off the field. This year's insane vote totals are obviously not a function of 2015 performance alone -- it's the sum of all the parts that make up the Royals' story.
Jeremy: This type of thing couldn't happen to an organization that has experienced consistent -- or any -- success within a generation. These fans are looking for anything to rally behind and cheer about and the Royals are giving them more than enough.
Should the Royals fans or Royals players feel bad?
Sam P., 32, non-profit manager: For what?
Dan: We should feel fucking ecstatic and proud! The Yankees will have their players back on the field at a not-too-distant ASG. Today, at least, we rule the AL. We own the pennant. And our starting lineup will be taking on the NL's best players next month.
Josh: They absolutely should not feel bad.
Wade Davis deserves an All-Star roster spot. Should he get in if the Royals end up with eight starters?
Josh: Wade should be starting the All-Star game. It's the manager's decision and luckily The AL MANAGER is going to be KC manager, Ned Yost.
Ari: Wade Davis will make the squad. One of the best pitchers in baseball, and he's more than earned a spot over the past couple seasons, and with his performance in 2015.
Guy: Yes, and he will. Don't forget that in addition to our eight starters, the manager is Uncle Ned. #yosted
How many times have you voted?
Ari: 104
Josh: 78
Jeremy: 35
Dan: 35
Mike: 35
Sam: 0
So there you have it. Royals fans don't feel bad, don't care what you think, and love their Royals. Enjoy the game and hopefully Wade Davis does get start!
Calling all HuffPost superfans!
Sign up for membership to become a founding member and help shape HuffPost's next chapter