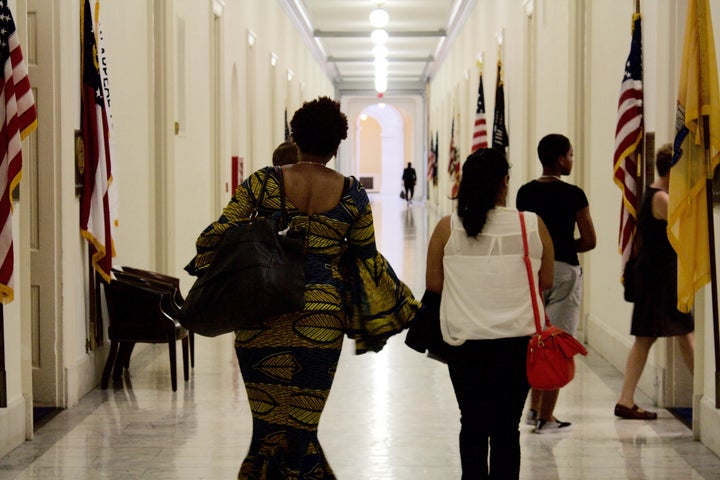 In June 2014, I agreed to take the case of Emmanuel Djissenou*, a Togolese national who was being held in Immigration and Customs Enforcement (ICE) custody at Hudson County Correctional Facility in New Jersey. Emmanuel arrived in the U.S. in March of that year seeking asylum in the United States after suffering years of torture due to his work as a pro-democracy activist. Given how well documented his case was and the strength of his asylum claim, I thought I would be able to resolve everything quickly and get him out of detention and reunited with his family.
Instead, it took almost two and a half years before Emmanuel was released from detention. In order to understand why a political activist – who was the victim of brutal physical and psychological torture and was forced to flee to the United States to seek asylum – was instead penalized for his actions by being apprehended and imprisoned, we need to take a close look at our immigration policies. This includes the detention quota, which allows private companies to profit from the incarceration of immigrants.
Despite multiple hearings, extensive testimony and the submission of over 400 pages of documentary evidence in support of his case, the Immigration Judge denied Emmanuel's case in June 2015 because he found him "not credible" (a threshold requirement which must be met in order to establish eligibility for asylum). We then appealed his case to the Board of Immigration Appeals. In March of 2016, the Board overruled the entirety of the immigration judge's negative credibility finding and sent Emmanuel's case back for a new decision. During this entire lengthy and arduous process, Emmanuel remained detained in ICE custody, far away from his family. Although we submitted three formal requests for his release, each was denied without explanation.
The Illegal Immigration Reform and Immigrant Responsibility Act (IIRIRA) was signed into law by then President Bill Clinton in 1996. Under this law, individuals seeking asylum at an official port of entry to the United States are designated as "arriving aliens" and subjected to mandatory detention. Once the asylum seeker has asserted a fear of return to their home country, they are provided with a "fear interview" which is conducted by an asylum officer. If the asylum officer finds their fear is credible or reasonable, they are then placed into removal proceedings in immigration court, where they can apply for asylum and other similar forms of protectionist relief.
Although there are policies in place directing ICE to release asylum seekers who pass their fear interviews on "humanitarian parole," these policies have not been codified into law. As a result, thousands of asylum seekers are subject to the whims of federal law enforcement officers. If a request for release on humanitarian parole is denied, there is no process for appeal. Not even the immigration judge, who will ultimately decide whether the person is eligible for asylum, is able to review this decision or order the release of the asylum seeker from detention. According to Human Rights First, the approval of humanitarian parole requests have gone down sharply from 2011, with an almost 30 percent decrease in approvals from 2012 to 2015.
So why are asylum seekers being held in detention for months or years while they wait for the resolution of their case? One explanation is that congress has mandated that ICE set aside thousands of spaces in detention facilities and jails for the detention of immigrants. Many of these detention centers are run by private companies such as CCA and GEO group. According to a report by Grassroots Leadership, over 60 percent of all ICE detention spaces are operated by for-profit companies.

Since 2010, Congress has mandated that ICE maintain space for 34,000 immigrants per day, while paying private companies to do so. Known as the "detention quota," this policy bears a significant human cost. As the American public becomes aware of the endemic problem of mass incarceration, we can no longer overlook the role of immigrant detention in this larger American tragedy. Mass incarceration of immigrants is psychologically traumatizing for the individual, their family, and their community. Immigration detainees often lack a full understanding of why they are being detained or what their legal rights are. Numerous human rights organizations have found detention to be inherently damaging because it aggravates isolation, depression and mental health problems associated with past trauma. Incarcerating vulnerable individuals such as asylum seekers poses a serious threat to their psychological health and risks re-traumatizing victims of past abuse, harm, and torture.
This reality became all too clear to me when I visited with Emmanuel during his years in detention. As the days, months, then years went on, I began to see the physical and psychological toll detention was taking on him. The lines in his face grew deeper, his frame grew smaller, and his hair grew whiter. For Emmanuel, who had been tortured and detained in his home country for a year and a half, his incarceration in the U.S. forced him to relive many of the things he had fled Togo to escape.
The mandated detention of immigrants also bears a significant economic cost to taxpayers. In fiscal year 2016, Congress allocated over $2.3 billion to ICE to detain immigrants. It cost taxpayers around $141,000 to detain Emmanuel for the two and a half years he was in detention. Instead of arbitrarily detaining people, a fraction of this cost could be used for increased staffing to address the problems faced by under resourced and overworked immigration courts which are drowning in a backlog of nearly 500,000 cases.
Eventually, Emmanuel's case was granted by the immigration judge and in July 2016 he was released from custody. He is currently living with his family, enjoying long walks and visits to a local park, and looking for work. He wants his story to be shared because he wants to ensure that others do not suffer needlessly, as he did.
Emmanuel lost over two years of his life to a broken immigration system. And while he is now free, thousands more remain in detention because of policies that value the interests of private companies over human dignity and justice. It's way past time for congress to end the detention quota, and take steps to protect – rather than punish – those who come to the U.S. seeking asylum.
* Name has been changed to protect identity
Support HuffPost
The Stakes Have Never Been Higher
Popular in the Community