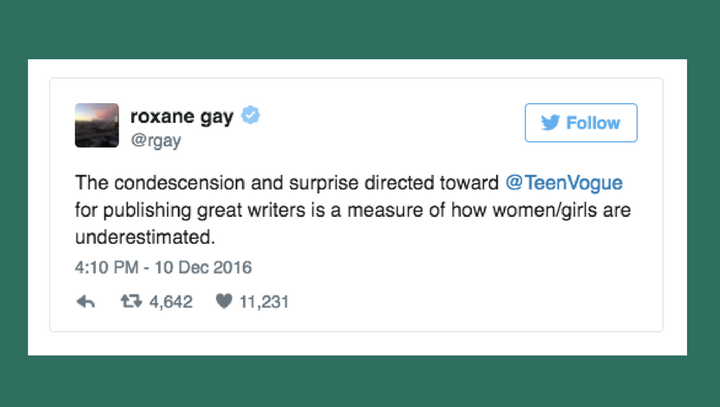 Women have been reminded yet again that they are still expected to stay in their lane.
Her piece, which defines "gas lighting" and points out the many ways in which Trump has used it as a technique in his politics, caused an uproar online. Duca herself and Teen Vogue in general were criticized on social media, and many wondered why a magazine that covers fashion and pop culture would dare to "get political." 
One commenter on Teen Vogue's Facebook page wrote, "Since when does a magazine that focuses on teenaged girl's love life have the audacity to write about politics. Trying to sway teens on politics is not your place." Another wrote, "When did teen vogue become so biased and political. Shouldn't it be like fashion, hair and pop culture?" 
Even those who had positive things to say about the piece were also seemingly shocked that Teen Vogue covered something political.
The pushback against Duca's piece, and against Teen Vogue for daring to publish a political op-ed, is a standard response to the way that women, and women writers, are simply not taken seriously (as writer Roxane Gay pointed out on Twitter, below).
The pushback also seems particularly unwarranted for a publication like Teen Vogue, whose coverage this year has been steadily political. The magazine's January 2016 issue featured actress and activist Amandla Stenberg on the cover with an interview between Stenberg and Solange Knowles inside, in which the two women celebrated the experience of black womanhood. The December 2016 issue featured "Black-ish" star Yara Shahidi and "Girl Meets World" star Rowan Blanchard on the cover ― the two discussed feminism, activism and representation in their interview. Sure, Teen Vogue's audience is geared towards teenagers, but their choice in cover stars shows that young women are more than capable of participating in political conversations. 
There is obviously no shortage of quality writing done by women for publications targeted at women. And yet people still responded incredulously when Teen Vogue featured a woman's political op-ed about a man whose temperament (and long list of sexual assault allegations) triggers women and emotionally abuses the entire nation. 
Because apparently, a woman interested in fashion couldn't possibly also care about the state of reproductive rights, which directly affect her and her body. A woman who wants to read about sex couldn't want to stay educated about the state of American politics. A young woman who wears makeup would never care about social justice issues like sexism, racism and representation. (Nigerian author Chimamanda Ngozi Adichie made a similar point in November: being interested in makeup and style does not make a woman "frivolous.")
Duca responded to one woman's critique by defending the publication for covering fashion, pop culture and politics, implying the importance of treating women as fully formed human beings with fully formed interests: 
If we're going to tell young women that the future is female, we shouldn't respond with shock and condescension when they engage in the very conversations that affect their own futures. 
Calling all HuffPost superfans!
Sign up for membership to become a founding member and help shape HuffPost's next chapter
BEFORE YOU GO
PHOTO GALLERY
10 Women On Why Feminism Still Matters