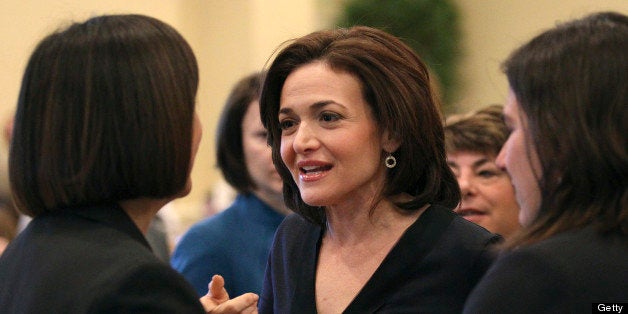 She's earned the No. 1 spot in FORTUNE's annual ranking of America's "50 Most Powerful Women in Business" in 2012. She was ranked No. 12 on Forbes magazine's "World's 100 Most Powerful Women" this year. Her name is Virginia Rometty, 55, president and chief executive officer of IBM and a member of IBM's Executive Committee.
The National Association for Female Executives (NAFE) listed IBM as one of the top 10 companies for executive women in the United States with 27 percent of female senior managers, and recognized the company's use of programs and policies to promote the advancement of women.
Yet, statistics show that this example remains isolated, as women are still largely under-represented at the executive level in science, technology, engineering and mathematics.
"Unfortunately, there are still institutional gender barriers in today's workplace that prevent women from holding high-level executive positions," said David Matsa, assistant professor of finance at Northwestern University's Kellogg School of Management.
The graph (1) created by Catalyst, a nonprofit organization dedicated to providing opportunities for women in business, represents the percentage of women executive officers in the Fortune 500. Numbers show that the evolution of women's representation at the top executive level has almost stagnated. Women today account for just over 14 percent of executive officers, up from 13.5 percent in 2009, although they represent almost half of the labour force (46.7 percent).
So why do women who have made it to the top seem to be in minority?
Research conducted by Alison Konrad at the Richard Ivey School of Business at the University of Western Ontario, and Margaret Yap from the Ted Rogers School of Management at Ryerson University, found that the problem may not result from a "glass ceiling" but rather a "sticky floor" dynamic with women finding difficulty being promoted at lower and middle levels of the company. And this challenge is also faced by many women working in the Silicon Valley, as Sheryl Sandberg, chief operating officer of Facebook, argues in her recent book, Lean In: Women, Work, and the Will to Lead where she tackles in depth the issue of gender disparities in the workplace.
Sandberg ranks No. 8 in the Fortune's annual ranking of the "50 Most Powerful Women in Business " and was listed in Time 100's list of the most influential people in 2012.
Her recent book is the continuation of her work to empower women, which started in 2010 with the TED talk, "Why We Have Too Few Women Leaders," in which she explained that women do not aim high enough and as a result unintentionally hold themselves back in their careers. "Women systematically underestimate their own abilities," Sandberg said. "They do not negotiate for themselves in the workforce."
As a result, men seem to be reaching for opportunities more than women. But that is also a result of socio-economic dynamics, which make it harder for women to achieve a harmonious work-life balance.
In an article published in 2012 in The Atlantic , Anne-Marie Slaughter, former director of policy planning for the U.S. State Department and dean of Princeton's Woodrow Wilson School of Public and International Affairs, explained the reasons "Why Women Still Can't Have it All." According to her, the deeply rooted gender stereotypes continue to play a critical role in shaping the society and the workplace. Men are still seen as the breadwinners and women as the caregivers for children, which in turn often pulls them away from the labour force and thus the leading corporate positions.
"But it may be more than that," Slaughter argued, after leaving her position of power to be more present for her children. "When I described the choice between my children and my job to Senator Jeanne Shaheen, she said exactly what I felt: 'There's really no choice.' She wasn't referring to social expectations, but to a maternal imperative felt so deeply that the 'choice' is reflexive."
Sandberg concurred with the maternal imperative argument in her TED talk, where she recognized that staying in the workforce might not necessarily be the right thing for all women. "I feel guilty sometimes. I know no women, whether they're at home or whether they're in the workforce, who don't feel that sometimes," she said.
Taking this into consideration can help us understand how hard it can be for women to juggle their personal life with their professional ambitions, especially in a country where working extra-hours has become a necessity for everyone. A study by the Center for American Progress reveals that the proportion of men and women working more than 50 hours a week in the U.S. has plummeted since 1979.
This phenomenon is part of the so-called "leaky pipe" theory developed by Catherine Wolfram, an associate professor at UC Berkeley's Haas Business School. According to her study, 15 years after graduating from Harvard College, 28 percent of the females who finished their MBAs were stay-at-home moms. The reason, she argued, is that women do not stay in the workplace enough to make their way up because of the rather discriminatory and not female-friendly business environment.
This phenomenon is common in every industry and is not limited to high tech. In a recent interview with The Wall Street Journal, Sheryl Sandberg explained that: "The tech industry has one particular challenge, which is more women going into STEM fields and particularly computer science. If we got women at the same percentage as men into computer science, you would halve or potentially close the gap in the computer scientists needed right now in our country. "
As the graph (2) illustrates, the number of women getting computer-science degrees in the U.S. has radically decreased since 2001. For Sandberg, one of the keys is for women to get interested in mathematics and science earlier.
As for Anne-Marie Slaughter, women already have the solution as they are each other's best advocates, and by "helping one another they have the potential to make remarkable gains in today's workforce."
Overall, although many theories come into play when it comes to empowering women, there is a strong feeling that women themselves have the potential to restructure the gender balance in the workplace.
Calling all HuffPost superfans!
Sign up for membership to become a founding member and help shape HuffPost's next chapter