I am going bald in solidarity!
Kids with cancer often lose their hair during treatment, so I am shaving to raise funds for childhood cancer research and to show kids with cancer that they're not alone.
I learn from taking risks and those lessons have led me to a new path, many times over. I truly believe the world rewards risk-taking and playing it safe does not bring me closer to my dreams.
In 2004, I packed up everything I owned, sold all that did not fit in a 10x8 storage unit, and headed to Nigeria for a year to work with Doctors Without Borders with the HIV/AIDS epidemic. A decade plus later, I am still immersed in the humanitarian aid world, having been places I never imagined, worked with incredible people and following a life direction I never foresaw.
Do I feel that shaving my head will change my trajectory so dramatically? Perhaps not, but I see it as a soulful journey, my hope is letting go will be freeing.
I hope to challenge my own perceptions of beauty, to see me as the universe sees me. Perhaps even let go of what others think of me, boost my confidence and feel comfortable in my own skin. As a fellow St. Baldrick'er, Erin Friedman expresses "There are so many things about our appearance that can change, but our confidence, personality, and attitude are a constant."
I love my fellow teammates, family to me, Jeff and his son Nate, with their dedication to growing out their hair all year long and looking, quite wild!
Lastly, I look forward to the surprise: How will this hair return? Straight, curly? Thicker, thinner? Grayer?
I will walk proudly and talk to anyone who looks my way, asking a question with their eyes or directly about Why Did You Shave Your Head?
Check back March 19 for the After Photo and how the journey progresses.
If so inspired: Please DONATE: Karen Stewart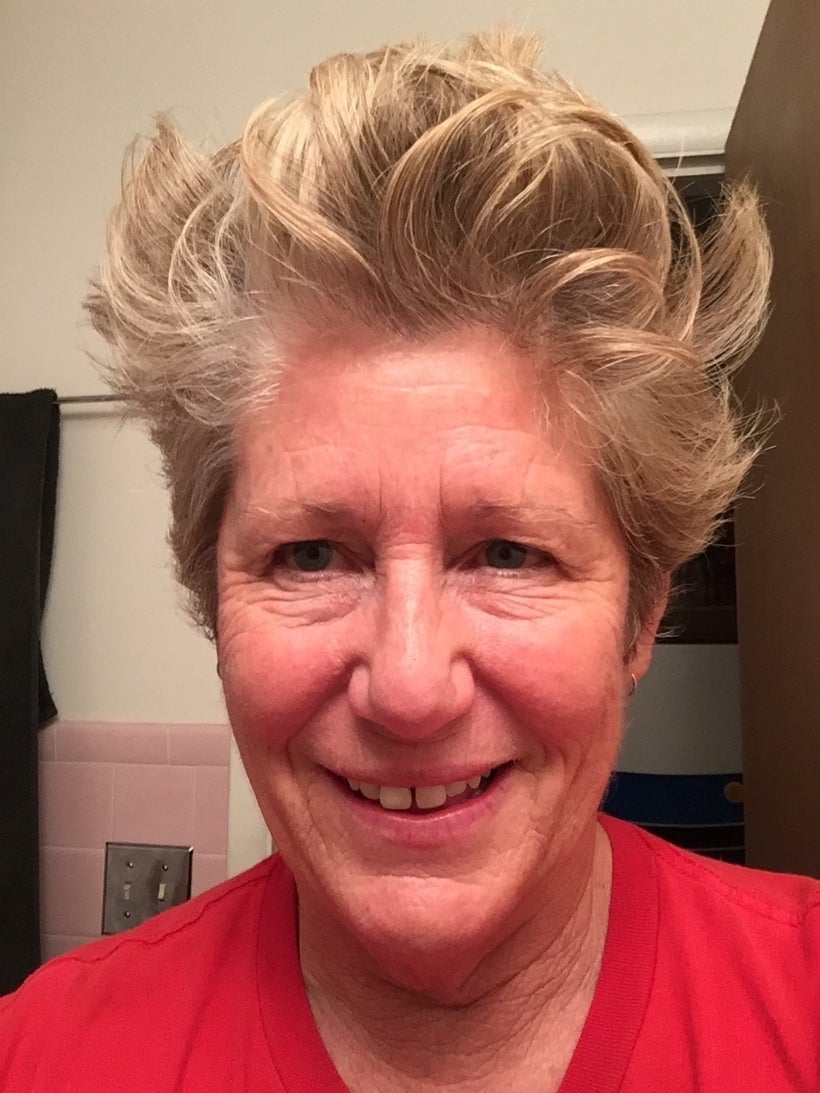 St. Baldrick's is an organization that raises money for pediatric cancer research by shaving heads. A volunteer powered charity committed to funding the most promising research to find cures for childhood cancers and give survivors long and healthy lives. The bottom line: Raise money & awareness of childhood cancers.
-Worldwide, a child is diagnosed with cancer every 2 minutes. (WHO)
-More children die of childhood cancer than any other disease in the US.
-Only 4% of US federal funding is solely dedicated to childhood cancer research
(National Cancer Institute)
Team: Hair Today Gone Tomorrow
Event: March 18, 2017 400pm-700pm Estes Park Mountain Shop Estes Park, CO
Calling all HuffPost superfans!
Sign up for membership to become a founding member and help shape HuffPost's next chapter
This post was published on the now-closed HuffPost Contributor platform. Contributors control their own work and posted freely to our site. If you need to flag this entry as abusive,
send us an email
.