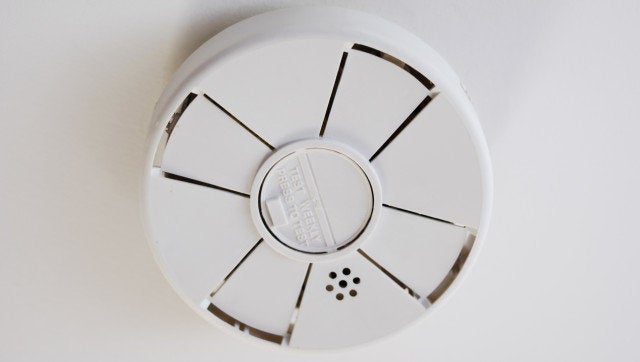 Somehow, this video of Hank Phillippi Ryan's investigation of smoke alarms from 2004 has made a resurgence today on Facebook. It is alarming (no pun intended!) and extremely moving. It caused me to spend over an hour searching online to find a product.
In case you didn't click the link above, or can't watch it right now, the video shows Hank Phillippi Ryan meeting with families of fire fighters and filming nighttime testing of their smoke alarms, with frightening results. None of the children wake to the sound of the beeping alarm. OH MY GOD -- they sleep right through! In the second half of the video, they test a (then) new kind of alarm -- a vocal alarm that allows the parents to record their own voice -- calmly but urgently calling their children to wake up and evacuate the home. ALL of the kids wake up and all but the child in his crib leave their rooms! By this time, I feel a bit shaky -- quite emotional. Seriously -- I WANT THIS ALARM! Like, now. I'll pay $100 and I want two. Immediately.
Poking around online, I see that they are not currently for sale. I read several papers, including this very official study from 2006, that demonstrates the same outcome. In fact, the median time to awaken was 20 seconds in the voice alarm group compared with three minutes in the tone alarm group
WHERE THE HELL CAN I GET ONE?!
This Dateline video from 2013 features a doctor/researcher from a children's hospital who also points to the child's name and parent's voice as important factors in waking the child quickly. The alarms we have in our home do have voice, but it is not my voice or my husband's, and they certainly don't call our the names of my children. Where is the study that shows my kids will wake up to this strange voice quicker than the beeping alarm?
I did find lots of old comments from people saying things like "well, wouldn't the parents wake up and run to the kids anyway?" so, maybe there wasn't enough interest in the personalized alarms until now. After seeing the videos, I'm guessing everyone I know will want one if it means their kids will wake up and get out in the event of a fire. Would you want one?
Popular in the Community