The Chinese e-tailer AliBaba broke retail records this month when it crushed $14 billion of sales in one day. For context, that's more than 2014's Thanksgiving, Black Friday, and Cyber Monday sales combined. You may be tangentially aware of what AliBaba is because of news like this, but have no real interaction with the site. This is a mistake.
Get acquainted with AliBaba through its retail arm, AliExpress, whose shtick is selling individual items at the low prices they would have in bulk. You can buy cut-rate home decor, electronics, and most important, clothes, which ship free anywhere in the world from Shenzhen, China. AliExpress is the queen of the weird world of novelty internet fashion.
A (really, really) small sample of the wares:


While their applications may not be immediately apparent, trust me, you need clothes like these in your life.
See, I love a good trend as much as the next girl, but I'm growing old. Not old enough that I have the money to keep up with said trends themselves, but old enough to have lived through the last iteration of flared jeans, and thus old enough to groan at the coming bell-bottom redux. I have a solution for us, the passively chic working women of 2015. Stop buying clothes that will soon go out of style, and start buying clothes that will never be in style. Clothes that are categorically excepted from trends: novelty fashion.
Some things I've bought and loved from AliExpress are: a t-shirt screen printed with Emojis, a high-quality sweatshirt with a Kenzo-esque "evil eye" print, chic black joggers that I wear at least twice a week, tortoiseshell mirrored sunglasses for 1/100th the price of a similar Illesteva pair that didn't suit me, and a draped jersey sweater-cum-cape that deftly channels 80's Rei Kawakubo. (Also: a faux cowhide rug for my room, a kimono, and Bluetooth speakers.)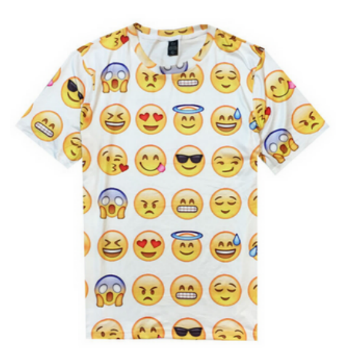 When I wore my evil-eye sweatshirt out, someone gave me free coffee because they liked it so much. This is not an atypical response to novelty fashion. Everyone likes a surprise, most of all you. Do you want to buy this season's new white button-down? (What's the variation this time: pussy-bow? Bleached chambray? Roll-up sleeves? Boyfriend fit? Girlfriend fit? Haven't we seen it all?) Or do you want ten outrageously printed shirts that you could justifiably wear once and look memorably great each time?
An important part of AliExpress is that it is very cheap. Another important part is that it ships for free from China, albeit in a window of 12-20 business days.
The quality is fine, albeit relying heavily on polyester fabrics. All my AliExpress clothes have made it through the washing machine, which is more than I can say about some other fast fashion purchases. And make sure, like with other Asian e-tailers like YesStyle and StylaNanda, that you order one size up. My male friends have suggested two sizes up.
I'm okay with blowing the lid off what might be a wardrobe secret because of the quantity of goods for sale. At the time of my writing there are 292,682 A-line wedding dresses for sale on AliExpress. This excludes "Ball Gown," "Beach," "Empire," "Mermaid," "Princess," "Sheath," and "Trumpet" wedding dresses. AliExpress is the number one e-commerce site in Russia. AliExpress could be your next 100 going-out tops.
Whenever you embrace novelty fashion you will find your life richer in interactions and Dada possibilities for being. So much of what we wear is just a signifier that we "get it" - the current heel height, the new midi dress length, the cool type of sneaker. It becomes exhausting, signifying, all day long.
Add some novelty items into your wardrobe that make these value judgments impossible. Embrace something that was unthinkable to me before I started buying novelty clothing in earnest: that clothes can pleasurably convey a humorous aesthetic. Novelty fashion is hilarious.
And shopping for novelty clothing is fun. It is cheap and finding items in AliExpress is exactly as satisfying as finding a worthwhile trinket in a bazaar, and with better odds.
Close your fashion week slideshows. Skip Cyber Monday. Enter the void.