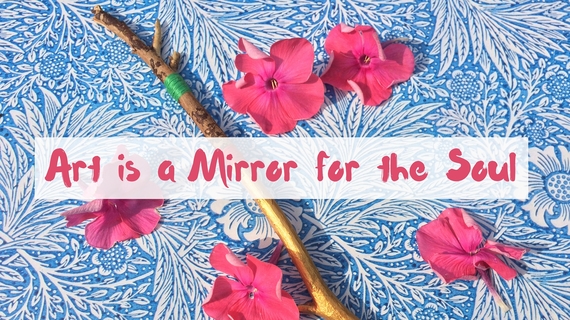 Let me paint you the scene. At this very moment I'm in the final stage of finishing a big project called the Creative Study. But I'd got stuck. I needed some reassuring love. Some out-of-the-box inspiration that gave me a clue of why I was working so freakishly hard.
You see, all I truly want is to create things of joy and beauty. Drawings, stories, programs...
But I have to deal with marketing, fear and rejection. With people not opening newsletters. Facebook ads. A video no one looks at. It makes feel unseen. But apparently I'm not.
Because Apple wants me to update my credit card. My son's school wants me to drive children to a concert. And those mails keep coming.
Well, you get the picture. Welcome to the dark side. This is me in 100 Percent Victim Mode.
Then -- some would call it luck, I call it synchronicity -- I found an BBC documentary where Tracey Emin talks about the work of her fellow artist Louise Bourgeois.
Louise Bourgeois is one of those formidable artists whom I once used as an excuse to quit art academy somewhere in the late eighties.
Louise Bourgeois -- who said that being an artist was a true privilege -- would not have taken my retreat lightly. She was not afraid of the big confrontations.
But back then I reasoned -- with myself -- not with my teachers at the art academy -- the world could only held a limited amount of truly great artists. No place for me at the Inn.
I gave in to those Ice cold claws of perfectionism.
Back to the present. In the documentary Tracey Emin says that around the 1990s artists almost never used emotions in their art work as a way of expressing themselves.
That made me go back to a conversation I once had had with a well-known American art historian. He was in an art course I had organized about Rembrandt for international professionals. He wrote weekly articles about art. We discussed his article about the man who had told him he sometimes cried when he saw a piece of art.
The American art historian taught it slightly odd, or at least extraordinary.
I told him I cried often when I watch art. I can't help it. I cry when I look at Rembrandt's Joodse Bruidje (The Jewish Bride) e-ve-ry-time. There is something about that guys hand on the breast of his brand new wife that transcends my objective Art historian logic
I cried my eyes out when I saw the Tracey Emin exhibition in 2003 in Amsterdam. That unmade bed, the tent, the painstakingly embroidered tapestries...
Every object made that weird travel from the eyes -- brain -- heart. An than boom! Back to the eyes with those irritating tears. As if it's the only way my body knows how to express what is going on inside.
It is not something I like.
To be honest it can be really annoying and embarrassing. Crying involves red eyes, strange noises, snot and a lot of tilting of the head. The tilting makes the tears go into some unseen direction. Preferably in the direction of your hair.
I never know when it hits me.
It happened at the Documenta in Kassel when American artist Michael Rakowitz exhibited shards of the Bamiyan Buddhas that were blown up by the Taliban.
Everything in the room was neatly organized. Charred book pages from the bombed Fridericianum in the Second World War in Kassel, the bullets and shell casings found among the ruins of the Buddhas, a Sumerian clay tablet.
They were objects. But they hit me right in the stomach.
It is very hard to do the head-tilting-tears-into-hair-hiding-thing in the presence of hundreds of black dressed artsy folks. Especially when your hair is up in a tight bun.
When I was pregnant I visited the Uffizi in Florence. I had seen the Madonna of Raphael, and Lippi, or the Holy Family Doni Tondo by Michelangelo many times. As a student, on holidays, as a professional on a quick detour on my way to a new project.
But now I entered the museum as a 41-year-old woman who was about to become a mother in a couple of months.
When I entered the first hall the Madonna's instantly made a huge shift. From paintings I admired -- with a firm place in art history -- to a deeply personal reflection of what was about to happen in my own life.
For the first time I felt what Maria was feeling. The Madonna's had become messages from a mother to a mother-to-be.
It made me realize that -- set aside all religious, historical and money aspects -- those paintings are firstly expressions of a human being. Made with skill, perseverance, love, talent and inspiration.
At that moment it felt the paintings were made for me. They were made for every mother-to-be as some secret token of awesomeness. Thankfully we were in Italy and I was visibly pregnant. So when the tears came there was no need to hide them.
Back to the documentary about Louise Bourgeois and Tracey Emin. While I was watching -- feeling sorry for myself -- something clicked.
I understood that art is a mirror for the soul. Not just some special forms of art. But all art. There is a lesson for each of us in every single piece of art.
Don't ask me how it works. When I study academic books about art, the texts often feel detached from my own experience.
I figure Divine inspiration has something to do with it, or some kind of Sacred Universal Truth.

I know our opinions about the meaning and significance of art changes constantly. From the Thing that will Change the World, to the Enemy, or the Horror of Capitalism. From Feminist Expression to Male Domination. Art so often is seen as something of global meaning.
Dutch poet Willem Kloos wrote around 1880: "Kunst is de allerindividueelste expressie van de allerindividueelste emotie." This translates roughly into "Art is the most individualistic expression of the most individualistic emotion."
I think I go with that for a while.
Because this is what Bourgeois and Emin taught me: Art makes me feel I'm alive in all aspects. Either bad or good.
Art is not meant to make us feel small. It is here to make us shine in all aspects. It is here to make us ponder, reflect, cry, smile, be mad about.
It is here to help us grow.
Let's not leave it to the well known artists. There are thousands of amazing artists out there. Find them, look at their work. Learn from them.
Don't just Pinterest those images to your "Things I like" board.

Take that next step. Make your own art.
Doodle, write a poem, a short story. Let's fill the world with Soul Mirroring Art. Don't wait for permission. You will not get it from anyone but yourself.
Don't make it perfect. Make it ugly, dirty, beautiful or stupid. Make it your "your most individualistic expression of your most individualistic emotion." Make it fun.
Make it open your own soul.
REAL LIFE. REAL NEWS. REAL VOICES.
Help us tell more of the stories that matter from voices that too often remain unheard.