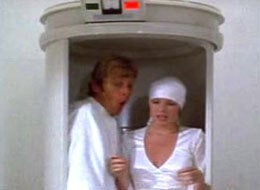 A few months ago, after an unfortunate incident involving a melted chocolate bar and my cel phone in my car's console which rendered the latter useless, I decided to try a Blackberry. It was something I'd been debating with friends, family and myself for years. I was extremely hesitant. I would regularly interrogate the people I knew who had them as if they'd just casually used the Orgasmatron in Woody Allen's Sleeper.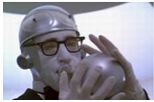 Woody Allen in Sleeper
"What's it like? Is it weird? Is it really that great?"
"Oh, yes!" They'd always exclaim. "Can't live without it. It's saves me so much time. I could be waiting in line at Starbucks and get so much done!"
I broke down at the cell phone store. I was so ashamed that I didn't even tell my sister when she was the first one to call and I held the thing up to my head.
I am not a Luddite nor a technophobe. Au contraire, I have always been an early adopter-- the first to have email, a website, etc. After all, painting is a technology. The very root "techne" derives from the Greek "art" or "skill." But when I go to the studio I leave all the gadgets at home. I figure that the people who must reach me will have my cell number. Other than that, I had avoided the Blackberry until that moment.
Around the same time, I watched this year's Super Bowl. During a break, there was an ad for a Bank--I think Chase Manhattan-- which showed a couple rock climbing near the top of a dangerous, devastatingly beautiful mountain that resembled Half Dome in Yosemite. In the commercial, as she dangles from the edge of a sheared cliff, her blackberry buzzes and she cheerily checks it and tells her boyfriend that it was her bank letting her know that her checking was overdrawn, but they fixed it. Blech! Did the ad executives really think that would be enticing? But yet, that was me, checking email after every conversation and at every stop light. Me and everyone I know, constantly in touch all the time.
I returned it two days later.
Although I have pondered the effects of technology's impact on daily life before, I do so now within the specific context of how it effects one's ability to be creative. I have come of age as an artist during the most accelerated period of connectivity our species has ever known. We have all been drunk on technology and only some of us are emerging from our collective haze. Last week, Mark Bittman of the New York Times extolled the virtue of taking an electronic Sabbath; The Dangerous Books for Boys and Girls fly off Amazon's shelves because young kids are so wired they forgot how to play; Tim Ferris' Four Hour Work Week is on the desk of every executive and Frontline's "Growing up Online" chilling account of the first generation of children to literally be connected all the time where texting is a right, and online exhibitionism is second nature. It's been a little more than a decade since it started in full force. But alas, it appears that we are finally starting to sober up and reacquaint ourselves with the Here and Now. Rules to navigate are being offered for all walks of life. I'm making one now: Artists shouldn't have Blackberries and here are four reasons why:
#1 Artists Need to Daydream
When I divided the creative process into eight stages (a la Kubler Ross' five stages of death), I started with Vision, which happens in an instant and sets an artist on the path of creation. But in hindsight, this was a mistake. The real first stage, the most important, doesn't have a name. It is silent. It's when the filaments of thoughts, the subatomic particles of ideas, are just lying around in the primordial ooze of your mind. It looks like a daydream or nothing at all, but this is the first real stage of the creative process.
When I studied biology, I remembered a curious anecdote about cell division. When a cell divides it also goes through five phases -- Interphase, Prophase, Meta Phase, Anaphase and Telophase. The first phase is "Interphase" and for years, scientists thought that this was when the cell was sleeping. All the visible action happens from Prophase onward-- the nuclei divides within the cell and eventually splits apart to form two. Eventually, when microscopes improved, scientists learned that this first phase was actually the most important part of the process when the DNA replicates. Even when I looked up Mitosis on Wikipedia (to provide you with a snazzy picture), they show imagery of all the phases but don't bother showing "Interphase" because there's simply not much to look at.

Whether within a day or a year or a lifespan, moments and periods of apparent inactivity are critical. We're always processing and receiving. We can't do this with constant chatter and interruptions. Like a "rest" in music we can't make music, or art, without it.
#2 Artists Tend to Be Compulsive
I use myself as an example, but before I create I need to have certain things in my own kind of order. I play certain music, I burn incense, get my materials together. Often I'll go for a walk. If I want to procrastinate, I'll clean and won't start until everything is perfect. One more thing to procrastinate or get off my plate before I begin is a BAD thing. I've interviewed a lot of artists here and they all have rituals they go through before they get into their "zones." Counter to our occasional reputation, artists are generally not mentally slovenly people who get to be flakey because they're "creative types." Instead, we have to exhibit fierce discipline and this is a crucial part of the process. When I had the Blackberry, I was corresponding with people all day long and more often even. By not compartmentalizing my accessibility, it became yet one more thing that either prevented me from starting or interfering with the zone that I worked so hard to create.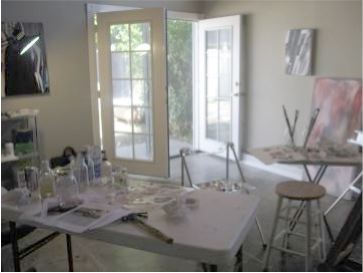 Kimberly Brooks' Studio
#3 Being Slightly Unreachable is Cool
Okay, I realize this is facetious but really, must we be available all the time? Whatever happened to the artists' mystique?
#4 Real Artists Would Have an iPhone
Let's face it, any self-respecting artist wouldn't be caught dead with a Blackberry. If you have any sense of aesthetics, you lust the iPhone instead. Just dismantle the email function and you'll be fine.
Calling all HuffPost superfans!
Sign up for membership to become a founding member and help shape HuffPost's next chapter