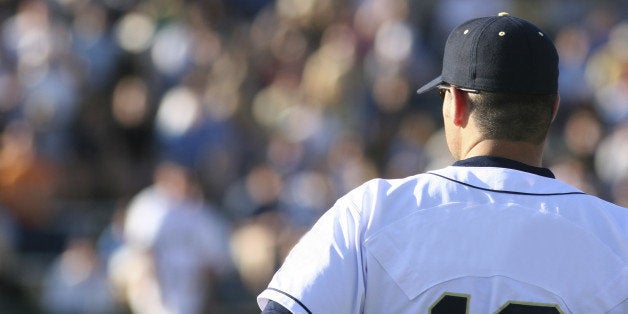 As an agent, I have a small platform from which I can raise awareness on issues that matter to me. First and foremost, I love the game of baseball. It is a game woven into the fabric of America. It is a game for everyone.
For a very long time, there was noticeable silence from the baseball community regarding matters concerning the LGBT community. At this year's MLB All Star Game FanFest, I was fortunate enough to meet people from Athlete Ally, a non-profit organization that promotes the mission of allyship -- encouraging athletes at every level to treat their teammates with respect, no matter their sexual orientation or gender identity. They informed me of the tremendous strides our great game is making towards equality for everyone: honoring the late Glenn Burke, naming Billy Bean as MLB's ambassador for inclusion, and announcing a strategic alliance with Athlete Ally.
Professional athletes have the ability, if they choose, to use their tremendous influence in this country to embrace causes close to their hearts. Some of our most revered sports figures earned their status as leaders this way. Branch Rickey believed in Jackie Robinson, no matter the color of his skin. Men like Sandy Koufax and Hank Greenberg gave the Jewish people iconic sports heroes to look up to. Jason Collins, Brittney Griner, Robbie Rogers, and Michael Sam have put a face on the LGBT movement in sports. Now there is an opportunity for other professional athletes to join those ranks and recognize their ability to kick-start change.
I believe it is important that people see support for the LGBT community in the world of sports. Athletes are looked up to around the world. Their approval brings a following of fans with it. The words and actions of a professional athlete can reach so many people and, with a social issue like LGBT rights, shed light on a very important social issue.
From my perspective as an agent, I really do not see a downside to an athlete embracing this cause. I would gladly work for an openly gay player or a player who speaks up in support of the LGBT community. Strictly from a business perspective, I think any time you can reach a previously untapped market and distinguish yourself, dollars will soon follow. Gay athletes have already proven to be marketable. Michael Sam has one of the top selling NFL jerseys and a Visa commercial. Similarly, I think athletes who voice their support for gay teammates could open a number of doors for themselves. Michael Strahan's support of marriage equality did not keep him from becoming a morning TV superstar or from being enshrined in the Pro Football Hall of Fame. It may have even strengthened his national appeal.
The LGBT movement in sports is reaching a breaking point. What has been largely missing from the debate in sports is a group of supportive straight voices. Thanks in part to organizations like Athlete Ally, more of those people are stepping up. I think now more than ever the world needs professional athletes to stand up for LGBT equality in any way they feel comfortable.
I can understand why straight athletes may be hesitant to speak up on an issue as personal as this one. It is something I faced when writing this; but for me, the greater good won out. I understand both sides of this argument are equally resolute in their beliefs. However, I believe that with exposure and education, everyone will arrive at the same conclusion I did many years ago.

Everyone in the world of sports has an opportunity right now to help raise awareness. I encourage athletes to speak up, be leaders, and to make an impact in the world that goes far beyond the game. To anyone out there who might be struggling with their identity, know you are not alone. To everyone involved in helping aid this cause, I thank you.
Calling all HuffPost superfans!
Sign up for membership to become a founding member and help shape HuffPost's next chapter