As a child, every Friday night, I would sit in front of my television and tune into ABC's "TGIF" (Thank God It's Friday) notorious lineup of programs, from Boy Meets World to Sister Sister. And during commercial breaks? Well, I sat there. We couldn't "fast forward," and I couldn't binge watch on my laptop later. Commercials were an everyday part of the entertainment experience, and I didn't dare change the channel. What if I flipped the channel for too long and missed an epic Cory and Topanga moment? I just couldn't risk it.
That was the 90s, and things have changed. Gone are the days when viewers are held captive to commercials in between regularly scheduled linear programming. In fact, the rise of VOD (Video On Demand) has allowed people to avoid traditional advertising methods all together. I DVR episodes of Scandal instead of rushing home from work to watch, and Netflix now allows me to binge watch episodes of Grey's Anatomy to my heart's content. To make it worse, the average human attention span now stands at 8 seconds -- shorter than that of a goldfish. Companies must learn to reorganize their marketing efforts to reflect the rapidly changing nature of media consumption.
Digital advertising is now one of the most effective ways to reach consumers. According to the Interactive Advertising Bureau's third annual Video Ad Spend study, which surveyed 360 marketing and media buying professionals, marketers and advertisers are spending on average more than $10 million annually on digital video, representing an 85% increase from 2 years ago. As advertising platforms have shifted, so have the expectations of consumers.
The Internet has created a marketplace for ideas like never before. From viral cat videos to clever memes, people expect to be entertained all the time. Advertisers now have to compete with traditional entertainment companies, and content produced by consumers themselves, for consumers' attention. So what does this mean for advertisers? Creating engaging content is now more important than ever.
Over the past few years I've heard so many small businesses make the same complaint - they are spending lots of time and money on digital advertising with no ROI (return on investment). They've done their research and taken advantage of things like Google AdWords and paid Facebook advertising (which, by the way, is fabulous), but they have yet to see any direct correlation between their efforts and their rewards.
The problem isn't necessarily advertising efforts, but the content itself. Businesses have to learn how to capitalize on storytelling. But they can't just tell any story. They have to tell a good story. A compelling narrative has the ability to elicit an emotional response and create personal connections between businesses and their target audiences. When senses are engaged and hearts stirred, action follows.
"Audience Reach" is no longer the most effective metric for digital advertisers. It is really nothing more than superficial insight into your digital campaign efforts. Let's say 5,000 people "see" your video online. So what? If that video does not inspire your audience to do anything, you're wasting your time and your money. Unlike traditional television advertising, digital platforms allow us to look to more telling KPI's (key performance indicators) - such as social interaction and user engagement. With the rise of digital advertising fraud in the world of paid advertising, organic interaction and user engagement metrics validate the popularity of your brand, and are better indicators of the success of your advertising efforts.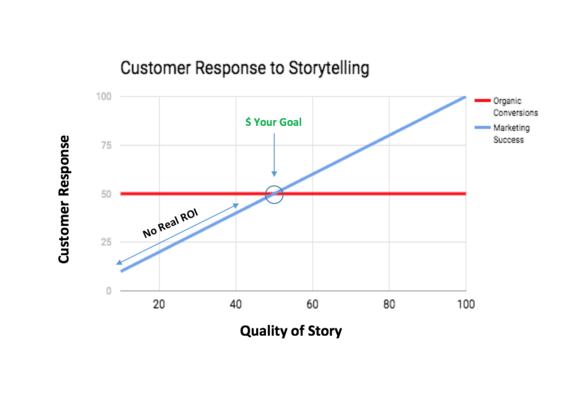 The graph above depicts how storytelling can affect your marketing efforts. It's actually quite simple. "Customer Response" means the likelihood of a customer to engage with your marketed material. On a scale of 1 - 100, with 100 being the highest quality stories, the better your story is, the higher your Customer Response will be. Conversions will not take place until your story reaches a certain level of quality (depicted on the graph as a Customer Response level of 50).
If the quality of your story is not high enough, investing in heavy marketing such as paid advertising and video distribution is pointless. You may have a few people visit your website, and if you're lucky, they may even check out your services, but customer engagement is unlikely to follow. However, if your story is effective enough to inspire a high customer response, your marketing has the potential to drastically increase your company's bottom line.
So how do you create great marketing stories? You have to learn how to create stories with your end goal in mind. I call this method, "Outcome Driven Narration." Is your goal to get people to buy your product? Don't tell customers about your product, show customers how purchasing your product will make them feel. Learning to start with your end goal in mind will give you your best shot at competing in the crowded digital marketplace. And if you're lucky, you just might become the next digital marketing sensation.
Calling all HuffPost superfans!
Sign up for membership to become a founding member and help shape HuffPost's next chapter