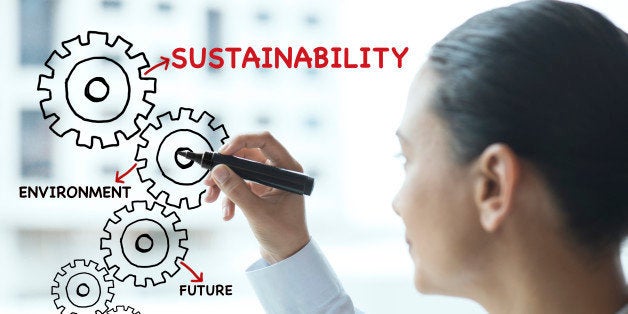 Five years ago, I ran into a colleague I greatly admired at a conference. She shared some surprising news: she told me she was leaving her corporate job — where she had worked for many years leading a social responsibility effort and had built a great career — to join B Lab. I knew she was someone who'd only move for a truly exceptional opportunity. I was immediately intrigued.
Although I'd first heard the term "B Corporation" years prior — in reference to a certain Vermont ice cream company partial to giving its flavors clever names — only since my friend's job change have I been following B Lab (the non-profit organization behind the "B Corp Movement") and B Corporations closely. And in that time their growth and impact have been truly exceptional. No less remarkable are the ways in which traditional corporations and B (short for Benefit) Corporations — for-profit enterprises both committed and legally obliged to use "business as a force for good" — are becoming increasingly aligned in their goals and purpose. Chief among those goals is creating value and impact for a broad range of stakeholders.
The movement is global. B Corps thrive in 130 industries in 50 countries. They are restaurants. Telecommunications firms. Pharmaceutical manufacturers. Producers of frozen foods and canned soups and wine. Companies that make cleaning products. Accounting firms and construction companies. So many kinds of businesses can and have found ways for their enterprise to be a force for good.
There's room for all of us. In fact, it will take all of us — large corporations, small companies, family-owned businesses, government, nonprofits and B Corps — working together to solve some of the world's most complex problems. Collectively, we have a much better shot at tackling the really tough challenges and contributing to a sustainable future. We can share best practices; inspire each other to think in new ways and innovate; and continue to drive revenues with actions devoted to greater purpose and meaning. And we can learn from each other and work together to impact everything from the diversity of our Boards to the broadest and most diverse community of stakeholders.

Thanks to that chance run-in with my colleague, I've come to see B Corps as a glimpse at the future of business. Familiarly, these organizations want, and expect, to make a profit. They know that capital is critical; it's the lifeblood of any company. And I think it's only a matter of time before much of the business world sees the upside in embracing a mission for good. Our corporate structures may differ, but I believe that more and more, our values — and the value we will bring to our diverse stakeholders — will not.

Calling all HuffPost superfans!
Sign up for membership to become a founding member and help shape HuffPost's next chapter