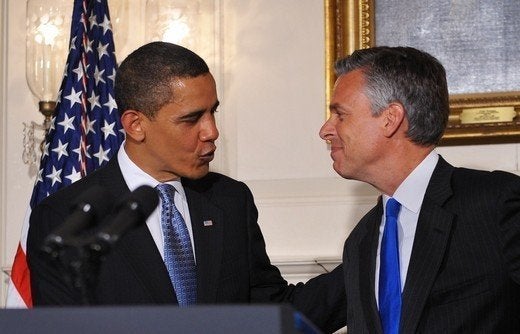 Barack Obama, America's 44th President, is one of the most brilliant, hard working and innovative politicians to occupy the White House. If the current economic crisis were a typical post-war cyclical recession, there is no doubt that President Obama would be up to the challenge, and lead the United States to renewed growth and prosperity. Alas, we are in different times, with a uniquely devastating and dangerous economic disaster of worldwide scope. Not even as gifted a leader as Barack Obama, I fear, will prove sufficient in arresting the rampaging Global Economic Crisis.
No one can accuse Obama of not recognizing that the U.S. faces a severe economic recession. Most of his administration's initial activity has centered around crafting policy responses to the recession, primarily involving the unprecedented expenditure of borrowed money in an attempt to revive growth. However, the very character and essence of his administration's economic policymaking reveals the lack of comprehension of how dire and unique the Global Economic Crisis is on the part of President Obama. At his core, Obama believes that the American economic system is basically sound, but slid into a severe recession because of irresponsible behavior on the part of some actors within the financial oligarchy. Hence, by restoring growth through deficit spending and enacting a new regulatory regime to restrict the destructive greed of some Wall Street tycoons and bankers, we can return to the happy economic days of yore. In effect, Obama is acting like a nostalgia buff, hoping that the correct policies will recapture the solid economic model of pre-George W. Bush America. Unfortunately, this view of America's political economy is mythological. The U.S. economy was unhinged under the presidency of Bill Clinton as much as it has been under Bush, yet Obama has chosen Clintonites to serve in the most important economic policymaking positions in his administration. Cheerleaders for a failed model will not lead America to a new economic Jerusalem.
A major part of the problem Obama is facing is philosophical. He is following a conventional view of counter-cyclical economics; when a recession occurs, the sovereign can go into debt and use borrowed money to artificially increase demand and thus arrest the decline in growth. Once the recession is arrested, government fiscal policy can return to a more prudent policy of balanced budgets, as restored economic growth eliminates the need for the government to maintain demand. Sounds simple, as this has been enshrined as the recession-fighting bible created by economist Maynard Keynes. The only difference, the Obama administration would argue, is that this recession is much bigger than previous economic downturns, and therefore requires much more significant deficit spending. Otherwise, the Keynesian model remains unaltered.
This perspective by the Obama administration, in my view, is myopic. Like many contemporary politicians and economists, President Obama and his senior economic advisors have misread Maynard Keynes. Contrary to public perception, Keynes was no economic radical, but a centrist in dealing with the challenge of managing economic cycles within a capitalist system. Though Keynes did believe deficit spending was justified as a means to stimulate economies in deep recession, he also advocated budget surpluses during times of relative prosperity. In effect, Keynes believed in "rainy day" economics; in times of plenty you put away a little fiscal cushion that can then be spent during a recessionary period to enable the sovereign to maintain economic demand during a time of private sector contraction and declining tax revenues. This is actually a conservative philosophy that many farmers are familiar with.
In the United States, even during times of sustained economic growth, massive government deficits have been de rigeur during the past nine years, in the process doubling the national debt. There is no rainy day fund to speak of, so the staggering deficits that are now being enacted by the Obama administration are, in my judgement, fiscally unsustainable. Already, the projection for the current fiscal year's deficit has risen by $200 billion to a stratospheric $1.8 trillion; my own estimate is that it will top $2 trillion. Looking into the future, the current Obama fiscal agenda foresees annual deficits of $1 trillion or more for several years into the future, gambling that the recession will be short-lived, with growth returning as early as the last quarter of 2009, leading to increased tax revenue and declining deficits.
But are we in a recession? The current downturn is already the most protracted and destructive since World War II. However, there is another ingredient that has been added into this toxic economic stew: globalization. We are in a Global Economic Crisis in which synchronized contractions across the world create multiple negative feedback loops that reinforce the underlying negative causation. The subprime collapse in the United States crippled banks in the U.K. and devastated Japan's export machine; the Eurozone economic contraction is now impacting America's export driven manufacturers. When China's exports to America decline, commodity exporters and peripheral economies that supply value-added components to China's export goods get whipsawed. This phenomenon is occurring at an accelerating pace, despite attempts by the Obama administration to portray minor statistical anomalies to the prevailing trend as "rays of hope" and "green shoots." Reading tealeaves is no substitute for critical analysis.
The ongoing Global Economic Crisis has proven to be so severe, sustained and virulent that if it is not yet a global depression, it has embarked on that dangerous trajectory. However, another flaw in the Obama administration's approach is its failure to recognize that a substantial part of the financial system is rotten to the core, and not merely a fundamentally sound system with a few bad apples populating it, who can be restrained by improved regulation. More importantly, the Obama economic team seems to have convinced themselves that "mind over matter" is the best palliative for the nation's stricken banking system. When a sovereign's private banks are essentially insolvent and not engaged in normal loan activities, this is another manifestation of an economic depression. Rather than admit the truth, the Obama administration cobbled together a make-believe series of bank stress tests, which supposedly show that America's banking system, with a few minor problems, is essentially sound and fiscally healthy. This conclusion is an utter fraud, designed to artificially create a climate of economic confidence. It won't work, and by delaying an honest approach towards the nation's crippling level of bank insolvency, the policymakers are insuring that the final cost of the inevitable day of reckoning will be far more costly to the taxpayers.
The economist Hernando de Soto has captured the essence of the Global Economic Crisis as few others have. In his view, the Western world, and principally the United States, who have for so long railed against Third World inefficiency and corruption, have created the largest, most toxic shadow economy in the history of human civilization. More than one quadrillion dollars in unregulated financial derivatives paper, according to de Soto, has destroyed inter-bank and financial counter party trust to such an extent, credit flows have largely frozen despite unprecedented levels of taxpayer-funded borrowing to bailout the global financial system. Nothing short of an honest accounting of the true value of the toxic assets underlying these colossal derivatives products, which equal twenty times the entire world's GDP, can put the global economy on the road to recovery. Until these unregulated "unknown unknowns" become fully transparent, all other government interventions, including Obama's massive borrowing binge, are doomed to failure. Sadly, as the bogus bank stress tests reveal, President Barack Obama and his Clinton-era economic advisors have financial transparency as the least important objective on their agenda.
It seems that President Obama, despite his obvious leadership gifts and towering intellect, has chosen to place his faith in a team of advisors who are tied to the Wall Street oligarchy by an umbilical chord than cannot be severed. In a sense, Obama is following the path of the last Soviet leader, Mikhail Gorbachev, who also sincerely wished to resolve his country's economic problems, but believed that the system was fundamentally sound and only required a modicum of reform to correct its distortions. Only after the collapse of the USSR did Gorbachev conclude that the system itself was unsustainable. Now it appears to this observer that President Obama may be fated to travel the same path as Gorbachev, and like him, end up as a valiant failure.

Related
Popular in the Community