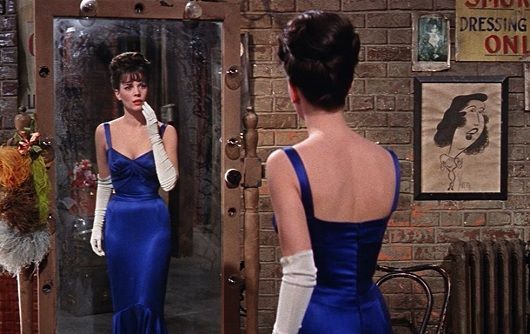 With word that Barbra Streisand's film version of Gypsy is back on track, all eyes are on who will be cast as her tomboy-turned-stripper daughter, Gypsy. Several names are floating around -- Lady Gaga, Katy Perry, herself -- and while they're fine choices, they'll never be able to compete with Natalie Wood's sterling portrayal in the 1962 film version.
And since this is Barbra's chance to finally get this Great American Musical told correctly (Mama Rose can actually sing!), it's essential that we fix another oft-overlooked error that's undercut the story for decades: Gypsy is actually about a young gay man's struggle from ignored wallflower to sexy grownup muscle jock. I should know; I lived it.
Gypsy is my Funny Girl, my Yentl, my The Way We Were, had that film been turned into a musical about my own college years and Hubbell Gardiner made a stand in for every vapid blond jock I dated who preferred perfect pretty girls over perfect principled loudmouth men. I used to touch their hair at the steps of fraternity houses and say, "I know" when they'd tell me I couldn't come up -- cause the other pledges would beat the crap out of me. I even had the perm.
For the six of you ingrates who don't know, Gypsy tells the story of Stage Mother Mama Rose, who spends her life trying to make annoyingly cute daughter Dainty June a child star, while ignoring "untalented, homely" daughter Louise. After a lot of songs and several tedious hours, June runs off with a gay chorus boy -- all he needs is the girlfriend -- and Mama and Louise end up surrounded by a bunch of sleazy strippers in a nightclub not unlike New York's Gaiety of years past. Or Republican-patronized bathrooms of today.
Louise gets to replace the opening act, finds a formfitting outfit and good hair gel, realizes that she's blossomed into the sexiest thing on the planet, takes her clothes off in front of a crowd of adoring, horny men, and becomes the biggest untalented star on the planet. It's every male underwear model's dream come true. She even makes up with prudish, unaccepting Mom!
Not since Olivia Newton-John taught us, in Grease, that the way to a man's heart is to wear skin-tight leather and become a slut, has a story so resonated with the gay community and my own path to adulthood.
I know what you're thinking: "Um, you've overlooked a major casting problem!" True, but this is Hollywood; they can make Babs look younger.
Like so many of my gay friends, I was shunned as a child, unattractive and unworthy, compared to my cute sisters and female school friends, all of whom had boys chasing after them. I knew I was meant to be the lead, the star, the object of high school jocks' attentions and those hot, older mechanic dudes who hung out at the bowling alley and drove Camaros and listened to Foghat.
I stayed home on Friday nights and learned the truth at 17. I tried to up my game by mastering a perfect lip-synched production number of "I'm the Greatest Star" (Barbra, can you hear me?), but that backfired when my gym teacher saw me practicing in the showers and Mom needed her heels back.
Hopeless and helpless and feeling like the back end of a cow, I arrived in New York and joined an all-male gym full of older, sculpted guys. That's when it dawned on me the way the sun dawns on you after you've been up all night partying at the Roxy; if I worked out all day and took my clothes off at night I was sicker than a ray of light. Don't cry for me, gentle readers. I live for mixed gay-icon metaphors.
In my, er, Barbra's version, there will be some necessary, modern updates. I won't be playing the part in drag and Louise will be an actual boy named Louis. I have nothing against drag, but, quite frankly, I don't look good in dresses, and this is an in-depth portrayal of my shallow need for muscles and attention and looking "masculine."
Herbie, Rose's love interest, will be played by a Hot Daddy, preferably Chris Meloni or Nick Jonas ("Daddy" is a state of mind). He'll be gay and only interested in Rose for her iconic stature -- it's Barbra; everyone will believe it -- and secretly share his love for Louis in their big number, "Everything's Coming Up...."
Dainty June will be played by one of those giggly baby-voiced girls who never seem to grow up, like Kate Hudson or Anne Hathaway or Bernadette Peters. To add another modern dimension, she'll get a role on a Fox TV show about a nerdy high school singing club where she demolishes every song her "mother" ever recorded, so "Mama" actually throws her out on her high auto-tuned horse. I'm guessing Barbra will love that plot.
It's imperative that we stay faithful to the show's original vision, which is why I believe the three strippers should be played by women who've actually done the show. I'm hoping for Patti Lupone, Tyne Daley, and Angela Lansbury (a perfect Miss Mazeppa if there ever was one). Relax, Peters-philes, I know Bernadette also played Mama Rose, but I can't condone the roll as portrayed by a 14-year-old Raggedy Ann Doll. Barbra's and my version needs to be realistic!
I'm also updating the story to the present, so my big production number, "The Strip," will take place at a White Party or a Black Party or wherever Kanye West isn't. It will also be the last two-hour scene in the movie (Barbra will be too busy directing to care that "Rose's Turn" has been changed to "'Mo's's Turn"). Does it matter that I can't sing or dance? Does it matter that Natalie Wood couldn't? There's so much serendipity in this journey that I half expect Stephen Sondheim to show up at my door at four in the morning with the new "Let Me Entertain You" lyrics in one hand and a G-string in the other -- like he did last night.
People, won't you spread the word and let Barbra know that I am the perfect choice for this vehicle? It's touching and universal and, like Barbra, it's all about me. While Streisand is gorgeous, I'm pretty; I'm a pretty boy, Barbra. I thought you did this for me.
Calling all HuffPost superfans!
Sign up for membership to become a founding member and help shape HuffPost's next chapter