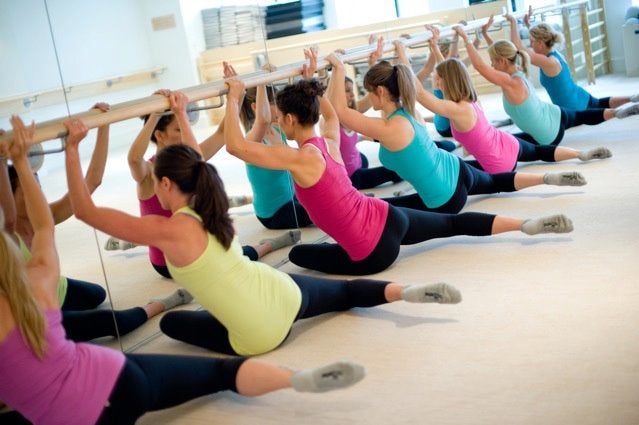 Barre-based fitness classes have risen in popularity over the past few years, although for those with a hand on the pulse of all things health and wellness, barre isn't a new concept.
The barre fitness trend has quickly taken over - no doubt influenced by those nigh on perfect Instagram shots of beauties poised on the barre, and us mere mortals wanting to channel our inner ballerina.
And it isn't without reason that so many are heading to the barre for their workout. In class, you're not expected to demonstrate technique à la Misty Copeland, so barre really is for all levels and anyone looking for an alternative, effective workout.
Looking to to test barre out but don't know where to start?
Using a combination of moves inspired by ballet, yoga and Pilates, barre classes utilize a physical barre as a balancing prop while the class perform exercises which focus on isometric strength training. These movements stretch and lengthen muscles. Although strength training sounds a tad frightening, in short it means you hold your body still in a position, targeting and sculpting a specific muscle group. This is combined with high reps of small range-of-motion movements.
During a barre class, you'll often be switching from moves done at the barre, to Pilates exercises, which are then combined with yoga poses. Some classes even incorporate handheld weights or use mats for core work. Slow exercises are typically performed first, to stretch and warm up muscles, and to focus on proper body form, and faster exercises condition dancers to maintain ballet technique while moving.
Although barre takes some positions and movements from ballet, a barre class isn't your average dance class. In fact you won't find any cardio during this workout in the traditional sense of the word, rather a series of strengthening exercises targeting your core, arms, legs and derrière. The fact that it's low-impact movement, makes it perfect for strengthening the body, without causing damage or risking injury.
That being said, since it is one of the best core workouts you'll ever do,classes are tough and will certainly get your heart racing - if you can balance through the burn.
Research has shown that long-term ballerinas are more skilled than novices are at tasks requiring fine motor skills. Practitioners also say taking regular barre classes improves balance, muscle tone and joint mobility. There are also reports that barre classes can aid back problems since they focus on building a strong core - strengthening the group of muscles around the spine.
Keeping a straight spine is crucial to many of the movements in class, and therefore barre will help to improve your posture. Since there's a lot of core work undertaken during class, this can also help you keep a straight back, again improving posture and encouraging you not to slump at your desk or when sitting down.
As with any type of fitness that works up a sweat, you want to know if you can lose a little weight, right? Barre classes utilize the ballet barre and a yoga mat to help you develop lean muscles. As a result, your metabolism will increase to burn unwanted fat.
Although we can reach our physical goals with barre, how many of us consider what is exercise is best for our mental health? Barre could help with focus and relieve stress and tension, so the positive effects on mental wellbeing aren't to be overlooked. In fact, the positive feelings and sense of achievement you get from a good barre class are unmatched. In a study on the efficacy of ballet-barre, students' responses included psychological benefits of preparing at the barre. Since barre classes also draw from yoga poses, there is a focus on mind, body and soul connection.
Your choice of threads really makes a difference. Even if you don't consider yourself particularly graceful, ballet-inspired barre classes are elegant and dextrous, so choose barre wear that makes you look and feel the part and encourages fluidity. Generally, form-fitting leggings or yoga pants, and tight tank tops are your best bet: it is important that you are comfortable and can move easily. Your instructor also needs to be able to examine your form which they cannot do if you wear loose-fit clothing.
Proper barre wear will keep the heat in and make you sweat more - which is a good thing.
If the thought of donning uber-tight togs brings you out in the wrong type of sweat, it's important to consider that appropriate barre apparel will get you the best results at the same time as looking super stylish.
Friends that met at the barre and founders of simplyWORKOUT understand the importance of finding the right active apparel:
Co-Founder, Susan Suarez says, "It's a reflection of our evolving busy lifestyles. Women want to feel strong and flexible throughout their day."
Co-Founder and Creative Director, Angie Omata agrees: "Athleisure is here to stay because prioritizing health and fitness is a lifestyle choice, not a passing trend. Women now demand comfortable styles that can easily transition from workout to fashionable street looks."
Finally, what about footwear? Barre socks with a grip on the bottom, will help with balance and promote circulation. Some studios allow for normal socks, but since it is easy to slip, most don't. Check the policy of the studio, ahead of your class - and don't forget your towel and water bottle.
If you're considering heading for the barre, prepare yourself for a workout that will push your muscles to their limit. An uptempo playlist, a smiley instructor, and marked results in muscle tone, body strength and flexibility, makes for a workout that despite some bearable soreness, is incredibly addictive and fun!
Many are awakening to the incredible physical and mental health benefits of barre fitness, so it looks like classes are here to stay.
REAL LIFE. REAL NEWS. REAL VOICES.
Help us tell more of the stories that matter from voices that too often remain unheard.
This post was published on the now-closed HuffPost Contributor platform. Contributors control their own work and posted freely to our site. If you need to flag this entry as abusive,
send us an email
.