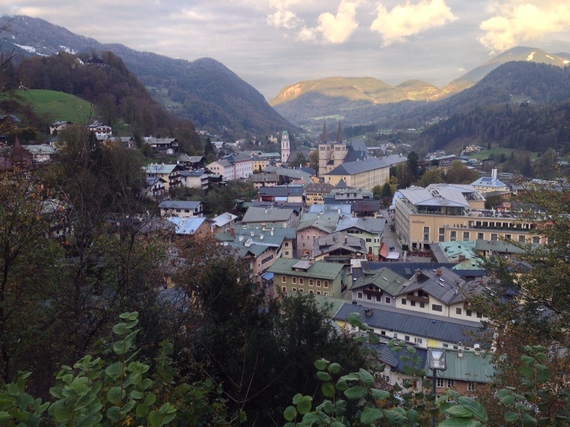 When I lived in Texas for college, I was struck by the strong sense of state pride -- many residents pitied anyone who wasn't born in what they considered the nation's greatest state, and I even knew multiple people with Texas tattoos. Though I've lived in and visited many places since, I didn't think I'd ever find somewhere that matched the "don't mess with Texas" allegiance of Texas' residents. That is, until I visited Bavaria.
Just as Texas is the largest state in the contiguous U.S., Bavaria is the largest state in Germany, making up the southeast portion including Munich. And, like Texas, it was once an independent nation, though Bavarian history runs much deeper.
Bavaria's entrenched traditions -- from beer gardens to lederhosen -- are so visible that outsiders often mistake them as signatures of German culture as a whole. But Bavarians themselves are quick to correct you. In multiple instances, I apologized for not speaking German, only to be informed "neither do we." Instead, locals speak their own dialects of Upper German.
After road tripping from Munich, along the German-Austrian border, and up the Romantic Road, I am now convinced that Bavarians outdo even Texans when it comes to regional pride. I've also seen what they have to be so proud about:
Bavarian food comprises rich, hearty, meat-and-potato-y dishes like schnitzel, sausages and schweinshaxe, a roasted pork knuckle usually served with potato dumplings. Brotzeit, literally translated as "bread time," is a savory snack such as sliced bread, meat and cheese, best eaten in a beer garden. The beer here is as much a dietary staple as bread and butter (or more fittingly, butterbrezels -- sliced pretzels sandwiching a generous slathering of butter).
Balance all those savory dishes with sweets like apple strudel, Bavarian creme, and schneeballen (snowballs) -- a deep-fried ball formed from strips of shortcrust dough popular in the town of Rothenburg ob der Tauber.
Bavaria traces its history back to the 6th century. Evidence of its time ruled by dukes and kings can be found in the grand palaces and residences peppering the region, and travelers can explore quaint towns still surrounded by the protective walls and bastions constructed in medieval days.
There is also a darker history here -- Hitler's home and headquarters were in Obersalzberg, as well as his Eagle's Nest mountain retreat. Some cities were nearly wiped off the map in World War II bombing campaigns, but have rebuilt with impressive attention to detail, such as the Wurzburg Residence that was meticulously repaired at the cost of $25 million.
It's no secret that Bavaria's Romantic Road, the route between Füssen and Wurzburg, is marketed to draw in tourists. However, it's hard to begrudge being targeted when you're strolling down postcard-perfect cobblestone streets of quaint medieval towns like Dinkelsbuhl, lined with colorful half-timber buildings. In December, many towns transform into fairy-tale Christmas markets complete with twinkling lights and booths packed with handcrafted ornaments and decorations.
For something more majestic, set out for the region's famed palaces such as Neuschwanstein, the inspiration behind Cinderella's castle. The clifftop castle was built by King Ludwig II, whose palace-building spree also includes the dizzying Rococo details crowding Linderhof Palace.
The Bavarian Alps line the region's southern border. In every direction, you'll find spectacular vistas of snowcapped peaks, forested hillsides and turreted villages nestled in the valleys. This is a hive for outdoor recreation such as skiing, hiking, and Nordic walking. Trails crisscross the region; popular hikes include the adventurous Partnach Gorge trail, cut directly into the cliff alongside a fast-flowing mountain stream.
Travelers can take the scheduled boat over the glassy waters of Lake Konigssee in Berchtesgaden National Park to reach St. Bartholomew Church, a pilgrimage site built in 1134. If you're lucky, you may stumble upon a traditional Bavarian wedding ceremony like we did -- as another generation displays its Texas-rivaling pride in the region's deep-rooted traditions.
Kelsey Rexroat is an editor at Travelzoo based in New York. Travelzoo has 250 deal experts from around the world who rigorously research, evaluate and test thousands of deals to find those with true value.