"Now" is about a murder I committed in the mid-1970s but was never charged with. Someone went to prison, but it wasn't me.
Are you still reading? I'm working on my click-bait technique. I think that first part will show up in Google search results, which should really help drive traffic since this article is mostly about mixing (click here to read something exciting!).
I'm not going to get into the lyrics of "Now." It's one of the more self-explanatory songs on the record, hopefully you can figure it out. The track perfectly embodies the dilemma that I explained in my entry about "Somebody New" though, where I discussed the limitations of "in-the-box" recording methods. When "Now" was written, we had nothing more than a laptop and an Audio Technica AT4040 microphone. We performed the song live for about a year before we had the capacity to record it properly. It's a big rock song, and it just didn't feel right without live drums, real amps, etc. In a lot of ways I think this helped the final product, because we had a chance to play it together quite a bit before recording the song. "Now" is the furthest in the "rock" direction that How Do You Feel Now? goes. By the time we were making the full length, I felt like I had outgrown it as a songwriter in many of ways, but the song still meant a lot to me and I couldn't pass up the opportunity to record it in an appropriate manner.
I was happy with how the song sounded once we finished it in our studio, but Andy Wallace's mix took the track to the next level. We sat in on a mixing session with him the morning after a show at The Westway in New York. Watching him work on an 80's SSL console was an amazing gear-nerd experience. I snuck a bit of video. If you like analog stuff, be sure to check that out. I think I specifically recorded him working on the drums to share with Paul (Andy mixed Nirvana's Nevermind and Dave Grohl is Paul's favorite drummer).
The final orchestral section of "Now" was originally it's own 4 or 5 minute song. Ultimately we decided to sacrifice it and use it as an outro here though.
The guitars on this song are a wall of Fender American classics. There are quite a few layers, but a '72 Thinline Telecaster, '62 American Jaguar, and I think maybe an Eric Johnson Stratocaster are all present.
Half the guitars are going through a Fender Twin Reverb and the other half through a seafoam green Hot Rod Deluxe. The color probably doesn't matter to you, but I assure you it mattered very much to me when I bought it on impulse at Guitar Center late one night during tracking.
There is a cool synth bass arpeggio happening throughout the verses courtesy of our Dave Smith Prophet 12. I think Sean saved it as "porn bass" in- one of the sound banks.
The vocal chain for this song was a bit different than the rest of the record. On the front end it was still a Wunder Audio CM7, but that went straight into a BAE 1073. When we got to mixing, Andy ran each vocal through a Distressor and the SSL G compressor on his board. There's a decent amount of EQ coming from the SSL board as well.
The Rhodes on the song was tracked at our friend Brian Moore's Red Booth Recording, as Sean's Rhodes hadn't been moved back from Austin yet.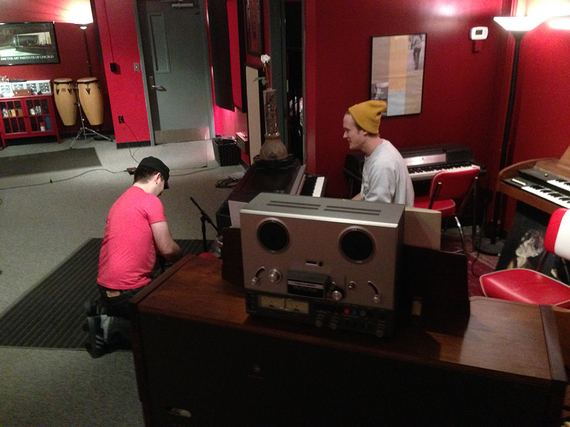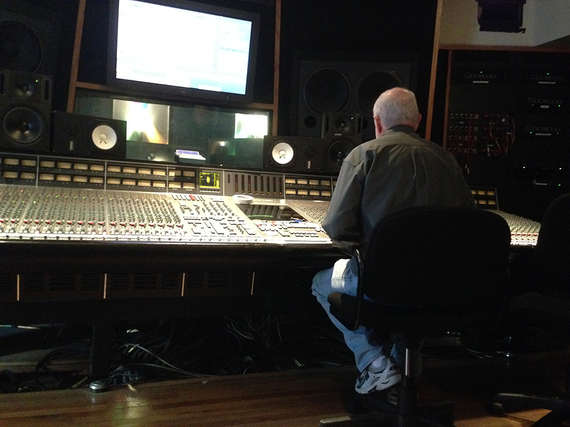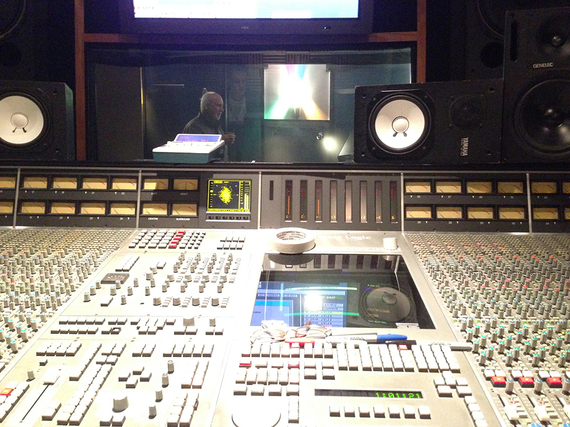 Joywave
How Do You Feel Now?
Somebody New
Carry Me
Tongues (feat. KOPPS)
Destruction
Now
Parade
In Clover
Fees Like a Lie
Traveling at the Speed of Light
Nice House
Bad Dreams
Listen to HDYFN:
|
|
Calling all HuffPost superfans!
Sign up for membership to become a founding member and help shape HuffPost's next chapter